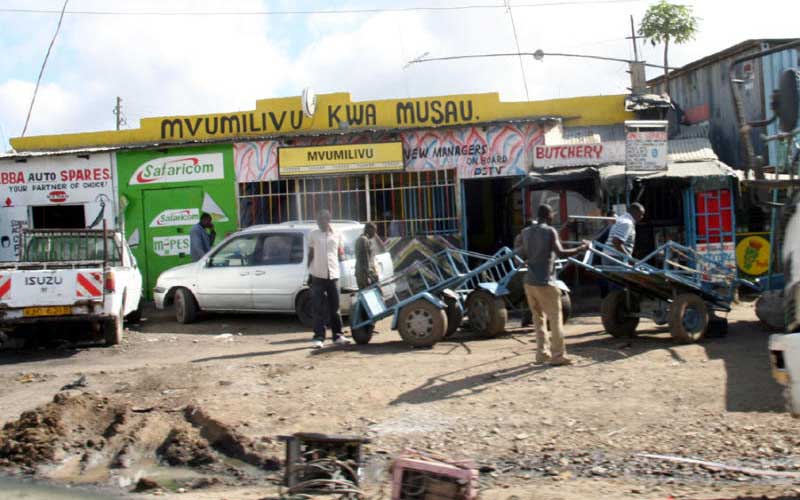 The highway town of Mlolongo has a unique vibrant nightlife. And this has nothing to do with your ordinary weekend party out. Extreme as they come, this is an everyday 24-7 enjoyment spree on the fast-lane. Here, there is no sunrise, no sunset. All the Kamba music bands, most of whose songs are known for their vulgar and lewd lyrical innuendos, have made this their headquarters –over 15 of them. The streets are end-to-end bars; decent ones and filthy ones. From strippers to politicians, the rich and the poor merge here for enjoyment.
Here, there is a popular street christened Madharau, loosely translated in English as contempt. It is a dimly lit long stretch of countless bars where the cheapest alcohol brands are sold to filthy drunkards who flock the tiny rooms. They sit on broken plastic chairs and jerrycans; that is if you are lucky enough to get one. With Sh20, you get enough to ground you on the murky terrain.
The alley is the home of prostitution. Men bring their hard-earned cash here to willing prostitutes of all sizes and shapes. With Sh100, you are game- this is the one reason they call it 'Madharau'. No one here gives a hoot who you are. It's a big economy controlled by powerful men who use ordinary men to pose as the business owners and the area is highly guarded by patrol police. Never mind the licenses these bars operate on as this is a well-thought model of the elusive 24-hour economy.
READ ASLO:Commercial sex worker's paradise- Mlolongo's Madharau Street is 24-hour economy
Woe unto Madharau Street
With COVID-19, the street is dead quiet. The bars are closed. The loud music bands are drumming and strapping no more. The drunkards have been sobered by the law and the prostitutes must submit to the COVID-19 dry spell stance. Besides the patrolling police and stray dogs that are a mainstay around this den, life here has entered a chill mood.
"I had to close down the bar after the government gave the directives that there should be no more sell of alcohol in bars and restaurants. It has been two weeks of silence here. For years, Madharau Street has never known such calm," says Charles Michira, a proprietor of one of the bars there.
"During the first week (after the directives were issued), some people were still hesitant to close. That is until police officers started arresting all those who flouted the directives including the twilight girls who were staying around past the curfew time. Business is down and with Madharau Street quiet, Mlolongo town is not the same again," he emphasizes.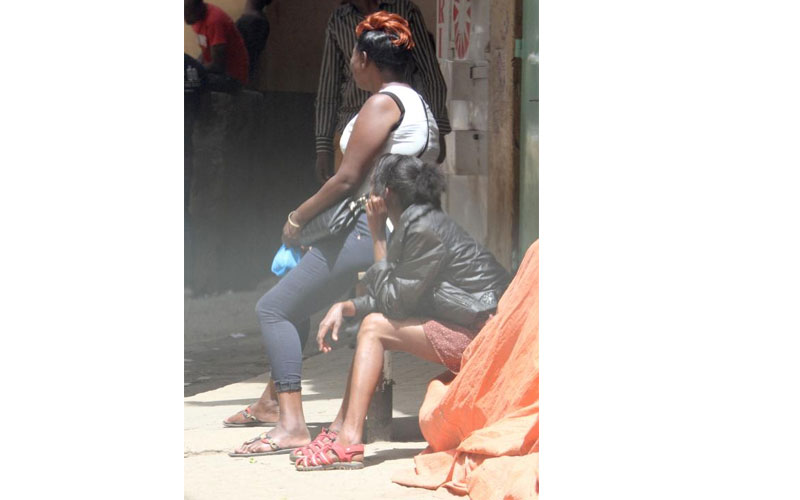 Faith Kilonzi is a casualty in this new norm. Having quit her lucrative job as an account in a leading textile company to venture into the liquor business, she had just invested over Sh800,000 in one of the freight containers housing liquor bars two months before COVID-19 struck. As Madharau Street went dead, so did her investment. She has now opted to sell the drinks online to willing clients.
"My staff is doing home deliveries to clients especially the ones they know well. Unlike most of the bars here, we had undertaken to service middle level clients who can afford bottle services and so those are the ones we are targeting through home delivery services. We are recruiting others online," informs Faith.
READ ALSO: Nairobi hookers hit hard by COVID-19 curfew
The night curfew has slowed prostitution around the highway town just as it has done other highway towns on the busy Mombasa-Nairobi highway. Ukambani towns that are known for vibrant nightlife such as Makindu, Sultan Hamud, Emali and Kibwezi are generally lifeless. As early as 7 pm, shops and eateries are closed as law enforcers take over to rule the night.
"At least the men have finally come home. This COVID-19 is a blessing in disguise. It has forced family reunions," says Mwelu Waita, a mother of three whose 54-year-old retired husband is finally spending evenings at home with his family.
Finally, COVID-19 has triggered positive family values, forget 'Madharau".
Related Topics