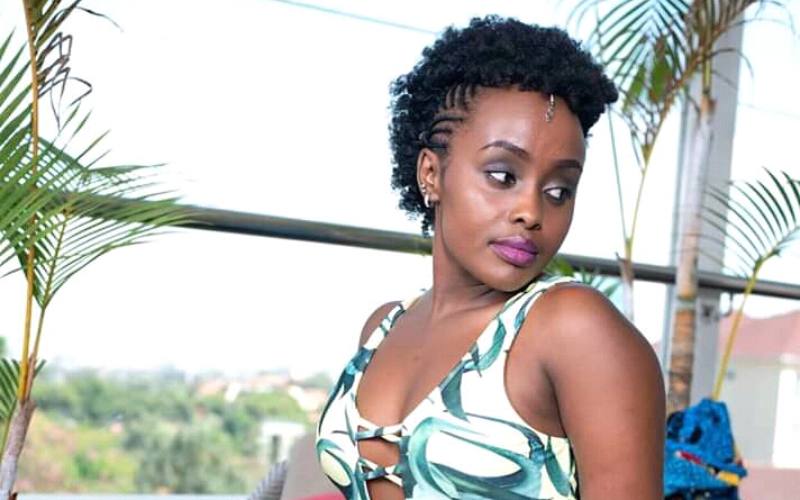 Kenyan actress Esther Chebet better known as Matilda from her role in the popular TV series Real Househelps of Kawangware has strongly criticized netizens over unrealistic societal expectations that are driving celebrities into depression.
Sharing her two cents on her Facebook page, Matilda condemned the mass mentality that most online users have that once you appear on TV you automatically have to live a certain lifestyle because you are then perceived as a celebrity. She also added that societal pressure to make it big as a celebrity has driven a number of individuals into depression. She asked the public to give those in the limelight peace because just like everyone else they are struggling to make ends meet.
"By the way foolish people online want to see celebrities who made appearances on TV severally to roll in expensive cars, they want them to go live in Runda yet they have little salaries. When artistes fail to live according to fans' expectations, they stop loving them. People should take their pressure to the gym, do you think depression is a toothache? Celebrities are also hustling just like everyone else," she said.
Depression
Matilda's sentiments mirror that of several other Kenyans that have constantly preached against living up to societal expectations and pleasing others. Depression in the country is unfortunately among the most discussed matters with numerous Kenyans including celebrities having to fight it off.
A few weeks ago, Churchill show Comedian George Maina Njoroge alias Njoro left netizens in shock after revealing that he had gone through severe depression to a point where he attempted to take his own life. Sharing his journey with his comedy counterpart Zainabu Zeddy, Njoro explained that towards the end of 2019 he felt so overwhelmed with everything going on in his life that he tried to throw himself off a cliff but was saved by a stranger.
"Around October, November December, I was really badly off even if you took a keen look at my Instagram I wasn't posting anything…. It's because of the state I was in. I was badly off. There is a time I called you, I had thought about going to View Point and throwing myself and dumping the car. It's like God sent someone. The person just came when I was making my final prayers. I don't know if he overheard me praying, I don't know."
Njoro explained that out of nowhere the stranger hooked his car to his lorry and when he was done praying, his vehicle couldn't move.
"He had a lorry, he parked behind me and hooked my car from the back. When I was done praying, and I tried to drive the car wasn't moving because he had hooked it. He came and told me that he wasn't going to allow me to do what I was thinking and people started flocking the area so I had to leave but I was going there," he narrated.
Related Topics