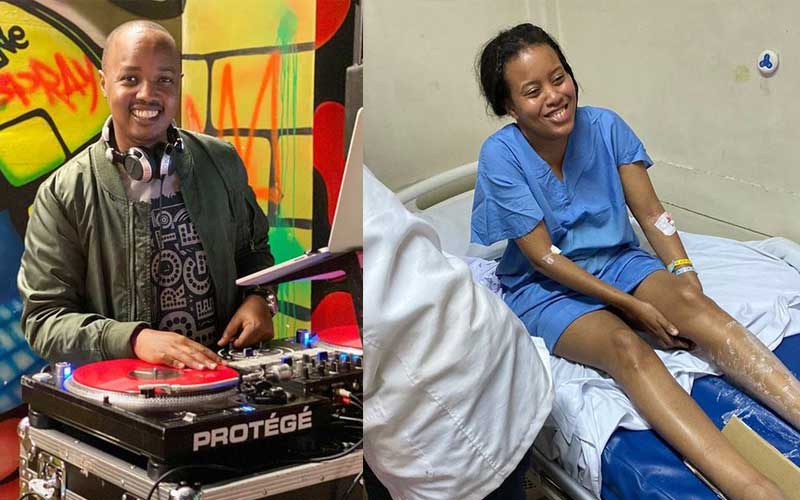 On Thursday, the wife of popular mix master Yoram Mwangi alias Dj Protégé slipped and broke her leg.
Through social media, the DJ profusely thanked neighbours who stepped in and rushed Diana Gacheri to Nairobi Women's Hospital.
"Life sure has a way of telling you your plans don't matter. Life came to a standstill when my poor wife @dianagacheri slipped and broke her leg on Thursday, thank God for neighbours who were quick to respond and rush her to hospital… I'll forever be grateful.
"After a successful procedure she'll be back to normal in no time. She's already cracking up the nurses in the hospital," he wrote.
Who will pay the bill?
Describing the period as a 'nightmare of a weekend,' Protégé narrated how the hospital initially refused to tend to Diana, first inquiring on who would settle her bill.=
"The hospital really gave us a hard on arrival, I really wonder aren't hospitals by law required to give first aid, not ask who'll pay. It's only when my neighbours pushed that they acted. Anyway that's a story for another day," he stated.
Local celebrities thronged Dj Protégé's social media handle to show their support:
Kalekyemumo Aki maaanze poleni. I woke up to her text this morning. We thank God for the successful surgery aki @dianagacheri it shall be well.
brendawairimu_ Oh no, quick recovery @dianagacheri.
djsadic Pole sana bro.
carolradull I wish her well. Sending her hugs.
thecremedelacreme God's Healing.
aminaabdirabar Oh no! Pole @djprotegekenya my bro. @dianagacheri will be back to her old self in no time.
Deejaykalonje Get well soon.
Pascaltokodi Get well soon @dianagacheri.
Related Topics