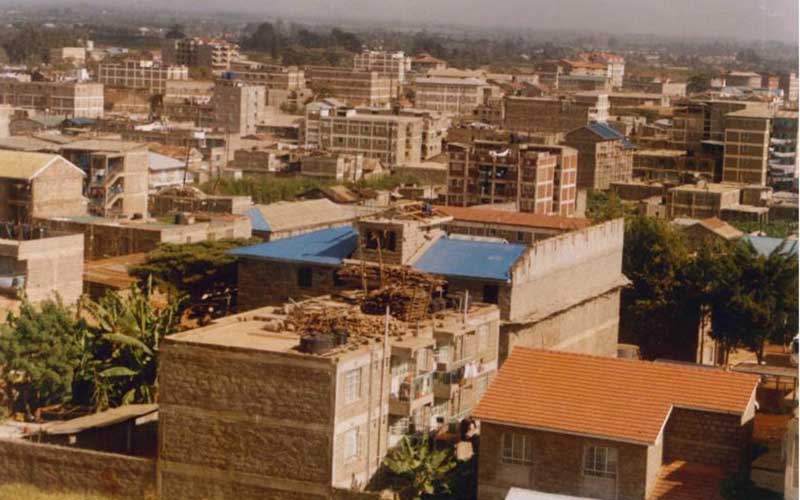 Majority of Nairobi barmaids love to reside in Zimmermann estate.
'Ziima' as it is popularly known, is barmaid's capital of Nairobi.
The estate is so cherished that the influx of barmaids grows considerably each day as revellers troop to the hood, turning it into a 24-hour economy.
Located in Nairobi's Eastlands, off the Thika Superhighway, and 13 kilometres from Nairobi, the sprawling middle-income estate has more bars than shops and hotels, making it a 'barmaid nation.' Here, rents average Sh10,000, which is quite affordable for many of the barmaids.
It's noisy, ever busy and congested, with vehicles and pedestrians setting out for the evening's entertainment. The sky glows dull red as light percolates through the haze of coal smoke.
Offensive odour fills the alleys - a concoction of garbage, coal dust and animal waste.
The average of barmaids in the area ranges between Sh20,000 and Sh30,000 — and it helps that bars and clubs in Zimmermann don't follow 'Mututho Laws.' On weekends, the hunting and gathering business is always at the peak because the estate is usually packed.
Ann Shiko says the presence of drinking joints in the area has attracted barmaids from all over the country because of the flow of cash and affordable houses.
"Life is comfortable here because you don't have to struggle that hard to pay rent. Jobs are also readily available and the pay is good compared to village bars where you are paid Sh5,000 per month with no tips," she adds.
Ziima is named after Karl Fritz Paul Zimmermann, an adventurous German taxidermist who came to Kenya in 1929 as a university researcher, but stayed in the area, then surrounded by sisal and Napier grass, and where he founded the Zimmermann Ltd. Mr Zimmermann succumbed to cancer in 1971.
It is in this estate that former Philippines president, the late Ferdinand Marcos came shopping for stuffed game trophies. Five-star hotels, museums and millionaire collectors also went to Zimmermann to buy ivory statues, rhino horn carvings, stuffed wildebeest, impala and gazelles.
Wilson Kuria, a resident, says the neighbourhood attracts mostly watchmen and barmaids because of the cheap houses.
"Most people are attracted to this place because of the cheap houses and women who work as barmaids find this place convenient because it's near Thika Road and the city. Most of these women work in the joints that are located along Thika Road and city centre, so Ziima becomes their residential area. The good thing about this place being a hub of barmaids is that there is rampant growth of small businesses because it's densely populated", says Kuria.
Residents told The Nairobian that they prefer staying in Zimmermann to other areas because of its affordability. A bedsitter costs Sh7,000 a month and a one-bedroom house goes for Sh10,000.
There is also an upsurge of 'sponsors' who love barmaids and campus chicks, since Zimmerman, though cosmopolitan, has a higher percentage of women who come from various parts of the country, whose source of livelihood is old men. Sponsors throng the neighbourhood on weekends in top-of-the-range cars.
Moses Munari, a security guard explains that: "Barmaids are so many here because the estate is strategically positioned and you can travel to the city centre anytime because transport is available 24 hours.
"Those working night shifts don't fear getting home late. The streets are ever filled with people minding their business. It's not surprising to see people brushing their teeth on balconies in the wee hours, preparing to report to their work stations. People are always moving in Ziima".
Lenny Kibe, another resident, explained that the presence of barmaids has contributed to the mushrooming of drinking joints in the area which has created job opportunities and made the area a 24-hour neighbourhood.
Related Topics