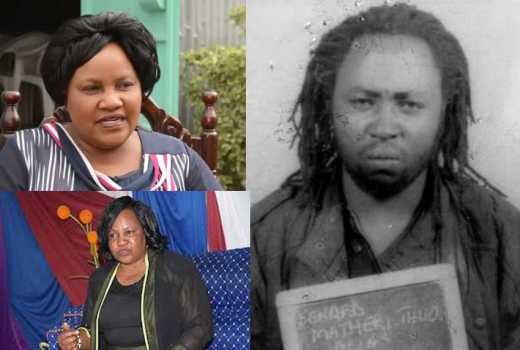 You cannot make any list on Kenya's most wanted robbers of all time and miss to name that of Bernard Matheri alias Rasta.
So scintillating were Rasta's escapades in the 90s that his death under a hail of bullets in Kiambu was heralded as the end of an era after his two other musketeers; Anthony Ngugi Kanagi (Wacucu) and Gerald Wambugu Munyeria (Wanugu) met the same fate.The three had given crime busters sleepless nights and dented bank saves with ease.
But behind the exploits of Matheri was one untold face, that of his lover and wife, Mary Wanjiku.
Decades after his death, she is now reformed, tucked away in Kiserian winning souls as a pastor. But her journey to the pulpit has come full circle since her first stint in crime was stealing from the church.
Speaking to K24, Wanjiku says she stole Sh70, 000 tithe from a pastor after scaling the wall of his house.
"Nilienda na nyama,nikarushia mbwa ju kulikua na mbwa kali sana, alafu nikapanda nyumba ndani, nikaingia, nikapata pesa ndani ya karatasi mbili na nikaibeba," said Wanjiku.
But it was not always this way. She disclosed that the life of crime was her escape after feeling unwanted and unloved by anyone including her family.
She claimed that her mother, while drunk, once beat her up into a pulp when she was 16-years-old and almost drove her to commit suicide.
"Dad alikua na bibi wawili,mum alikua anakunywa pombe sana,na walikuwa wanakunywa wawili, sasa wakikunywa wawili waliendelea na kupigana, nikiwa na miaka 7 miaka 9 mum alikua anatoroka anaenda kwao anaiachia watoto sita, mpaka hao watoto mimi nilikua nawatake care." She disclosed.
On how she met Matheri, she said he frequented a cloth shop she used to run and for a while did not know that she was also a thief and when he invited her over to his house, she never looked back and stayed with him.
"Nikiwa na duka kuna customer alikua anakuja kwa ile duka yangu na huyo moja akaniambia ningetaka tupitie kwangu, tulipoenda sikurudi kwa ile nyumba."
When Matheri was eventually gunned down in 1997, Wanjiku said his death turned her world upside down. She was distraught and suicidal.
Two years later she was arrested and jailed on charges that she stole Sh196 million in Meru but was released in 2002 in Embu after serving her time. Tired of the life in crime, she decided to change her life lest she end up like Matheri.
"Ndio nikakuja Kiserian kama sijui mahali naenda, nikakomboa mahali pa kukaa kwanza, na kukomboa mungu akanizaidia, chaplain Wanjira naye akanishika mkono tukaanza kuubiri magerezani na yeye," explained Wanjiku.
Related Topics