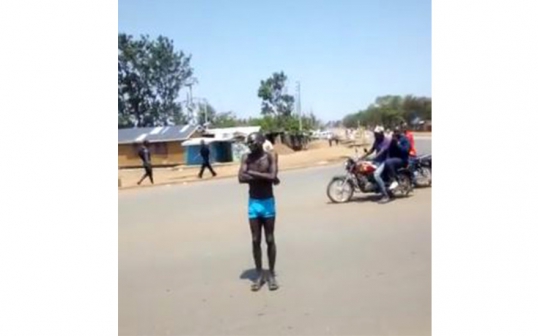 The man stripped naked in protest to the provisional presidential election results
The man is standing on an empty road as other people by the road just watch him weep
He is crying foul as he does not understand how Raila Odinga can always be losing the elections. "Nyasaye mar adier adier!" he cries (is it truly the case, God!)
A Kisumu man has stripped naked as he laments at the provisional election results. The man cries foul as he wonders why Raila Odinga must always lose despite receiving overwhelming support from election to election.
In the clip, the man is standing on an empty road naked as he holds his waist moving around crying. The people by the road are not really intervening as some can be heard sharing in the man's plight and letting him to continue doing his thing.
The video has since gone viral. On social media, it has elicited mixed reactions as a faction of netizens share in his plight and pity while another group term his actions silly and not called for.
Here are some of the reactions:
Related Topics