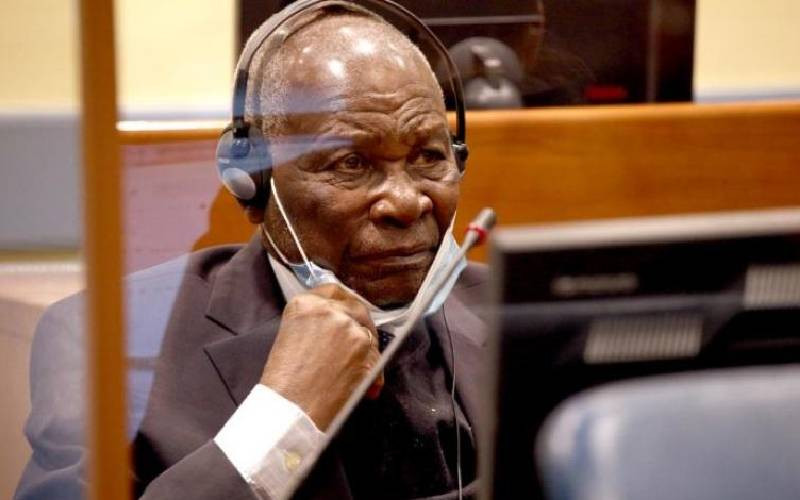 A chill ran down my spine. I broke into a cold sweat when his image and name flashed across the television screen. Felicien Kabuga, a frail, 87-year-old man, whose name has come to symbolise murderous hatred that galvanised the 1994 Rwandan genocide, was at last standing trial in The Hague.
Here is a man whose alleged crimes against humanity claimed lives of a combined population equivalent to the population of Lamu, Isiolo, Samburu and Taveta counties.
My head went into a spin. It dawned on me that his tragic story has for more than 27 years been sadly intertwined with that of Kenya. During my active tour of duty as a reporter and editor with the Nation Media Group, I saw how close Kenya came to taking the Rwandan genocide route.
The repugnant stench of death still attacks my nostrils whenever I recall the morgues I visited while covering politically instigated violence and ethnic cleansing.
By the time the Rwanda genocide was unfolding in April 1994, I had already covered the 1991 and 1992 politically instigated violence in Western Kenya and parts of the Rift Valley. Hundreds had died over historical land injustices.
Leaflets would appear at market places warning members of certain communities, to vacate certain regions or face dire consequences. Violence would follow with targeted attacks on men, women and children. Security forces appeared helpless. Then in 1997, the violence shifted to the Coastal region.
The Likoni madness
On August 13 1997, violence erupted in Kenya's Coastal city of Mombasa around the Likoni area. Armed youth raided a police post killing six officers and stealing 40 guns. They set kiosks, homes, and office buildings ablaze while killing those identified as non-locals. The madness lasted several weeks claiming 104 lives. Hundreds were injured and thousands displaced.
Methods employed in the Rwanda genocide were replicated in Likoni. In Rwanda, politicians exploited ethnic divisions to preserve and expand their own power. Through the Interahamwe militia, they carried out targeted attacks. Ordinary citizens were guided by politicians and trained and armed by soldiers, former soldiers and police.
The Likoni raiders were armed with; guns, machetes, clubs and other homemade weapons. Indigenous Mijikenda people, comprising of the Digo, Giriama and other ethnic groups were told that they lived in poverty and had disproportionately high rates of; joblessness, landlessness, and illiteracy, because of upcountry people. Young Digo men said politicians promised them land and jobs if they wiped out the 'occupying and invading cockroaches.'
The Akiwumi Commission of Inquiry appointed by President Daniel arap Moi to look into the Likoni killings heard that a Spiritual leader conducted oathing to strengthen the attackers. Politicians met with the raiders and their commanders and provided them with; food, money and guns. Fortunately, Kenya didn't have a Felicien Kabuga with a powerful and popular radio station. We just had evil and calculating politicians using word of mouth to spread their gospel.
The oathing took place at the home of the spiritual leader in South Coast under a baobab tree, on the edge of the Kaya Bombo Forest, considered a holy home of spirits by the Digo. From interviews conducted by the Human Rights Watch, the raiders went through military training conducted by both Kenyan and foreign soldiers.
We never learn
However, the 2007 post-election violence tipped off the cliff and Kenya plunged into its darkest historical hour. Being hard headed people, we had not learned anything from Rwanda. We had even hosted Kabuga, their most wanted war crime suspects. At the time of the genocide, Kabuga was one of Rwanda's richest men. He is alleged to have used his vast wealth to establish a hate media that urged ethnic Hutus to kill rival Tutsi "snakes" and "cockroaches". He is alleged to have supplied the murderous Interahamwe militia with machetes, which are said to have originated from Kenya.
The prosecution at The Hague argued that Kabuga didn't need to wield a rifle or machete at a roadblock. "He supplied weapons in bulk and facilitated the training that prepared the Interahamwe to use"
Prosecutor Rashid S. Rashid told The Hague trial that Kabuga; founded, funded and served as president of the radio station that broadcast genocidal propaganda across Rwanda. He helped create the Interahamwe Hutu militia group and the Radio Television Libre des Milles Colins (RTLM). He is also said to have imported and distributed machetes to genocidal groups. Kabuga is one of the last top suspects of Rwanda genocide to face justice. 62 have been convicted.
Felicien Kabuga is accused of injecting hate in Rwanda's airwaves leading to one of history's ugliest genocide chapter. In April 1994, armed mobs ran through the; streets, villages and forests of Rwanda looking for Tutsis to exterminate. A killing spree ensued that lasted 100 days. It wiped out over 800,000 lives.
Jean Pierre Segahutu, a genocide survivor recalls that the RTLM radio was ran by genocide ideologues who called out for the search and killing of all Tutsis: "Notice all cockroaches listening today. Rwanda belongs to those who defend it. Guard your sector well so that no cockroach escapes." He recalls the chilling announcements.Investigative and award-winning journalist John Alan Namu says that through the broadcasts, the victims were first dehumanised, making the attack from the foot soldiers easier. The radio station exploited historical differences planted by the colonialists between different ethnic groups in Rwanda.
Class divide
Colonialists had planted hierarchical seeds of hatred with Tutsis minority placed in charge of administration and the running of the country. What started as a class divide festered into ethnic hatred.
The radio broadcast that: "In truth all Tutsis will perish and they will disappear from this country. It used captivating music that engaged listeners who would roam the streets of Rwanda slashing and killings Tutsis while dancing to the music. The killers became emotionally charged and mentally intoxicated. As they hacked their victims, the music from the radio station seemed to wash away their guilt.
Belarie Bemeriki, a former broadcaster with radio RTLM openly and repeatedly called for the killing of the Tutsis. She did not shy away from calling them by name. She would reveal the whereabouts of the Tutsis and moderate Hutus in hiding. She would tell the killers; "Not to kill the cockroaches with bullets but to cut them to pieces with machetes."
Belarie told Aljazeera that: "We used to get information on their hideouts from soldiers and citizens. They would call RTLM and say; "We have just seen some cockroaches. We would then broadcast that information and the killers knew what to do."
Just like Kabuga, Belarie didn't fire a single bullet or lift a machete but she weaponised the air waves. Her words drove the youth into genocidal frenzy making them ran through the streets with a radio in one hand and a machete in the other. And for that, she is serving a life sentence.
"I regret the crimes that I committed. That I mobilised these people to go out and kill the Tutsi. I didn't take that decision alone. If I could speak to Kabuga today, I would tell him that what he did was bad. What he taught us was not true. He created that radio station with a hidden agenda. They say that the radio is a strong weapon. The strongest weapon of all was RTLM." she recalls
After the genocide she fled to DRC but was arrested in 1999. Asked why she couldn't resist the demonic assignment, Belarie says that she lived in fear of her employer and Kabuga. "They, told us that if we didn't do as we were told, they would consider us as accomplices of the cockroaches. We would be viewed as traitors. The top radio committee was led by Kabuga."
Tom Odahiro, a genocide scholar says that just before the killings started, a local publication Kangura ran a story saying: "Now the Tutsis are finished.
Musical cassettes
Jean Pierre Sagahutu, a genocide survivor recalls that; "When I heard my name on the radio being called, I went cold to my stomach. I thought they were now moving in for me. They were going to kill me." In 1994, Jeanne Pierre used to sell musical cassettes in Kigali. His music was popular with Tutsi rebels. When the radio station acquired one of the cassettes, it called out his name. He knew they had placed a tag on his name. He went into hiding with his radio which kept him informed. They would broadcast daily telling listeners; "Jeanne Pierre lives in this neighborhood. We need to catch him. He's very dangerous. If you don't kill him, he will kill you. All day long they would call out my name. I stayed in the hiding hole for two months and two days until my battery went dead." He remembers
On April 6th 1994 the plane carrying Rwandan president Juvenal Habyarimana and Burundi president Cyprien Ntyaramira was shot down by Hutu extremists. Radio RTLM was the first one to announce the news, blaming the shooting on Tutsi rebels. The radio had earlier told listeners to stay tuned for a bigger event. Extremists are said to have killed the two presidents in order to trigger the genocide.
In November 1993, RTLM was summoned by the then Rwandan minister for information. The delegation led by Kabuga visited the minister. The minister cautioned them against fanning hatred and inciting genocide against the Tutsi. "The warning was ignored. When the killings started, on April 7th 1994, the minister and his entire family were annihilated, says Tom Ndahiro
Tom says that the killings spread out as far as the radio signal travelled. The radio had links with the national radio, Radio Rwanda.
When the Rwanda genocide began unfolding, the world folded its hands and kept quiet. The UN reduced its troops in Rwanda from 2500 to just 500. The US dismissed the killings as an internal Rwandan tribal issue. It is only after US tourists were butchered in Bwindi National Park in Uganda by Hutu rebels that the US woke up and placed a 5-million-dollar bounty on Kabuga's head. By then Kabuga's presence in Kenya was an open secret. Among the few people who knew Kabuga's whereabouts was a Kenyan journalist, William Munuhe.
Munuhe acted as a political fixer for top government officials. He volunteered to lead the FBI investigators to Kabuga. He never turned up at a meeting with investigators. When the FBI visited his house, they discovered his body lying on a bed in a pool of blood. He was naked with blood all over the house. The bed didn't even have a mattress or blanket. He had been brutally murdered.
"We were betrayed. Someone within the Kenyan security forces was aware of our operation and tipped off Kabuga. It is sad that people can ignore inhumanity for financial gain. The only way Kabuga would have remained in hiding all those years is through a network of support. That network was only based on corruption." Richard Pierre Prosper, former genocide prosecutor said in a televised interview.
As long as the RTLM remained on air, the killings continued. It is the Paul Kagame-led rebels which moved in from Uganda and stopped the broadcasting. Kagame knew that stopping the radio station would save lives. The Rwandan genocide scarred millions. It decimated families. For us in Kenya, it provided numerous lessons on things we shouldn't do or say about each other. The trial of Felicien Kabuga marks a new and major chapter on politics, not just in Africa, but the whole world.
Related Topics