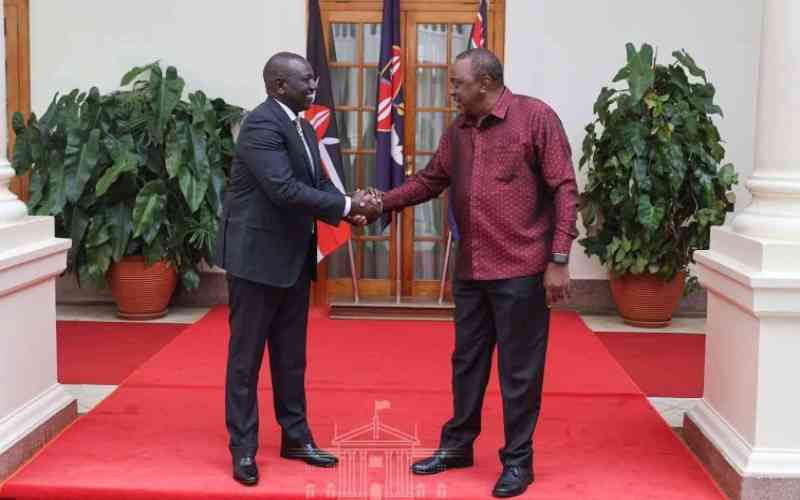 President William Ruto says the differences between him and his predecessor, Uhuru Kenyatta, that arose in the run-up to the August 9, 2022 General Election are now water under the bridge.
Dr Ruto says he bears no ill feeling towards Kenyatta, who supported his main rival, Raila Odinga, in the August 9 presidential polls.
The president, 55, said his decision to front Kenyatta, 60, as Kenya's main peace ambassador to Ethiopia and the Great Lakes region demonstrated his commitment to a truce between him and his predecessor.
Ruto made the remarks during an interview on Al-Jazeera on Saturday morning, September 24.
Asked on how his relationship with Kenyatta is, especially after the hotly contested presidential election, Dr Ruto said: "I'm now the President of Kenya. I'm the big brother now. It's in my place to work with him (Uhuru Kenyatta). I think it's the right thing to do. I won't allow negative energy to be built around our country. It (presidential election) was a competition. President Kenyatta had a candidate, his candidate did not win, I beat his candidate, and that is a democratic process. That's behind us."
The president said he's confident about Kenyatta's ability to midwife peace in the countries under conflict, including Ethiopia and the Democratic Republic of Congo (DRC).
"We now have a country to govern and we have a region to look after. I believe that President Kenyatta can bring value to the people of Ethiopia," Ruto told Al-Jazeera's James Bays in the interview that aired at 7:30am East Africa Time (EAT).
The ongoing Tigray conflict featured in the interview, with Bays asking Ruto whether he (Ruto) thinks it's about time Ethiopia's Prime Minister Abiy Ahmed resigned over the Tigray war.
"I think that is not a decision that can be made here [during an interview on Al-Jazeera]. Matters of governance are much more complicated. They are not as straightforward as people look at them or as people watch from a distance. I think PM Abiy will play a major role and will be a stabilising factor in that region. I think we need to work with him, work with his teams for the eventual resolution of that conflict," said Ruto.
He said his government will be committed to peace in the region, including Somalia, Ethiopia and the Democratic Republic of Congo.
Dr Ruto said Somalia's new President Hassan Sheikh Mohamud has assured him (Ruto) of his commitment to peace and stability in the Horn of Africa.
At the same time, Dr Ruto said the ongoing war in Ukraine has adversely affected the global economic balance and that it's about time a long-lasting solution was found.
"We must bring the conflict [between Russia and Ukraine] to an end. The position of Kenya is that we need a peaceful resolution and a mechanism that will bring the war to a stop. Whatever it is, we are bearing the brunt of what that conflict portends for us: high food prices, we cannot access fertiliser, we cannot pay for fertiliser, we cannot pay for the transportation of commodities. Our position [as Kenya] is that in a war, there is no winner and there is no right or wrong. The most important thing is to stop the war and then all the other processes can follow."
The president is in the United States of America, where he recently attended the United Nations General Assembly.
Related Topics