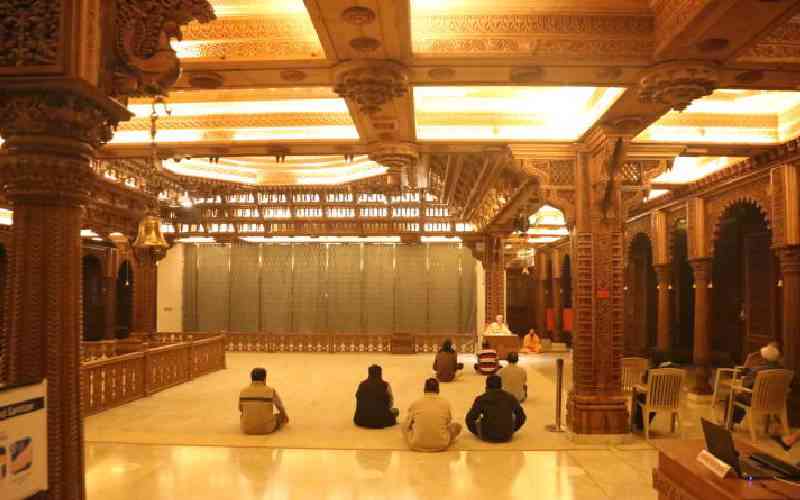 As we snaked our way to the Indian temple along Forest Road in the evening, the night sky was aglow with bright city lights.
After a thorough security checkup, we were ushered into the BAPS Swaminarayan temple's compound, which was a beehive of activities.
Volunteers mainly from the Indian community were putting up tents, temporary temples, potted flowers and effigies of Pramukh Swami Maharaj.
Pramukh Swami was the fifth guru (spiritual master) of the BAPS (Bochasanwasi Akshar Purushottam Swaminarayan Sanstha), a major branch of the Swaminarayan Sampradaya, a Hindu denomination. His Holiness Mahant Swami Maharaj the sixth, succeeded him upon his demise.
Inside the temple, a priest was leading faithful in evening prayer and in the adjacent prayer hall (Haveli), a stone's throw away, youth and women donned in an array of unique Indian props and costumes were practising folk dances and skits.
All this is in preparation to commemorate the birth centenary of His Holiness Pramukh Swami Maharaj, one of the world's great spiritual leaders. The faithful were warming up for a nine-day festival, 'Celebrating a life of inspirations', that will be held today at the Jamhuri High school, Nairobi.
The BAPS community and the world will celebrate Pramukh Swami Maharaj's well-lived inspirational journey, marking 100 years of service to humanity.
According to the BAPS faithful, Pramukh Swami was a rare soul, who lived for the service of humanity while at the same time, entrenched in God.
He was born on December 7, 1921, in a small village in the State of Gujarat, Chansad in India. He led an austere life without personal gains or comforts. Possessing nothing, asking for nothing, wanting nothing, he went around giving his all.
Despite his age, he travelled from tiny tribal huts to modern metropolitan cities all over the world, to promote morality and spirituality. At his tender word, thousands left addictions and walked the path of God.
All his life he served as a Swami, a spiritual teacher or guru, whose objective was to master self-renunciation. Self-renunciation is the renouncing of one's own wishes, desires or ambitions including not marrying and having children.
Kind-hearted boy
Nityamunidas Swami, a Hindu priest said, "Pramukh Swami was strongly inclined towards spirituality from a young age, his mother described him as a calm, soft-spoken and a kind-hearted boy."
"As a President of BAPS and the fifth spiritual successor of the Bhagwan Swaminarayan, a Hindu denomination, Pramukh Swami received initiation as a Hindu Swami in 1940 from his guru Shastriji Maharaj, the founder of BAPS, who later appointed him as President of BAPS in 1950," said Satish Patel, the Chairman BAPS Kenya.
Priyavratdas Swami, the BAPS Head Priest of Africa, said that under Pramukh Swami's leadership, BAPS rapidly grew into a global Hindu organisation that witnessed a significant expansion.
Swami noted that Pramukh helped in expanding the faith globally with over 3,850 centres in India, USA, UK, Europe, Africa, Asia, Pacific and the Middle East.
"He was devoted to God throughout his life and was able to impact over 1.2million people around the world and built at least 1,100 temples for the Hindu faithful in five continents," said Swami.
He added: "This led to his recognition for having consecrated the highest number of Hindu temples outside India by the Guinness World Records on July 8, 2000".
Pramukh Swami believed that God was for everyone despite their skin colour and language.
"These celebrations are taking place all over the world. We are celebrating Pramukh Swami's centennial for being a rare soul that lived for others and remained absorbed in the teachings of God. His mortal is spread all over and has impacted many people across the world," said Swami.
"Pramukh Swami, who died in 2016, never had a single coin for himself but what he had, he supported the society and lived for others. Pramukh Swami emphasized the importance of such houses of worship in modern society and values and faith with the purpose of uplifting the moral and religious life of mankind," he added.
He said that through Pramukh Swami's inspiration and guidance, the iconic BAPS Shri Swaminarayan Mandir in Nairobi, Kenya was built and inaugurated in 1999 - the first traditional Hindu temple in Africa.
In November 2000, the temple received the prestigious Millennium award for excellence in Architecture.
In his honour, the Hindu community in Kenya have since distributed 40 tonnes of relief food to families in the slum areas ahead of the celebrations
He said the festival will showcase traditional Indian arts, architecture, dance, and music as well as Hindu culture and spirituality.
The celebration highlights the values of selfless service, global peace, harmony, and unity promoted by Pramukh Swami Maharaj.
Related Topics