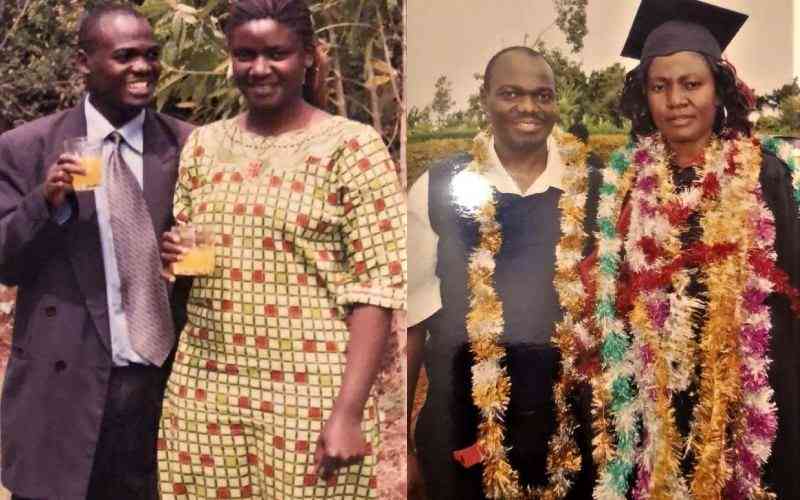 In February 2014, Josephine Sitawa, an information technology specialist at the Ministry of Interior was diagnosed with non-invasive ductal carcinoma, a type of breast cancer. As she wrote in one online blog, she could not believe she had cancer, hoping it was a dream that she would soon wake up from. Unfortunately, Sitawa, who later founded Breast Cancer Kenya, succumbed to the disease in October 2021.
Since then, her husband, Humphrey Imbusi Masai, has been riding an emotional rollercoaster that shows no signs of slowing down. He narrates about the struggles men who become the primary caregivers to wives with cancer go through and why society seems to have forgotten men who are bereaved.
Where do I even start? In the beginning, I think. Josephine and I met in 1999. She was staying with her aunt while I had put up with my uncle. We were family friends. She was a beautiful lady. But it was her personality, her friendly nature that pulled me in. She always liked to help others and that explains why she started Breast Cancer Kenya, a cancer advocacy movement while she was sick.
We have had a long journey with cancer. It started in November 2013 when we discovered a lump on her breast. She had just stopped breastfeeding a month earlier and the doctor said then that the lump could have been a result of stopping breastfeeding. He said we give it two months.
After two months my wife was reluctant to go for tests. In the third month, I approached my auntie, a retired nurse who persuaded her to go for an autopsy. Then the news; it was breast cancer. These are words nobody wants to hear.
In January 2014, we started the treatment as well as an operation in March. Then she underwent chemotherapy and radiotherapy. Chemotherapy was especially hard on her. Ever the fighter, she went back to class the same year, graduating with a degree in IT in 2017.
In December 2014, another set of bad news came in. My dad was also diagnosed with cancer and had to undergo an operation the following year. Now I had to look after two cancer patients at the same time. Interestingly, the two became close buddies and started encouraging one another.
Josephine's treatment seems to have gone well and in 2017, she was declared cancer free.
But that is when the rain started beating us. We discovered more lumps on her armpit. The doctors said they had forgotten to remove them. She did not want to see the results of subsequent tests. The doctors had declared her cancer free, and that is what she wanted to believe.
Around January 2019, she started coughing. We went to the hospital again where I tried again to push her for more checkups but she could not agree. In fact, she travelled for a work assignment in western Kenya while working as an IT officer at the Interior Ministry.
While away on duty, the cough persisted. She had breathing problems too. She still did not want to go to the hospital. She feared the bad news. I sent my brother to convince her to go to a hospital in Kakamega. Doctors said it was asthma.
I told my sister, a clinical officer, to book her in a Kisumu hospital for further tests. I also requested her boss to give her a break from the assignment so that she could come back to Nairobi. Back in the city, I took her to an oncologist and she got admitted.
The cancer had recurred in the lungs. Josephine never accepted the news. The doctor told me in confidence that the diagnosis was not good. She had a month to live, the doctor said. If she survived the month, the doctor added, then she could live for more than a year.
I could not break such news to her. I will die with this information. I only shared the information with my dad and my auntie.
Talking of my dad, he developed some complications from a broken arm in August 2019. My stepmother decided he had to go for an operation. Three weeks later my dad died. Remember his immune system was already compromised. My wife was devastated that her strongest pillar was gone.
In September, we buried dad in Malava, Kakamega. My wife insisted that she had to come for the burial despite her weak state. Two days after the burial, she was scheduled for a clinic visit. The following Monday, she was admitted. The doctor told her cancer had now spread to her eyes. Again, she did not take it well. Again, she never accepted.
She was getting angry with the doctors. Had they not told her she was cancer free? She was treated and her sight improved slightly. Then followed another round of chemotherapy and radiotherapy, together with medication. In June 2020, my grandmother, whom we took for our mother, passed on. Josephine was again devastated by losing her 'mother-in-law'. This time, she could not make it to the burial.
More stressful news followed. Josephine's cancer had spread to the head. We consulted a neurologist who told us to go either to South Africa or India. The cancer cells were growing fast. The eyes were failing too. One eye closed completely by that November.
At the end of February 2021, we went to India where radiotherapy targeted the specific location of the cells. However, the doctor told us we were a bit late, though they did try their best to sustain her. She needed surgery to remove the cyst. This was one of my most challenging moments.
She went into the operating theatre at eight in the morning and came out at five in the evening. All this time, I was sitting in the lobby alone, pacing up and down the corridors alone, and in a foreign land. Every time I asked about the progress, I was told to wait. And I waited. It was mental torture.
Eventually, the doctor came out and told me the surgery was successful. Josephine was breathing, but could hardly talk. She was put in the ICU for two days. Then began more rounds of radiotherapy and chemotherapy.
By then, Covid-19 was raging in India. The government converted public buses into isolation wards. I contracted Covid in India. I was staying in the same hotel room with my wife, and for six months, I had to give her food and medicine. Now I was infected with the virus and living with a vulnerable person. Fortunately, she was never infected with Covid.
Before we had the last chemotherapy session, she started coughing again. The doctor panicked and said we could not continue with more sessions. The doctor was very frank. I could lose her. He advised that while she was 'still strong', I take her back home to be with her children.
Two weeks after we came back, the cough persisted. Again, she did not want to see a doctor. "That doctor will tell me I have cancer and admit me," she would tell me. Sleeping became a problem, and so was breathing. This went on for days. I tried to nebulise her but it was not working. My neighbour and I took her back to the Nairobi Hospital, then to Kenyatta National Hospital. Josephine never came back home. That was on October 14, 2021.
That day, I also lost a cousin out of liver failure due to alcoholism. In fact, it was when I was consoling my cousin's family that I got a message that my wife had died. There was a difference of an hour between the two deaths!
It has been tough for me and our three boys without Josephine. When you are used to having someone telling you the food is here, your clothes are here and now you have to handle the small things, including handling children. Mothers have a way of getting their children to open up.
Sadly, nobody talks to men. People sympathise with widows and think men are strong. You know men rarely cry in public. Then you have counsellors for widows and orphans but not for men.
Even in churches, there is a day for widows or orphans but none for widowers. Men are meant to be survivors. Few care about them. I have never had anyone say they want to come and talk to me about these misfortunes.
Some think men will move on, or get another woman. But will this person fit in with your children? When people see you talking to a lady they think you must be up to something. It has been a living hell.
Related Topics