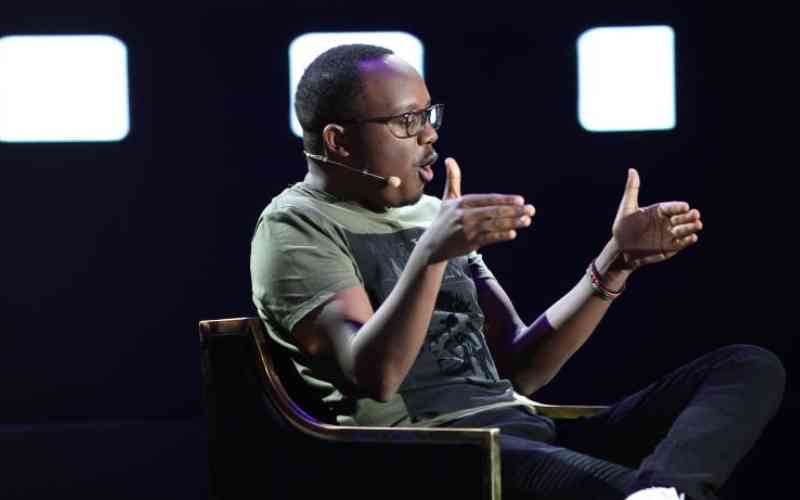 Content creator Abel Mutua alias Mkurugenzi has announced the death of one of his fans identified as Polycarp Amyunzu.
Relaying the news to netizens on his social media page, the Phil-it Productions Ltd co-owner stated that Polycarp was found dead despite their efforts to reach out to him.
"Our fears have been confirmed. Polycarp is no more. We really tried our best. I guess our best wasn't enough. Rest well Bruh," he wrote.
Narrating his encounter with Polycarp in a video shared on his TikTok, Abel explained that the man called him on Monday, September 26, but he could not pick up because he was in a meeting.
"26th September 2022 Bi Mkuru [wife Judy] and I were up and down attending to our usual business and got into a meeting around noon and it really took some time and we were leaving there around 3:00 PM. But while in that meeting around 2:00 PM our work phone kept ringing but we couldn't pick because we were in the middle of the meeting and decided to deal with whatever issue it was later [sic]. We suspected it was one of our clients who was expecting last-minute merchandise because they were travelling and we thought maybe they had an issue with it," he said.
Abel went on to explain that after the meeting, his wife Judy returned the call and Polycarp spoke about taking his life, outlining the challenges he was facing.
"So the guy told us sorry, you guys have called but it is a little too late. I started wondering what they meant...But he (Polycarp) went on to say he had already made up his mind…I immediately took the phone and the moment he heard my voice he just broke down.
"He told me he felt very unlucky in life. That he had tried everything and nothing was coming through for him. He has an expectant wife who is almost giving birth and has no capacity to provide for her or the child, he said he felt very useless," narrated Abel.
Abel's attempts to encourage Polycarp did not bear fruit as he (Polycarp) shared details of his location and his wife's contacts before ending the call.
Related Topics