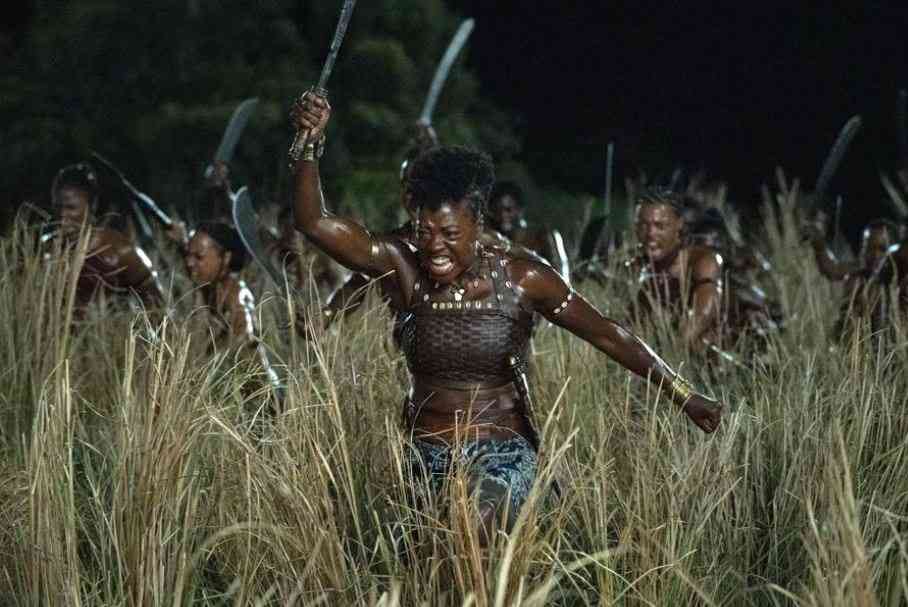 Cast: Viola Davis, Thuso Mbedu, Lashana Lynch, Sheila Atim
Directed by: Gina Prince-Bythewood
Genre: Action/Drama
Rating: 7.5/10
This is an exhilarating retell of black history, packed with mesmerising cinematography, rewind-worthy action scenes and cast performances meant to move the audience.
It tells the story of two lead female characters, Nanisca (Viola Davis) and Nawi (Thuso Mbedu), who are members of The Agojie, a lethal army made of only women who serve under the king and see themselves as spears of victory and blades of freedom against anything that challenges kingdom.
It serves a cuisine of colourful African culture, sophisticated societies with their systems, traditions, spiritual rituals and old African gods. All that at the centre of an ongoing slave trade that threatened to poison the continent by turning kingdoms against each other.
Perhaps first of its kind, The Woman King delivers raw, beautiful Africa: afros, cornrows, dreadlocks, short African-print skirts, leather bandeau and sheaths and barefoot women soldiers treading the terrain and white characters accounting for less than 2 per cent of the cast.
Despite its story unorthodoxly serving a rarity where women are the main characters and deliver fatality finishes on men on the battlefield, none of that makes any difference. It spectacularly delivers riveting dramatic moments heavily laced with witty humour, emotion, suggestive stares and powerful tribal chants together with songs and dance that bond the audience to the story.
Verdict:
The Woman King is a novelty and thus a must-watch. Spectacularly delivered by a gifted cast including Oscar winner Viola Davis, who fiercely and ruthlessly carries the audience through the battlefield exposing a side that defines her to the world but hardly represents her entirety.
Related Topics