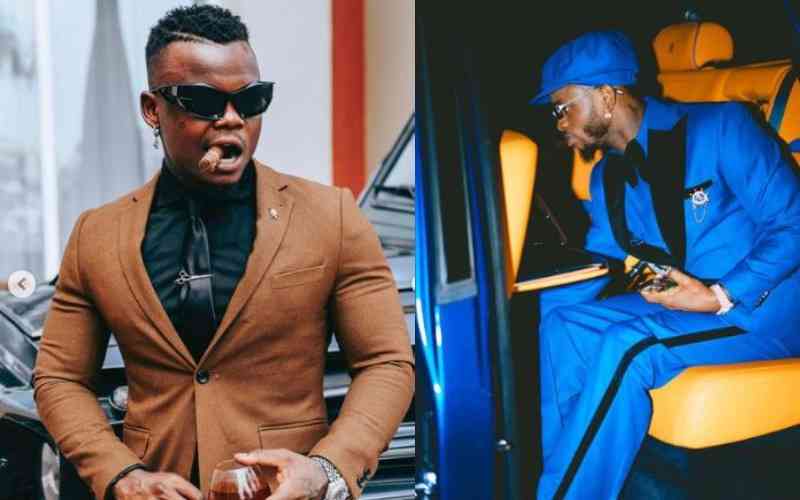 Bongo Flava star Harmonize has apologized to the people of Rwanda on behalf of his former boss and friend, Diamond Platnumz, who failed to show up for a show in December 2022.
Speaking in an interview with Rwanda Broadcasting Agency the Uno crooner requested his Rwandese fans to forgive Diamond for not showing up for his show explaining that life can be unpredictable and something must have come up.
"My brother was supposed to have a show here in Rwanda a few days ago but he didn't show up so I really don't know what happened but on behalf of all Tanzanians I ask all Rwandese to forgive him but next time I know he will make it," he said.
To confirm who he was talking about, the interviewer went on to ask if he meant Diamond Platnumz.
"Yes, Diamond Platnumz," Harmonize affirmed.
This is the first time in a long time the Konde Music Worldwide CEO has addressed anything to do with Simba.
Harmonize exited Wasafi Classic Baby sometime in 2019 after revealing that his then boss frustrated his efforts.
Speaking in a previous interview, the singer accused Diamond of jealousy when it became evident that he was thriving in his career.
He further added that Diamond was out to compete with him.
"I met with Diamond at a hotel and I asked him why we were being incited by other parties to fight. He dared me to compete with him, saying that I can never beat him, be it musically, financially, through the justice system and even witchcraft. I was shocked, and he got in his car and left," Harmonize said.
Diamond, on the other hand, warned Harmonize against clout chasing, saying he does not exploit his artists.
"There are things I don't follow up on or even listen to. He has no respect for me but at some point in life, you cannot deny people their right to speak. We (Wasafi) don't have any intention to misuse artistes. My motivation is not money…People know what is right and wrong. I believe in myself so much. Everyone has their own path," said Diamond.
View this post on Instagram
Related Topics