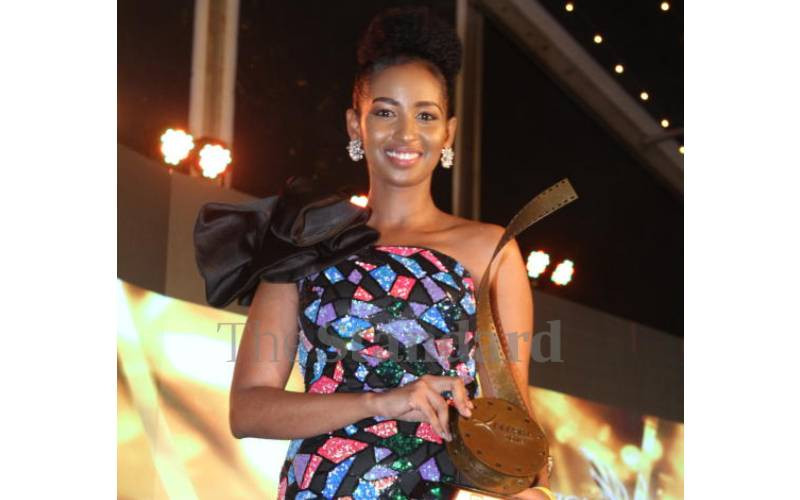 Christmas comes early at Kalasha.
The verdict on who has ruled the Kenyan film industry this year will be known today when industry stakeholders grace the coveted Kalasha International Film and TV Awards ceremony slated for Nairobi City.
It is a night of the greats – the Oscars of Kenya – that will see the crème de la crème in the film and TV sector come together as winners in the 39 competitive categories get unveiled.
And with a record-breaking 217 film submissions realised this year and an additional nine new categories spicing up the reels, this year's gala promises to be a symphony of vocals and visuals, a game change, one that could announce the birth of new characters of theatre. It now goes down to the votes cast by fans after the jury's 20 per cent nomination exercise share.
The awards organised by the Kenya Film Commission (KFC) under the Ministry of Sports, Culture and Heritage will be aired live on KTN. A red carpet invite-only glitz affair, the awards ceremony will be graced by the who-is-who in the creative sector, with some guests coming from across the region.
As much as the awards are dominantly a reflection of the Kenyan film industry with the various categories highlighting elements in filmmaking, four films from Tanzania and one from Uganda have been nominated in the Best International Award category.
As much as every winner gains bragging rights and walks away with cash when the moment of truth comes, traditionally, the Best Lead Actor in a Film and the Best Lead Actress in a Film, usually pose as the most prestigious accolades. And as fate would have it, these categories might just produce a new face with most of the nominees having landed recognition for the first time in the history of Kalasha now in its 12th edition.
The candidates for the Best Lead Actor in a Film are Morris Mwangi (Tony Kiwo) in Baba Twins, Elyas Muhamud (Gacal) in Gacal, Basil Mungai (Kev) in Click Click Bang, Barkhad Abdi (Ayaanle) in Ayaanle and Tim King'oo (Koome) in Last Supper.
New movie queen Violetta Ngina (Wamz) in Baba Twins leads the competitive list of Best Lead Actress in a Film category that has Nyokabi Macharia (Wendo) for Chaguo, Mwanatunu Imam (Mandia) in Jaramandia, Marianne Nungo (Mama Koome) in Last Supper and Joyce Musoke (Elizabeth) in Wise Woman.
And with a lot of interest linked to pay TV and streaming platforms such as Netflix and Showmax where most of the TV series have been channelled, the silent war will be wedged on the Best Lead Actor in a TV Drama, Best Lead Actress in a TV Drama and Best TV Show categories.
It is a battle between Peter Kawa (Malik Maka) in County 49, Alfred Munyua (Silas) in Crime and Justice, Joe Kinyua (Njoro) in Njoro wa Uba, Melvin Alusa (Kyalo) in Country Queen and Jimmy Gathu (Fred Tandala) in Kina for the Best Lead Actor in a TV Drama trophy.
The rather attractive Best Lead Actress in a TV Drama category has Gathoni Mutua (Siniamei) in Single Kiasi, Aisha Mwajumlah (Nimimi) in Pete, Ivy Wanjiru (Sanura) in Sanura, Melissa Kiplagat (Akisa) in Country Queen and Sanaipei Tande (Nana Tandala) in Kina on the spotlight.
Date my Family – Kenya by Newton Ngugi face an all Eugene Mbugua list of KyalloKulture, Best Of, This Love and Foods of Kenya in the Best TV show slot. The Best TV Drama has Country Queen by Peter Obrist, Kina by Appie Matere, Crime andJustice Season 2 by Adam Neutzsky-Wulff, County49 by Brian Munene Gitahi and Pete by Daudi Anguka.
"Kalasha has grown - we have seen tremendous difference in terms of the quality of productions and number of new entrants in the industry. This year had many entries, some from the Somali community. Young people from every county have told unique stories and have used equipment in a way to produce high-quality productions," says Timothy Owase, CEO, KFC.
"The new faces tell you how competitive Kalasha has become and how important it is with every creator in the industry preparing to participate. We intend to continue upping the game in terms of capacity, and quality of production and enticing audiences to start watching Kenyan movies," adds Owase.
Two original Kenyan adaptations, Ayaanle and Click Click Bang have the lion's share of nominations that saw constant themes being those of mental health awareness, domestic violence, elections, substance and drug abuse and violence. Ayaanle led the pack with 14 nominations, while Click Click Bang followed with 12. The two films share a lane in most of the categories including Best Lead Actor in A Film, Best Lighting Technician, Best Feature Film and Best Original Screenplay.
"There is a notable improvement in scriptwriting, with some films doing well in structure and great storytelling. There has been use of good storytelling tools like flashbacks, a story in a story, comedy, poetic irony, use of music and monologues", says Valentine Kamau, Kenya Actors Guild and Chairperson of the 2022 Nomination Academy.
"The submissions received were competitive and showed a huge potential in the local film industry; however, there is still a lack of authentic Kenyan stories from filmmakers and TV industry players while the international Award Category for East African Countries was well embraced by Tanzania film industry, low uptake was noted from the other countries," she observes.
Showmax has earned 23 nominations with the coming-of-age film Baba Twins with eight nominations, including Best Feature, Best Director for Lawrence Murage and Best Lead Actor and Actress for Morris Mwangi and Violetta Ngina respectively.
County49 follows closely behind with five nominations, including Best TV Drama, Best Actor for Peter Kawa and the newly introduced Best Supporting Actor and Actress for James Webbo and Nyokabi Macharia respectively.
Other Showmax Originals nominated include Crime and Justice Season 2 for Best TV Drama, Best Lead Actor for Alfred Munyua as the always so-by-the-book detective Silas; and Best Supporting Actor for Maqbul Mohammed; and Single Kiasi for Best Lead Actress for Gathoni Mutua. This Love and Kyallo Kulture, Showmax exclusive titles, both created by Eugene Mbugua are also Showmax shows.
"Nothing happens by chance, especially in this space where media space has become liberal. We have been engaging pay TV channels. About six months ago, Netflix signed an agreement with the Kenyan government to be able to support capacity building in the country, fund projects and acquire local content. Unlike the past five years, today we can pride ourselves in saying we now have at least 10 Kenyan products on Netflix. The more content we have on these international platforms, we are putting Kenya on the map, selling our culture, branding it and showing we have skilled manpower in the sector," says Owase.
Owase notes Kenya is advanced and advantaged in various aspects of filmmaking. He goes on to add the only difference between us and countries like South Africa is infrastructural development, policies that advance filmmaking and incentives that are favourable for filmmakers.
"We have everything in terms of the screening environment, which is favourable for any filmmaker across the world compared to what our partners have. Kenya has now signed an agreement with South Africa. The truth is, we would like to leverage what South Africa has in terms of funding, skilled manpower and also spillovers when it comes to Hollywood productions that happen in South Africa. When we collaborate, we are creating more opportunities and more room for skills transfer," says Owase.
[email protected]dmedia.co.ke
Related Topics