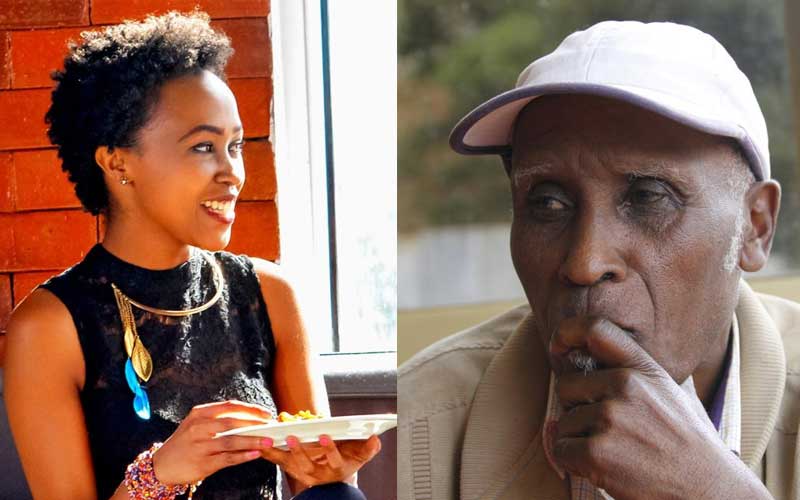 Two questions I have had to answer all my life, two questions as inevitable as the break of dawn; I have had to get accustomed to my answers. "Yes, that Kiriamiti," is almost always followed by, "No, Milly is not my mother."
I am Annrita Kiriamiti, daughter of reformed bank robber and renowned author, John Kiriamiti! I wasn't always aware I had a famous dad. I grew up in a house full of books and was familiar to the fact that my father was an author. Names such as Ngugi Wa Thiong'o and Mwangi Gicheru were common in our household and I knew to speak of them with lots of respect and admiration. What wasn't quite clear to a younger me was the position my father played in all of this. I did not understand for instance, why white men regularly visited our home from all parts of the world to see this very simple man.
It wasn't until I was ten that I began to understand I wasn't born into a regular family. I was in lower primary school at this time and I was starting to get a lot of attention from the older kids. They were pointing at me and the name 'Kiriamiti' kept coming up. Needless to say, curiosity got the better of me. I needed to understand the man the rest of the world saw, I needed to read what was actually in those books that had his name on them.
READ ALSO: John Kiriamiti's bestseller 'My Life in Crime' made into a movie
My father at this time thought I was too young to read any of his books and so I resorted to the old Kiriamiti way and stole the book My Life in Crime. Over the next few days I came to understand the name Kiriamiti and its place in my country. Having a famous father can be rather inconvenient. For one, you can never be quite as big a deal as he is, no matter the situation. Secondly, he steals all the attention right out of whichever room he walks into. I however cannot imagine being born anywhere else in the world. The biggest influence in my life has been my father and this becomes more apparent the older I got. While I have spent a large part of my adulthood trying to create an identity away from him, I often find myself circling back to the very thing that he is, a writer.
Growing up, my parents made sure that I knew I could be whatever I wanted to be. When I mentioned that I wanted to be an actor, I was surprised by how seriously both took it. I have a very supportive family that I do not take for granted. Had they not believed in me, I might never have followed this through. While I have not been in the film industry for long, I have had the opportunity to work on quite a number of local productions. My very first project was a short film I did in remembrance of the Westgate terror attack victims. It is titled The Lucky One and it ran in one of the
The highlight of my career so far has been getting to work with Raymond Ofula on a short film titled Toba that showcases the troubles that face modern day relationships among young people. I am very passionate about the local film industry and believe it holds massive potential. I feel privileged that I am in a position to affect the industry and the type of productions we bring to the screens
READ ALSO: My life in Crime- Nairobians queued for John Kiriamiti's popular book
When I am not in front of the camera, I am writing down scripts and film ideas. I like to mention to dad that while I may not have any published book as of yet, I am still a working writer. I have a very active mind to the extent that my mother, Juliana Kiriamiti, can barely keep up with what I am working on. I don't believe in tying myself down to one thing. As a creative I feel you should go wherever your mind takes you. It is the only way to discover the greatness within.
It may seem like I have my life all mapped out but I have come to appreciate the unpredictability that comes with life. As a young person in my 20s, I feel there is pressure to have your life all figured out and to always know the next step. I have found out the hard way that until you make peace with yourself and discover all that you are, you risk losing out on opportunities meant just for you.
Lastly, did I forget to say that I attended Moi Girls', Eldoret before moving to State House Girls' where I wrote my Form Four exams? And well, I was a Communications student at Jomo Kenyatta University of Agriculture and Technology (JKUAT).
Related Topics