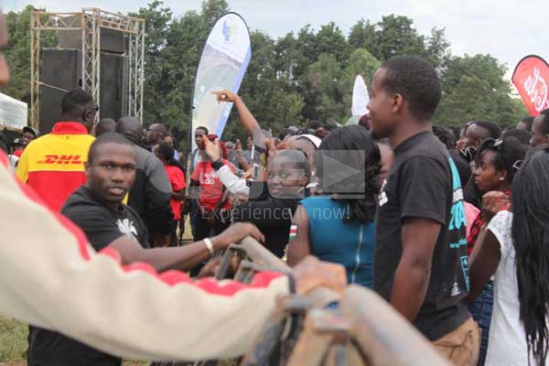 As Queenie Saina, the chief-sub-editor of this illustrious newspaper, has not tired to remind all and sundry, it took me five minutes to retrieve a pen from beneath my desk.
As she correctly points out, by the time I rose from that painful squatting position, my face was covered with a thin film of sweat and I was huffing and panting like a man who had run a marathon. She attributes that sorry state of affairs to unfitness, which is accurate, and age (lots of it) which is bang on target.
I should have taken cognizance of this when I travelled to Eldoret last Friday for the Chebarbar Rugby Sevens. It didn't help that my tummy was running so I had placed the driver on red alert, meaning the moment I croaked the word "ndeleva", he had firm instructions to swerve to the left and slam hard on the brakes, even if it meant sending that vehicle torpedoing down a sharp cliff into the Rift Valley.
First sign that age was catching came when we popped into Moi University's main campus at night. I was amazed by the swarms of students milling around, in groups, in twos, mostly caressing an alcoholic beverage. "They are so young..." I marvelled and not without a measure of respect at how people so young manage to navigate the jungle that is university. I shuddered at the thought of letting my daughter loose in a place sweating raging hormones from every pore.
But it is at the Eldoret Sports Club, the venue of the Chebarbar Rugby Sevens, that I really felt my age. First, it occurred to me that I couldn't remember the last time I walked with a swagger. These days, weighed down by the travails of life, I absentmindedly walk stiff like a tree. But not the young fellows I saw.
The girls were walking daintily, like they were stepping on eggshells, while the boys did everything possible to exaggerate 'muscular framework', whether present or a distant figment of their imagination. I thought everyone was awfully dressed, but that must have been the general consensus among the excited youths who looked at me. That is if anyone noticed my presence, which I highly doubt!
The action on the rugby pitch was... How can I explain this? Each time some sorry fellow was pounced upon, lifted high in the air and flung on the hard, dusty earth like a sack of potatoes, I shuddered. Don't these foolish rugby players have mothers to grab them by the ear, slap them around and order them to go home instead of breaking their bones?
And what can one say of the dancing? Back in my day, shaking to Michael Jackson's 'Thriller' was the highest point of acrobatics. But I can authoritatively state that youthful bones have grown suppler and these kids are shaking them at the speed of light.
No, I will mention nothing of the 'twerking' I saw. Until I have cleansed myself with a crunchy piece of chicken and performed libations with a double shot of fine whisky. Two doubles if you may, please.
Related Topics