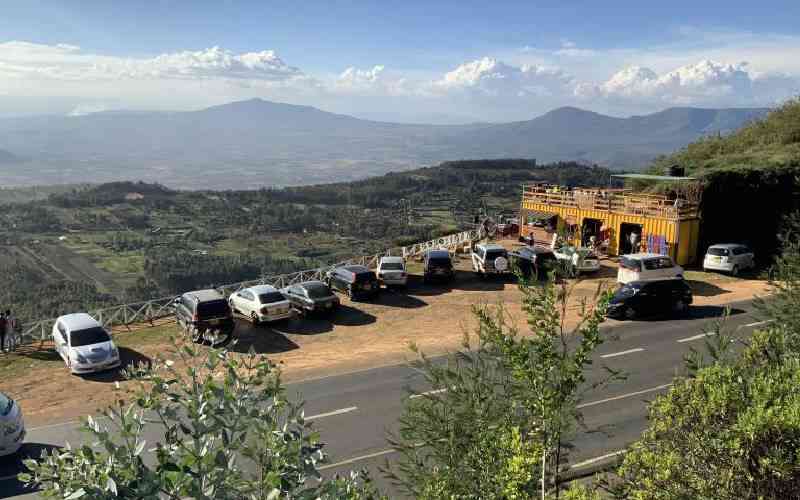 When EsQoffee, a picturesque café overlooking the Great Rift Valley escarpment along the Nairobi-Nakuru highway, was completed over a year ago, it promised a breathtaking experience for its patrons.
Against a stunning backdrop of an endless skyline and rolling hills at the Lari viewpoint, travellers would sip a cup of coffee, snack and freshen up before proceeding to their destinations.
However, the idyllic dream stopover that has been a reality for countless customers is crumbling owing to a high cost of operation attributed to a lack of connection to electricity.
A visibly frustrated co-founder Wang'ombe Ng'ang'a is worried that a strong brand outline with the potential to grow into a 24-hour franchise across major highways may be on its deathbed.
"Over a year after paying and meeting all the requirements for electricity installation. Delays by Kenya Power have cost the start-up the drive to weather through the harsh economic conditions in the recent past that have been marked by high fuel costs, slow post-pandemic economic recovery and an uncertain election period," Mr Ng'ang'a tells Enterprise.
He explains that during their market research as investors, they had pinned down power as the core driver for their business.
"Coffee machines require stable and reliable power to brew a quality drink. Quality is the main reason for the café's popularity. Stable power also guarantees greater efficiency of our pick-and-go services," added the co-founder.
The coffee shop is forced to use a 10kva generator with a daily consumption of 20 litres of petrol. The business is spending almost Sh100,000 monthly which is a hefty bill for a budding start-up.
"The cost of fuel at the moment, which stands at Sh90,000 a month, means that the café is limited on its operating hours. We currently operate between 6 am to 6 pm, losing out on peak hours, when the drivers are most in need of coffee to keep them alert while on the road. Night customers are also starved of caffeine," said Ng'ang'a.
He says that a solar system to run a coffee shop with a 6kva capacity inverter will cost the start-up at least Sh700,000. Such a system would guarantee 24-hour café operations with the capacity being sustainable and reliable.
To keep afloat, the cafe has initiated several innovative measures but is ultimately banking on a solar system installation to ensure business sustainability and profitability.
"We seek partnership with clean energy backers who see opportunities in promoting alternative means of powering businesses and the possibilities of building long-term relationships with companies that are striving to create zero waste management solutions for start-ups," says Mr Ng'ang'a.
The co-founder says that efforts to reach Kenya Power have been largely unsuccessful with their last official communication being on October 2021.
"Dear EsQoffee Ltd, your power application Ref E28212021090082 has progressed to the construction stage. We are making arrangements to have it completed soon," said the giant utility firm.
As they sell coffee, they are also promoting road safety, championing mental health awareness and building brands by offering advertising space.
"Once a sustainable power solution is achieved, the café intends to provide coffee round the clock as motorists depend hugely on coffee to manage fatigue by keeping them alert while on the road, and hence mitigate road carnage caused by fatigued and drunken driving," says Mr Ng'ang'a.
The café is also struggling with attracting experienced baristas to complement their high coffee standards. Its bush setting and distance from Nairobi have led it to adopt an apprenticeship programme aimed at training and recruiting local talent. Several beneficiaries of the programme, notes Ng'ang'a, have already found placement positions in major coffee outlets.
"These partnerships have not only supported locals to have coffee-preparing skills but encouraged coffee schools to find internship placements for transitioning students to improve their experience in a busy coffee shop and beneficial exposure to the market," explains Ng'ang'a.
The cafe also features in various events across the country with private and public events now accepting alternative alcohol-free beverages such as coffee.
Their prices are relatively fair with everything for everyone for as low as Sh50 and also offer cakes, mandazis, milkshakes and ice cream. Unlike the other traders along the escarpment, EsQcoffee accepts foreign currency such as the US Dollar to accommodate tourists.
EsQoffee has bet big on roadside safety awareness, brand activation services and awareness programs to boost its sales and marketing efforts.
The café also intends to partner with tour companies plying this highway route to offer alternative coffee and hospitality services for both local and international tourists with breakfast and sundowner happy hours.
Coffee lovers get to enjoy the beautiful scenery of the sunrise and late sunset drop as they break from their trips.
Related Topics