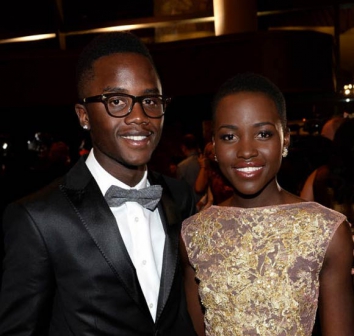 A few months ago, Heads Up revealed that Lupita Nyong'o could have a musician sister-in-law in future. Upcoming Australia-based Kenyan musician, Wanja Wahoro, is dating her younger brother, Peter Nyong'o.
The couple has been dating for almost two years and have even recorded a duet.
The song is a rendition of Frank Loesser's Baby It's Cold Outside.
Lupita was quite excited about it and even uploaded a video of the duo in action. "Aaaaw this is called charm. My brother and Wanja Wahoro give their spin on Baby It's Cold Outside in the blazing Kenyan heat."
Heads Up has been following these two lovebirds closely and one thing is clear, Wanja is protective of her man.
When the young Nyong'o posed for a photo with celebrated singer Beyonce, Wanja jokingly commented on the photo that, "You are not allowed, I am 10000 doooone" (sic).
Nyong'o, on the other hand, is not shy to express his affection for Wanja. He is always posting pics of her performance.
Related Topics