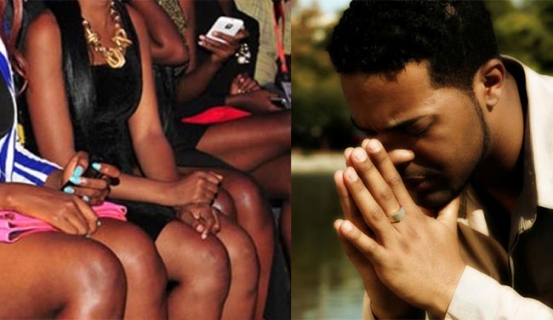 Members of the Akorino faith in Kenya have for ages been known to dream about future spouses. A man of the turban raises during 'ushuhuda' and says: "Nyambura, dada katika Yesu... niliota na wewe jana...sema Halleluja!"
And the other faithful respond: "Halleluja!" upon which the man of the turban narrates how in his dreams, Nyambura was revealed to be his future wife. And with fervent prayers and spirited singing for the couple the banns of marriage are announced in due course.
Indeed, since the white missionaries first came to Kenya over a century ago, the church has been the perfect place to not only renew one's acquaintance with God, but also make friends, and even meet your future spouse during choir practice.
Tales of 'we met in church and one thing led to the other' are common and not necessarily during the 'how did you meet' segment of the Wedding Show.
Many we met in church marriages turned out just fine.
But its debatable the same can be said of meeting a future mother or father of your children in church today. Traditional churches are gradually being upsurged by 'fire and brimstone' outfits and serious church doctrine has been replaced with prosperity gospel churches and attendant secular show offs that are out of step with Christ's idea of the church.
Meeting in church, while a blessed venue, has pressures. The church wedding that follows has to feature portraits of the couple smiling back from 'mineral' water bottles given to attendees who are there to see how it out did the previous one in decor and shock-effect.
The couple-99.99 percent of the time-have 'road tested' each other making a mockery of the white wedding gown that connotes bridal purity. All these is besides keeping appearances when the marriage later goes south.
Below are some reasons why the church is no longer the best place to meet your future spouse:
1. Part time Christians Some Kenyans only turn to God when going through trials and tribulations akin to biblical Job. When life gets back to normal their faith is relegated to the backburner.
Grace Njambi, who's in corporate communications in a local telco, says she met her hubby in church. He was jobless. Things changed when the part time pastor's assistant who spent free time with wife and kids got a job.
"Three months into his new job he had stopped going to church," recalls the 38 year old. "Just recently a woman came with a baby to our house claiming my husband was the father."
2. Danger in the pews
Beatrice Khalai was 35 years old when she tested HIV positive. That was eight years into her marriage to a man she tied the knot as a virgin.
"I met my late husband in church and we started dating soon after. I was 27 years old and a virgin. He is the one who broke my virginity.
I worked at a local school as a cateress, while he was a teacher. We got married in 1997 and were blessed with three children," says Beatrice who later lost her hubby to HIV/Aids complications told The Nairobian a previous interview, blames the church for not counseling and recommending HIV tests before their wedding.
3. Twisted spouses Mushrooming gospel churches have been (in)famous for brainwashing their faithful including would be couples. Remember the case of former news anchor Esther Arunga and her hubby, Quincy Timberlake, who were said to have met at the Finger of God Church?
Well, Esther not only called off her wedding to her then fiancé, but quit her job and later rejected her family and moved with Timberlake to Australia. He hubby would be accused of having a hand in the death of their son with allegations of trying to get save "him from alien embryos implanted in his stomach."
4. Church as a mall To some people, the church has become a shopping mall where they prey on men with sleek cars; a venue where women show off their Turkish trouser suits and Peruvians weaves.
Glady's Ngetich confidently brags that she got her rich husband in church. "I met him at work where I was a receptionist and somehow he mentioned to my boss about his Sunday activities. Of course I showed up pretending it was just coincidence," says the former Catholic turned Anglican who later quit her job.
5. Orders from above
Meeting your spouse in church could mean the end of independent decisions as when not consulting with the pastor, one spouse might be forcing the other to contribute towards the church's chopper kitty. Your wedding date and details are decided for you too.
"I met a very beautiful girl in church in 2006 and hoped that she could make a good wife. It was one thing having to wait for sex after marriage but being decided what I would wear and who would be my witnesses was too much for me," says James Githii, 32 at the time, and yet to marry.
6. The Pretender
If you only go spouse searching in church what makes you imagine others are not also there for the same reason? Moses Mongiti went to church hoping to find the ideal wife material, but "I was shocked to see a woman I had a one night stand with a few weeks before was the choir mistress," says the 35 year old accountant. "I have not gone back to church since,"adds Moses who's still single and searching.
7. The moralist
Women who work closely with pastors in church are forced to search for men in the same churches to avoid bad blood between them and their pastor's wives.
Gospel musician Evelyn Muthoka says she really prayed for a husband from the church because she was facing challenges with her pastor's wives.
"It was difficult for them to understand that I was just ministering with their husbands. This of course is natural for any woman because we are naturally jealous, "Evelyn told the Nairobian. She says her husband Boniface Muthoka, gave her a reason to live.
8. The backslider
If both of you met in church and one backslides then there is bound to be friction. Anne Muthui a 45 year old mother of four met her hubby in a crusade. He was a pastor while she had just come to listen. "He actually prayed for me to get saved. We lived happily for 15 years until he came home reeking of alcohol. At first he claimed he was just stressed but this went on.
9. The Perfectionist
Some people translate Christianity to mean being perfect to a fault leading to pressure of being someone else. Joyce Naisiae had to break up with a pastor's son because "They monitored everything I did. I was told that I could not visit some of my friends; I could not wear trousers or even apply make-up. Eventually I had to break up with the man despite the love I had for him."
10. Sex is taboo
To some Christians, sex is for reproduction and not some adventurous sport. If you are looking for a person who go down in the car or get kinky in public washrooms then steer off the church. Sally Cheptoo, a teacher, says her husband "was not into sex before marriage and I totally agreed to that. Our wedding night was a disaster, he didn't even know how what to do with me. I have tried to teach him a few things just to spice our marriage but he reluctant and calls them Satanic. It's really weighing down on our relationship."
Related Topics