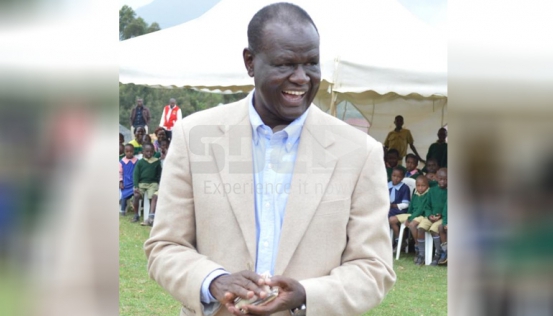 For the past few months, it has not been business as usual for top politicians in Meru County.
Meru Governor Peter Munya and Senator Kiraitu Murungi have not hidden the fact that they will face off in 2017 for the top seat in the county.
Things are so thick that the senator sought divine intervention (pun intended) to take on his political contender. Kiraitu used a Biblical analogy to express his desire to unseat Governor Munya in 2017 elections.
Murungi narrated to residents the story of Jacob and how he wanted to marry Rachael but he had to work for seven years to get her hand in marriage but was given the less attractive Leah.
"Instead of Rachael, Jacob was given Leah. Meru was given Leah (Munya)," Murungi quipped.
The senator added that. "People were going to see Jesus' tomb but they found a stone. Munya has become that stone and if you want Meru to develop, that stone must be removed," said Murungi during a fund raiser at Kionyo Secondary School in Imenti South.
"Meru was given Leah but I have gone back to Laban so that we can get Rachael," said Murungi.
The senator claimed that out of the Sh7.5 billion the county received from the Treasury during the last financial year, each of the 45 wards should receive at least Sh70 million.
"He should use Sh4.5 billion for operations and salaries and spend Sh3 billion on development. But we cannot even see a ward where even Sh30 million had been used," said Murungi.
"We have 'arranged' the equation well and we will work to give all wards equal amounts of development funds. The Senator said that area leaders had agreed that Tigania will have Woman Rep Florence Kajuju and Deputy Governor Tuitus Ntuchiu, while the Senate seat goes to Igembe.
Murungi said Meru (Jacob) must have Rachael (him) and not Leah (Munya).
"Will you give us Rael (Rachael)?" Murungi posed to the crowd.
Not all that glitters is gold, says Mrs Governor
Not amused by Senator Murungi's comments, Governor Munya's wife Phoebe Munya came to her husband's defence.
"To me Laban was a very wise man. In his heart of hearts he knew that not all that glitters is gold. He offered Leah to Jacob because he knew the shortcomings of his preferred bride Rachael. She was barren. He must have known that Leah would have made a better wife for him.
So it is safe to say Laban had the best interest for Jacob, who I see the Senator compared to the people of Meru," said Phoebe, who also comes from the senator's backyard.
"If the senator had finished his Bible text he would have learned that Leah blessed the house of Jacob with six sons because his 'beloved' Rachael could not conceive. With all due respect from my lessons learnt during my Sunday school days, I know that Leah was surely the blessed of the two sisters," she added.
Phoebe, urged residents to firmly support her husband as he was destined for bigger things in his political journey.
Pheobe Munya took to social media to extol the ideals that Munya stands for and the reason why he has been voted twice as Council of Governors Chairman.
"I am a proud daughter of my Mothers homeland and I wish to answer our 'King' (Murungi) on his question whether we will give him Rachael. No Sir! We are better off with Leah!" Phoebe said.
Related Topics