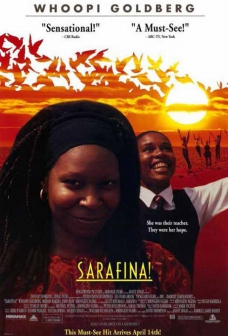 Many foreign films have been shot in Kenya: King Solomon's Mines, Born Free, Out of Africa, White Mischief, The White Masai, The Wilby Conspiracy (starring Sidney Poitier and Michael Caine) and Odongo - the British film about an odiero hunter who falls head over heels in love with a vet.
The above flicks had mzungu-tinged story lines, but the more memorable ones had miro narratives: The Kitchen Toto, starring Edwin Mahinda, Ann Wanjugu and Bob Peck; and Nowhere in Africa, featuring the late Sidede Onyulo as Owuor.
Ghanaian Kwah Ansah's offering, Love Brewed in an African Pot and Rise and Fall of Idi Amin starring the late Joseph Olita, had Kenyans forming endless beelines outside the Odeon Cinema. But few foreign films took Kenya by storm as did Darrell Roodt's 1992 musical, Sarafina.
Written by Mbongeni Ngema and William Nicholson, this engrossing offering based on the Soweto student uprisings in apartheid South Africa, starred Lelet Khumalo (Sarafina), Whoopi Goldberg (Mary Masombuka) and Miriam Makeba as Sarafina's mother.
Besides its unforgettable songs like Hugh Masekela's Sarafina, Mbongeni Ngema's The Lord's Prayer, James Ingram's One More Time and S'busiso Ngema's haunting, Safa Saphel Isizwe (The Black Nation is Dying), the film led to many girls born in Kenya at the time being named Sarafina.
Related Topics