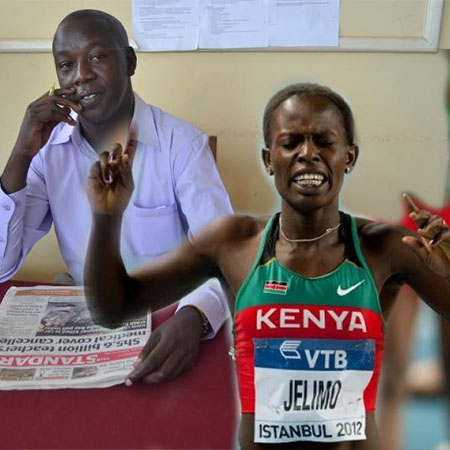 Olympic gold medalist Pamela Jelimo claims last week's edition of The Nairobian citing her 'divorce' from Peter Kiprono Murrey spiked her heart and reminded her of a past she would wish to forget. A past she says, brought her untold pain and bitterness.
The former Beijing and Golden League 800M champion terms her love for estranged husband 'an amazing experience' that she would have loved to hold and keep, but accuses Murrey of weaving a web of lies around their relationship.
She insists her said marriage with Peter Murrey never happened, and accuses him of wasting her time with hopes of marriage, yet all along he was keeping another family on the side.
"Murrey never proposed to me. We stayed together for about four years and not once did he propose," she reveals bitterly. "There was no divorce; we were never husband and wife. I have never been exposed to any traditional or formal wedding ceremony, Murrey is lying."
The million-dollar athlete, who was 17 years old when she got her fame and fortune, accuses Murrey of taking advantage of her innocence and limelight at the time to position himself as her husband.
"He would make sure he was in all my press interviews. He was there, always throwing himself in my limelight and telling the world he was my husband," she says, adding that she did not mind at the time because she expected Murrey to eventually marry her.
"He was my live-in boyfriend, and I thought we would get married," she says with a laugh.
Pamela Jelimo's dream of marrying her childhood sweetheart however crashed in October 2012.
She revealed how she travelled home after the 2012 London Olympics, not knowing that the end of her cherished relationship was nigh. Concerned friends had hinted that Murrey had been living with another woman for years and that he already had a child with the said woman.
Jelimo made a fact-finding mission to the woman's house only to find her beloved Murrey in her arms.
"I found them together, a happy family. He had rented her a house and they already had a one-and-half-year-old child. All this time, I had been kept in the dark with illusions and hopes of marriage," she recalls.
Jelimo was forced to end the relationship despite the fact that she had "invested a lot of time and dedication" on it.
"I could no longer live a lie," she says quietly, adding that the ensuing court case over property was initiated by Murrey "to further torment me, as if I had not had enough of the pain he had caused."
Jelimo firmly states that she could not share her property with a man who was not her husband and told off Murrey for claiming she left him with nothing. "I could not give him my money or property. He was not my husband. In fact, she rewarded my love with scorn," she adds, further trashing Murrey's accusations of neglect during their time together.
"He was the man of the house. He had all the freedom to do what he wished with my property. At some point, he even controlled my ATM cards. We bought property together and shared many things together," she says.
Asked if he denied his ex-boyfriend children, Jelimo insisted she could not give children to someone who had not married her. "He refused to marry me. I could not give him children until I was legally married to him. On top of that, I was training for competitions. There is time for everything."
Jelimo adds: "I have never recovered; the ensuing court case over my property further traumatised me. All these things affected my athletics career and I could not concentrate."
Jelimo claims her breakup with Murrey and serious injuries have served to kill her competitiveness in athletics.
"I am aware my career is not at its best at the moment. I was mentally traumatised by my the breakup. I could not perform. I also have two leg injuries that I am currently treating; knee and tendon injuries," she reveals.
She however says she is proud of her achievements and has no regrets. "I have many awards that are enviable. I have the world-beating time records and the diamond league win. These are achievements worth celebrating," says the athlete.
Jelimo adds that she hopes to get back to the track as soon as possible, and revealed she was spending a fortune to treat her injuries abroad.
The speedstar reveals she is currently not in a relationship, and does not intend to get into one. "Once bitten, twice shy. I cannot dare date any person right now," she laughs.
She further advised female athletes to be cautious of men who prey on their hard-earned money in the name of a relationship.
"Our main disadvantage as female athletes is that we are busy with training. We do not have time to fully concentrate on our relationships. That is why we fall prey to cheating partners.
Related Topics