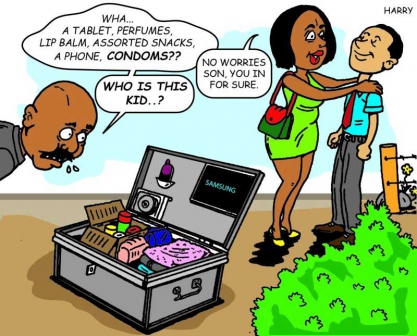 Our school head, Okonkwo is threatening to retire early to save himself from an premature death. The recent wave of school burnings has seen him literally sleep in his office. Mark you this isn't the first time he has threatened to resign.
A student referred to him by the county education office for admission in Form Three has reminded him of the need to retire and rest.
The boy was brought by his 'dot com' generation mother in a souped up sports car, playing loud hip hop music. She breezed into the principal's office, brandishing the letter from the County Director's office.
Okonkwo forwarded it to the admissions office: 'Urgent, please admit,' Aeneas was instructed via a note written in bold red.
Smelling trouble, Aeneas tried to protest. His submissions that the boy neither had a report card from his previous school, nor a transfer letter were dismissed. The new student, named Greg, was given an admission letter and told to report immediately.
Greg's mother brought him on Thursday. He became an instant sensation among other students. Sporting a peculiar Mohawk hairstyle, which reminded one of a witchdoctor, his trouser legs had been slimmed to the size of a narrow water pipe, while his feet were shod in a pair of sharp shooters – the type favoured by preachers of the 'seed' variety.
Okonkwo made the mistake of telling him to go for a proper haircut, have his trouser 'unpiped' and buy proper school shoes. His mother, in a crop top that exposed a big chunk of her mammary glands and showed most of her tummy -- in spite of the cold weather-- was up in arms. "What is the relationship between his hair and learning? His brain hasn't been dyed red." Okonkwo did not budge and they left. They came back towards the end of the eighth lesson and were escorted by 'soldier' to his office.
Students who burn schools
Okonkwo instructed Greg to open his box and his mouth flew open at the sight that met his eyes. One side of the big box was dedicated to toiletries; assorted beauty soaps, creams, lotions and sprays and what not.
"Is he coming here to run a kiosk?" Okonkwo loudly wondered. The boy's shopping was so big that it could keep the school canteen guy going for a whole term as stock!
Turning to Greg's mother, Okonkwo asked: "Why are you making a woman out of your son? All a boy needs is a bar of washing soap and tooth paste."
Greg's mother was astounded and even confessed to sharing lotions with her son. "I don't see why Greg should wet his lips with saliva when I can afford to buy him lip balm. As for the lotions, she said that modern men were different from their ancestors who hardly applied lotions on their legs and ended up as scaly as rock lizards.
He had also carried packets of beverages like drinking chocolate and a carton of noodles. "And what are these for?" Okonkwo asked incredulously.
"Bwana principal, my son's stomach is too sensitive for the school's maize and beans and that is why I have bought him the noodles. All he needs is just hot water and he will be able to make his own meals," she said and then asked: "Can I be allowed to have pizza delivered to him on Wednesdays and Fridays?" Okonkwo was in a fit.
"You want him to be a celebrity here? Why can't you then take him to an international school where he can eat whatever junk he wants and ride horses and helicopters during breaks?" he furiously asked.
"No celebs in my school! You either follow the school's rules and only bring in the items allowed or go back with him," he said and called 'soldier' to escort them out, scoffing: "I'm afraid, it's this kind of pampered students who burn schools over the most trivial of things".
Related Topics