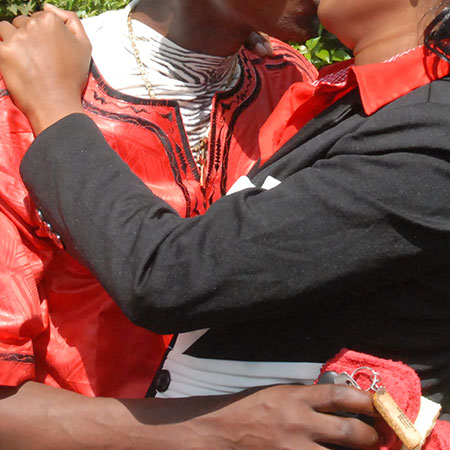 Alice Mukami with lover Pastor Jeff Wanjau
On March 2, Peter King'ori invaded a church where his daughter Alice Mukami was to wed a pastor, and disrupted the proceedings in dramatic scenes captured on national television.
Mukami, 27, and her lover, pastor Jeff Wanjau of House of Mercies Prophetic Church, where the couple was tying the nuptials was swiftly whisked from the Church located along the Othaya-Nyeri road, to a safer ground in a hotel in Nyeri town. King'ori, 75, claimed he opposed to the marriage because he had information the man was a married father of two.
"I do not want my daughter to get caught up in marital issues caused by that man and his first wife. I am also not aware of the wedding arrangements, despite being her father. They have kept me in the dark," complained King'ori.
I did not have money
And when The Nairobian moved to get details of the controversial wedding, we were directed to Rosemary Kamau who claims to be Wanjau's first wife.
Rosemary said she wedded Wanjau in November 1997, and that she is still holding their valid marriage certificate. "We separated two years ago, but he has been claiming that we divorced, which is not true. I did not have money to pursue the matter in court, and I want the woman he is intending to marry, and the world to know that I have never been to court for a divorce case with Wanjau.
"I have two children with him, but he has even refused to allow me meet or greet them. I have left everything to God," said Rosemary on telephone. Her allegations corroborated Mzee Kingo'ri's claims that Wanjau is a married man.
Rosemary told The Nairobian that she will never allow another woman take care of her children, even as King'ori vowed that his daughter would only cohabit with a married man over his dead body.
"If he comes with his first wife and they both convince me that he wants to marry my daughter as the second wife, I will say 'yes'. But I will not allow my daughter to be accused of destroying another woman's marriage," said King'ori.
The elderly man who sells second-hand clothes in Othaya town says a family shop he bequeathed his last-born daughter caused the problem.
"Hii maneno yote imetoka kwa hii duka nilipatia Mukami (This whole started from the shop)" he said.
A relative who sought anonymity said they used to see the man talking to Mukami at the shop in low tones. But Mukami, in a press conference at the hotel insisted she did not understand why her father and the entire family is opposed to her marriage.
"I love him just as I love my parents, and I request them to allow me marry him and also bless our marriage," the visibly shaken Mukami said.
Although Reverend Wanjau admits he was married to another woman, he says they had long divorced.
Gone to their home six times
"I have documents to this effect. We divorced three years ago, and I am free to marry whomever I want," he said.
Wanjau added that his father-in-law was not cooperative, saying, "We have gone to their home six times accompanied by elders and Church leaders, but the old man just decided to be difficult. That is why we decided to wed, whether he is for it or not," he said.
But Mzee King'ori said they only visited him once and after they presented their request, he openly declined to grant them permission.
King'ori, who first appeared hesitant to speak about the issue, says he has not met neither his daughter nor her fiancée since Sunday, when he disrupted their wedding.
"I don't know where they went, but let them know that I am not ready to sit and discuss her marriage to that man," he said.
Related Topics