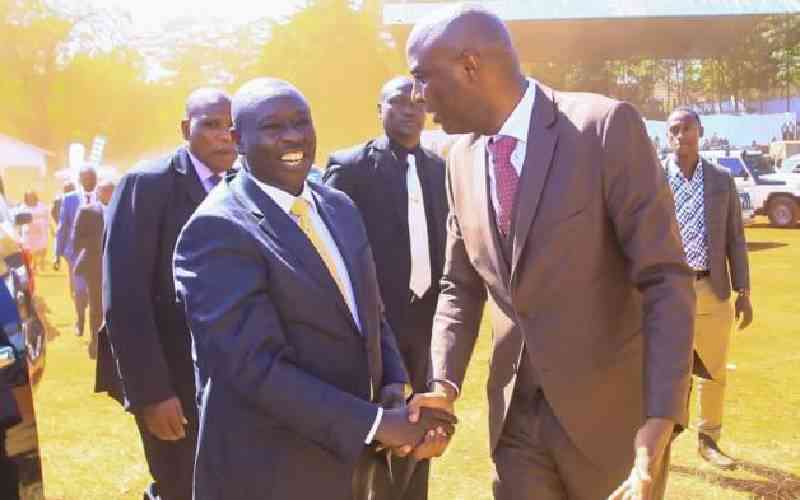 Deputy President Rigathi Gachagua is facing a backlash over his proposal that bars and restaurants in Mt Kenya region be issued with only one licence.
Bar owners and a former governor have said Mr Gachagua's remarks were ill-advised.
However, church leaders in the region and a governor have welcomed the move, saying it will tame brewing and consumption of alcohol.
On Wednesday, Gachagua asked all county governments in Mt Kenya region to revoke all licences to bars and restaurants and to only license one in each town.
"I urge all the county governments from Mt Kenya region to go back to the round table and revoke the many licences they have issued to bars and restaurants as they are destroying our children. Only one bar and restaurant should be licensed in each town. Bars are more than shops and hotels," he said during a bursary issuance ceremony.
That hasn't gone down well with Bars Hotels and Liquor Traders Association (BAHLITA).
"He needs to differentiate between war on illicit brews and fighting entrepreneurs who are in legitimate business of beverages, which include alcohol," said Simon Njoroge, BAHLITA national chairperson.
Mr Njoroge said closure of bars and restaurants would lead to unemployment and defeat the government's objective of encouraging establishment of industries in the country.
"Bar owners do not manufacture alcohol. Focus should be on ensuring that the products sold in our premises meet required standards. We are on record as supporting government efforts to fight illicit brews," said Njoroge.
But Njoroge admitted that regulating bars and restaurants, wines and spirits and distributors would ensure existing laws are followed.
He said said the requirement that a bar and restaurant must have a kitchen had been abused by some applicants.
"Some people who sell eggs have been issued with a licence for bars and restaurants. Others in wines and spirits have seats in their premises and sell alcohol. That is what should be regulated," said Njoroge.
Former Murang'a Governor Mwangi Wa Iria has also criticised Gachagua's remarks, saying they were unilateral statements that could encourage monopolisation tendencies in issuance of licences.
"There are national standards set for one to be licensed to operate a bar and restaurants and there are established laws on that matter. When one meets the standards, one should be allowed to do business," said Wa Iria.
The former governor said the move would be discriminatory to Mt Kenya business owners as it was not applicable to those doing the same business in other parts of the country.
However, Maragua MP Mary Waithira said all the government was trying to do was remove bars from villages to shopping centres as well as reduce the number of such establishments.
"The idea is to reduce the number of bars and at the same time remove them from villages, near schools and where people live with their children. Bars should not be established in environments where there are children," said the MP.
Church leaders have also welcomed Gachagua's remarks, saying desperate moves call for desperate measures.
Murang'a Bishop's Forum chairman Stephen Maina of the Full Time Winners Gospel Church said illicit brew and alcohol consumption was on the rise and that the government's directive was meant to save locals.
"The directive will ensure energy is directed to meaningful activities," he said.
However, Murang'a Governor Irungu Kangata defended Gachagua, saying the directive was issued in good faith.
He pledged to adhere to the directive.
Related Topics