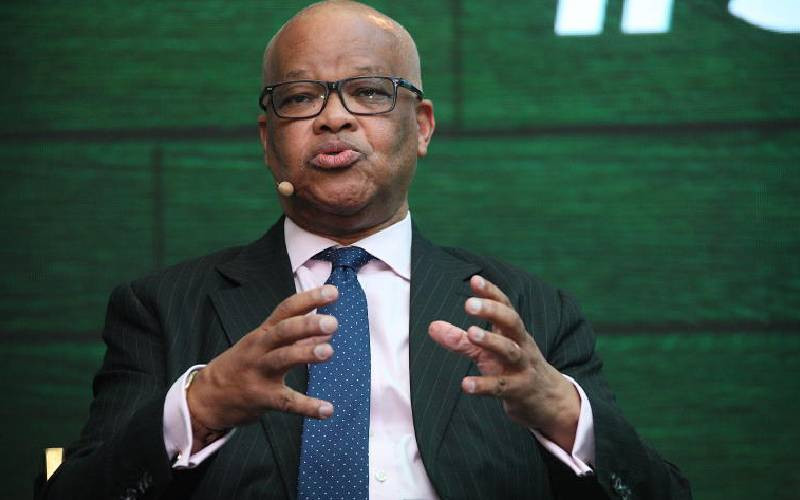 A Nairobi lawyer has been appointed to the Safaricom board with the telco announcing the resignation of veteran corporate banker John Ngumi on the Safaricom board of directors and consequently as the chairman of the board with effect from December 2022.
In the changes that will be keenly watched by investors, speculation is rife that Adil Arshed Khawaja, who is the managing partner at Nairobi-based law firm Denton's Hamilton and Mathews could be headed for a bigger office.
His appointment was approved by the Safaricom Board of Directors on January 5, 2023, and is subject to regulatory approval.
A statement by Safaricom says Mr Khawaja, currently serves on various boards which include Rhino Ark Charitable Trust, Al Futtaim Automotive-CMC Motors Group Ltd and Atua Enkop Africa Ltd.
He previously served as a director of KCB Bank Group as well as Kenya Power and Lighting Company and as a Trustee of KWS.
"The board announces the resignation of Mr John Ngumi as a director and consequently as the chairman of the board with effect from 22nd December 2022. The new Chairman will be elected by the Board of Directors in the coming weeks," reads a statement from the telco.
Ngumi was nominated to the Safaricom board by the National Treasury in its capacity as a 35 per cent shareholder on August 1, 2022.
Sources say he has left to focus on developing green energy projects across Africa.
Ngumi was chairman during Safaricom's recent commencement of operations in Ethiopia and was also at the helm when Safaricom repositioned its Fuliza product.
His exit from the giant telco marks another career turn for the corporate titan who has served in various State boards over the last 25 years.
Ngumi has a long-standing relationship with Safaricom going back to 1999 when he served as a member of the inaugural board of directors of the Communications Commission of Kenya, now the Communications Authority.
Subsequently, he acted as Safaricom's principal arranger of major financing through the 2000s.
He has served as a non-executive director on the boards of several State-owned enterprises beginning in 1997 when the late President Daniel Arap Moi appointed him to the board of the Industrial and Commercial Development Corporation (ICDC).
In the years that followed, he served on the boards of Konza Technopolis Development Authority, Kenya Pipeline Company (KPC), and Safaricom, both as a board director and chairman.
Ngumi took over the chair's seat at Safaricom from Michael Joseph, who had chaired the board since 2020 and before then served as the telco's chief executive.
At the time, the company also announced the resignation of Sitholizwe Mdlalose as a director, also effective August 1.
Ngumi was appointed to chair ICDC in 2020 for a two-year term after the corporation was bestowed a giant role of overseeing rail, pipeline and port operations, which were brought together under the Kenya Transport and Logistics Network (KTLN).
This meant synchronising operations of Kenya Railways, Kenya Ports Authority and Kenya Pipeline Company.
Ngumi is also a director at Kenya Airways. He transitioned from being a banker to the boardrooms of government-owned enterprises following his appointment to chair the board of KPC in 2015.
He subsequently quit his lucrative job at Stanbic Bank, where he was director of investment, citing a conflict of interest.
The bank was the lead financier in a Sh35 billion loan that KPC had taken from a consortium of banks to build the recently commissioned Mombasa-Nairobi pipeline, referred to as Line Five.
The changes come at a time Safaricom, part-owned by South Africa's Vodacom and Britain's Vodafone, is under pressure to create new revenue streams as its voice business matures.
Safaricom has been seeking to diversify its income from voice, short message services, cash transfers and payments.
The telco recently indicated it is targeting fresh produce firms, supermarkets and horticultural firms with cold chain solutions to help them curb commodity losses.
Kenya is one of the biggest exporters of cut flowers in the world, accounting for about 38 per cent of imports into the European Union.
Experts say while this industry has developed relatively advanced cold chain systems, those established for other temperature-controlled foods such as fruits, vegetables, meat and dairy have been more ad-hoc.
Safaricom said it would deploy its technology in pre-cooling, refrigerated storage and transport to enable as it invited companies involved in the supply and manufacturing of cold chain solutions to tender for their provision.
"Safaricom intends to engage the services of the reputable supplier(s) for the provision of cold chain management solutions for remote monitoring and controlling of cold chain facilities including storage, logistics, and distribution assets enabled by IoT technology," said the company in internal documents seen by The Standard.
Related Topics