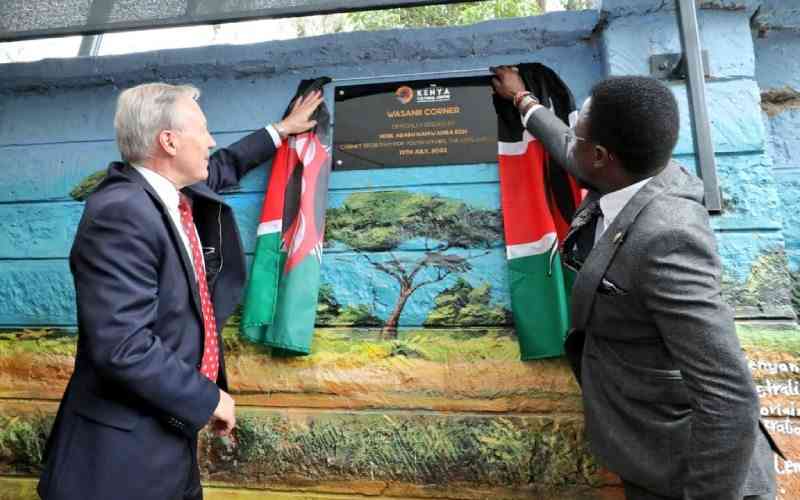 The government has launched a refurbished Wasanii Corner in Nairobi as a space for creative expression and development. The move coincided with the launch of a mural by three artistes commissioned by the Australian High Commission in Kenya last week.
Wasanii Corner is situated within the grounds of Kenya Cultural Centre that incorporates Kenya National Theatre where artistes create, rehearse and host public performances.
Presiding over the event, Cabinet Secretary for Youth Affairs, Arts and Sports Ababu Namwamba said the refurbishment of the space confirms the growth of the creative industry, adding that his ministry will continue to support the advancement of the arts as a means of creating employment in the country.
Namwamba instructed the management to ensure artistes train within the centre free of charge.
"This is a shrine in our artistic ecosystem. It has served as a nourishing crucible and has launched many artistic talents. Some of the biggest names in the industry started their journey on this shrine. The growth of the creative industry is a priority for the government with a clear policy push to develop the creative ecosystem," said Namwamba.
According to the cabinet secretary, any artiste should be in the industry and live well financially. He urged teachers to help grow creative talent "as much they do other academic disciplines".
"The creative industry is bigger except in Kenya. We have had Kenya National Theatre awards for the best talents without any monetary awards. I found that criminal. I have since witnessed our thespians receive monetary rewards. For this year, the awards will be bigger and better monetised," he said.
The mural was done through a collaboration between Australian artiste Kaff-eine, Australian Aboriginal artiste Mim Cole and Kenyan artiste, Joy Kito. It is meant to speak to the fusion of the two countries' artistic talent.
The three artistes knew little about each other's countries and cultures but came together to produce the mural. The two Australians engaged with Kenya's Joy Kito virtually. It fell on Kito to actualise the three artiste's ideas.
"The mural celebrates the diverse cultures of each nation, our rich heritage and diverse vibrant and warm people. Australia is home to the world's oldest continuous living culture of the Aborigines. It is a nation of storytellers. Australia's passion for the arts runs deep," said Australian High Commissioner to Kenya, Luke Williams.
The KCC hosts the Performance After Lunch (PAL) programme, which aims to identify, develop and nurture artistes' talent through capacity building and partnerships. Each Thursday, PAL hosts an open-mic performance for an audience of over 100 young people.
Kenya Cultural Centre will equip the refurbished space with sound and light that can support a theatrical production.
Related Topics