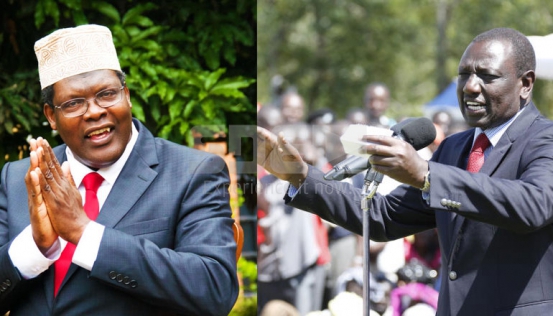 Miguna Miguna has an opinion on almost anything and any one. He has a way of being rough on the edges and which rubs off in the manner he describes politicians and people in the public eye. From the Deputy President to the First Lady, here is what he had to say on these persons of interest...
Deputy President William Ruto
"He will never be President. Too dangerous...the man is a demagogue."
First Lady Margaret Kenyatta
"Maggie is exceptional and she deserves all respect from every Kenyan because she is calm, composed and she never engages in rhetoric like most First Ladies. She is one of the most humble First Ladies in the world and makes her husband, the President, look good by bringing order in his life and State House."
Nairobi Governor Dr Evans Kidero
" I have more degrees than Kidero. I have three and he has two. I have practised law in Canada for 21 years."
Nairobi Senator Mike Sonko
"He is not qualified to be anything. He can barely read. He doesn't know his functions as a Senator...Nairobi can't be run by people who are functionally illiterate."
Director of Public Prosecutions Keriako Tobiko
"He is a toothless dog elevated to power just to bark but not really bite."
Law scholar Prof Makau Mutua
"He is not licensed to practice law anywhere in the world. We are dealing with a pedestrian. He has doctorate of juridical science. PhD is Doctor of Philosophy. That short bald man has a conflicted ideological position ... Makau said chicken in the village knew Raila will win the 2013 elections. I said Raila won't be president. Makau said Uhuru couldn't win, Uhuru won. Mutua said so many things, his so called crystal ball... He is politically senile."
Bishop Margaret Wanjiru
"She should restrict herself to the church. The city is a complicated institution. It's too sophisticated. You don't come from running Sunday School and think you can run that?
Related Topics