Civic duty, including attending rallies, tenable if only peaceful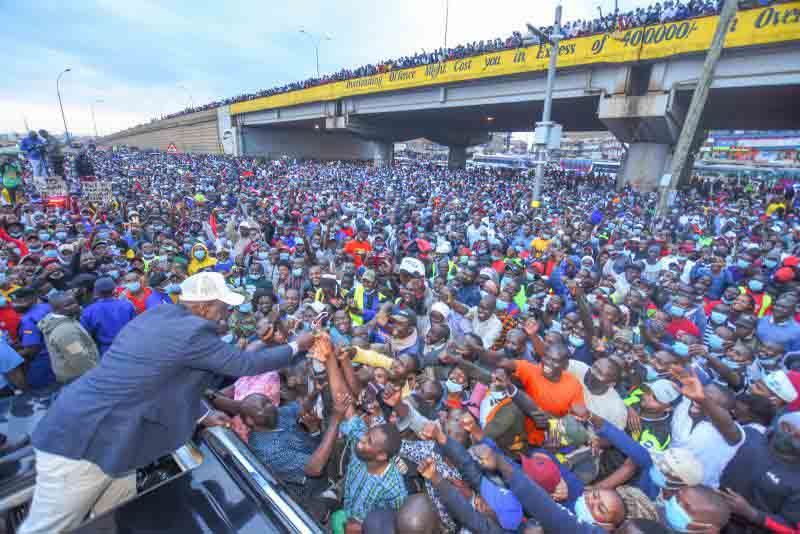 Youth in Kisii must have been very busy last weekend. It was all about political activism. The Deputy President was in town campaigning. So rival youth groups found some work to do.
As always for idle youth, a job opportunity presented itself. Who can miss such an opportunity! The task? Knock off each other in 'amachuma' style to make a political statement.
Of course, and rightly so, the media got some news for the day.
Sponsored or not, political violence is a nuisance that some people find useful. Often, as was the case in Kisii, some people were injured. At times, people die. Guess what? In spite of those injuries, life continues.
The campaigners retreat to their hotels or wherever, to evaluate the day. A speaker in the room will most likely report something like this: "… Other than minor incidents of violence, which our team ably repulsed, everything went according to plan. We are making progress."
No human being should use or treat another human being as a means to an end. The Kisii youth confrontations are nothing new in Kenya and if not arrested, uglier scenes will be planned for as we head into the 2022 General Election. Political antagonists pay the youth to "defend our person." The intended defense comes in all forms except in peaceful one. Why political campaigns are planned to be brutally violent physically and mentally is something only psychiatrists can explain.
Added to this, the rowdy chanting during campaigns and scary boda boda rides that form part of the campaign spectacle is a show to intimidate the opponent. But must it be done as if we live in a city of mad people?
The ease with which political candidates rent youth to terrorise each other is another way of saying there is no problem man using another man as means to an end. We use a cooking stick to make ugali. If one breaks, it is no big deal. Just pick another and cook. However, we should really reflect whether it makes sense to allow politicians to use the youth like objects.
Young people eligible to vote should take this moment to make a statement to political candidates.
First, if you cannot resist the temptation to receive handouts in order to fill political rallies, get your token, attend the rally, and keep your hands in the pockets. After all, you are supposed to be seen and not heard. The people to be heard are lined up. Yours is to take in anything from wise words to garbage in the form of abuses hurled at the opponent. Moderately, shout, if you must like a robot when you are supposed to in affirmation.
Second, consider saving your energy. You have only been paid so little to bring your body to the rally. If you can resist – and indeed you can – just shut up. Too much shouting can bring you trouble. You have no idea who has been positioned next to you to attack.
Third, ask for insurance before you attend a rally. Read from history how some young people sustained lifelong injuries during campaign rallies. The people they were fighting for have enough security. Your only security is affording medical bill should you become a victim. Think twice if this is worth risking your life for.
Four, if there is no insurance and you really want to attend a political rally, just make a simple demand to the government security agencies that should there be violence, they should apprehend the suspects to bail you out.
It is up to the security agencies to put pressure on the hosts to ensure peaceful campaigns.
Civic duty, including attending political rallies, is important if only peaceful.
Parliament discusses many serious and contestable issues. But you hardly hear anything substantive on political violence. No higher platform in this country can best handle political violence than the Parliament.
Dr Mokua is executive director, Loyola Centre for Media and Communications