Politicians' appetite for crowds is a super-spreader of Covid-19
ELIAS MOKUA
By Elias Mokua | Jun 23rd 2021 | 3 min read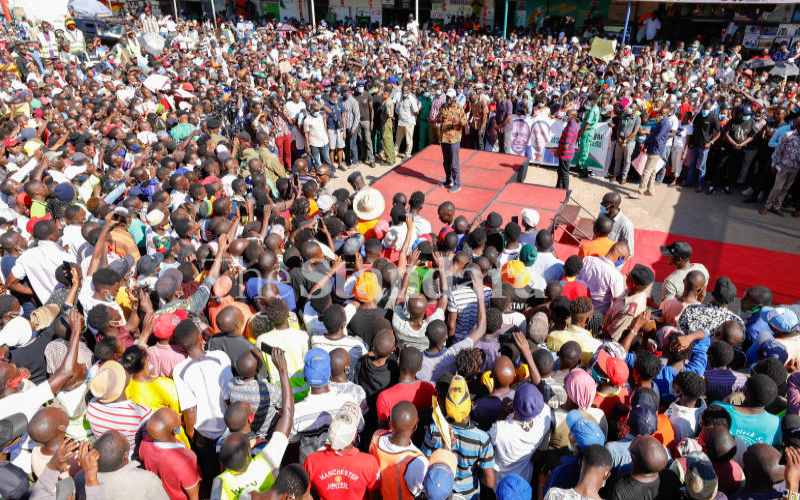 Political appetite for crowds in Kenya is beyond words. Here is a country struggling to raise medical care funds for its citizens. Some people succumbed to Covid-19 because they could not quickly access the ventilators.
Others have run into health complications because the focus has shifted from other illness like HIV and Aids to Covid-19.
But see what political appetite to speak to crowds does to put many people at risk of death.
As if the violation, during Madaraka Day celebrations in Kisumu, of the very health protocols that are supposed to keep us away from the dreaded coronavirus was not enough, political crowd pulling events, by no less than the very top leaders, continue in disguised forms. Media houses are accomplices as they edit out crowds in their news.
No doubt, many leaders have been immunised. So for some Kenyans, high up there, moving around using their office privileges to gather crowds in towns "momentarily" popping up on car rooftops "kusalimia wananchi" is quite appetising. How far apart words and actions can be!
Somewhere in the Holy Book that many politicians quote quite conveniently, it is said that "whoever can be trusted with little can also be trusted with much, and whoever is dishonest with little will also be dishonest with much" (Luke 16:10).
People have fallen in Kenya to Covid-19. In its sensitivity to the sanctity of human life, the government calls on all of us to observe the mitigation protocols so as to stay safe.
Yet, it is the same top government officials that run down observance of the protocols because they cannot control their appetite for crowds.
We really must take it to the doorsteps of our leaders, beginning with presidential candidates, since they lead platoons of zealous loyalists and ask them their thoughts on whether they can be trusted with the lives of over 50 million Kenyans when they don't seem to care about a real life-threatening risk spreading to their own supporters.
To say that one cares about the wellbeing of citizens from a car rooftop while fully aware of the risk of gathering a crowd that is ill-equipped to observe the protocols is actually personal irresponsibility.
Ironically, the poor get rounded up very fast for breaking the Covid-19 protocols. Several people were arrested, including law enforcers, in the past week!
Children cannot observe the protocols if they see images of the leaders addressing cheering crowds.
Moreover, how do we teach children law and order is important in creating a just and fair society where we care for each other when they run to join crowds by the roadsides, in markets and watch on screen the sheer don't-care-attitude of our leaders?
In the same breath, we cannot exonerate ourselves. We must take ourselves a bit more seriously than we do. We deserve some respect for ourselves.
Poverty should not be an excuse to run over each other trying to catch a glimpse of political bigwigs. Chanting ourselves to please politicians in ways that put lives at risk is something that we should be extremely ashamed of.
Surely, we still can follow and support the candidates we admire without putting ourselves at risk.
By willingly forming political crowds that cannot observe the Covid-19 containment measures, we are actively participating in acts that could rob a family of a father or mother.
If the lives we have lost are too insignificant to scare us, then the number of people who have died in Brazil, for instance, should be enough to bring it closer home that we face the risk of mass deaths if we continue to senselessly adore our politicians.
I think our top leaders in the country should find it necessary in their conscience to apologise to Kenyans for being a bad example. Simply spend a day doing community service as a sign of remorse.
Great leaders step back to lead by example. Come on guys with sirens! Let's see your contrite hearts.
Dr Mokua is executive director, Loyola Centre for Media and Communications