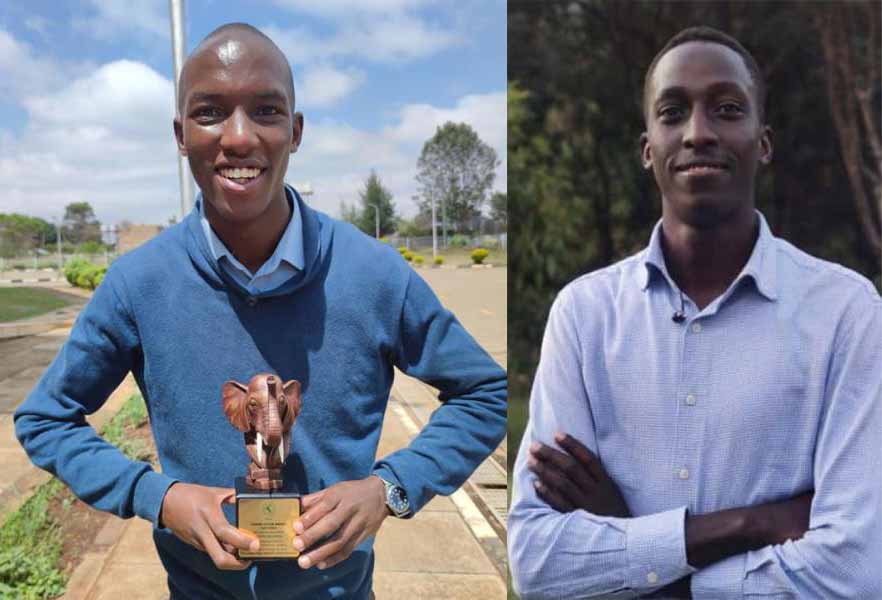 When two Egerton University students got stuck in a motorboat in Lake Naivasha alongside their colleagues during a field trip, little did they know the incident would birth an idea that would earn them global fame.
In June last year, the two, Joseph Nguthiru and Charles Kinyua, and their classmates were stranded for hours when their boat got tangled by water hyacinth, a common occurrence in lakes plagued by the invasive weed.
"It was scary especially when the operator told us he could not tell how long we would be stuck there. They said it was a common occurrence since the hyacinth moved along with the waves," Nguthiru narrated.
But while stuck there, the duo thought the problem was worth solving. "The idea just clicked. We initially had a class project we wanted to work on but it was too expensive. We instantly thought of using the hyacinth to solve another bigger problem - plastic pollution," Nguthiru said.
Barely a year later, the idea that was conceived in the middle of a crisis emerged among top global ideas during the World Engineering Day Hackathon virtual event that was held on March 4.
The final year students from the Faculty of Engineering and Technology presented their project dubbed Hyapak that had been shortlisted alongside nine others from across the world for the finals.
The project, which utilises hyacinth to solve the challenge of plastic pollution and aims to rid lakes of the menace, scooped the third position globally.
"This is a huge honour for us and we are really grateful for the milestone. We have had a lot of people who have supported us this far and we are grateful to them all," Kinyua said.
Although the duo did not present the original idea of using hyacinth in Lake Naivasha to manufacture re-usable and biodegradable plates to cut on use of plastic materials, challenges with funding made them narrow down their idea.
"We considered the cost of traveling from Nakuru to Naivasha and back every day and we felt like it was too expensive. A lecturer, however, told us we could use marine plants within the botanical gardens in the university only for us to realise that the pond was drying up and that is what we finally adopted as the idea," Nguthiru said.
The duo said they sought to revive the pond by inviting other students to engage in tree planting activities but realised that the plastic paper wrappers on seedlings were another challenge.
"That is when water hyacinth came to mind. We sought to work on a project that would use the weed as a raw material to replace the plastic wrappers and decompose them to get organic fertilisers. This project finally ranked third after projects from Philippines and Canada," Kinyua said. Apart from the global recognition, the students also received Sh 125,000 (1,000 Euros) for finishing second runners up.