University ignores court order, installs new vice chancellor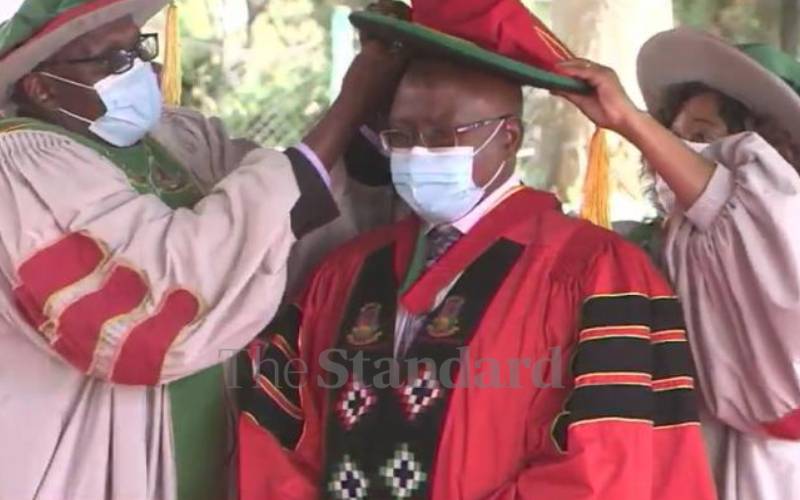 Prof Isaac Kibwage was yesterday installed as Egerton University's sixth vice-chancellor despite a court order that temporarily halted his inauguration.
The university's council chair, Dr Hukka Wario, introduced Kibwage during the university's 44th graduation ceremony while Deputy Vice-Chancellor (Research and Extension) Prof Bockline Bebe read his citation.
In the citation, Kibwage was credited with many milestones realised by the institution.
"The VC, in collaboration with private entities, oversaw tree planting activities within the university and completed the review of the 2018/2023 university strategic plan," said Bebe.
Prof Kibwage, in his acceptance speech, said that he was indebted to his predecessors who helped shape the institution.
"I thank the government and the university council for trusting me and I am humbled and proud to be part of the university," he said.
The new VC promised to ensure the university is at the forefront to ensure students get quality education that would help them be successful in the tough world.
"The university will focus on teaching, learning, and research and today 2,182 students have been conferred diplomas and degrees in different fields," he said.
Of the 2,182 students, 17 got PhDs, 53 were awarded Masters degrees, 2,009 graduated with Bachelor's degrees while 103 got diplomas.
Nakuru Governor Lee Kinyanjui who had attended the graduation ceremony congratulated Kibwage.
Kibwage's installation was December 9 halted by Justice Hellen Wasilwa of the Employment and Labour Relations Court pending hearing and determination of a case by the Trusted Society of Human Rights Alliance, a lobby group.
The group claims Prof Kibwage's appointment was devoid of ethical standards, integrity and failed requirements of Chapter six of the Constitution.