Reflections of an 8-4-4 pioneer: Many misses CBC might cure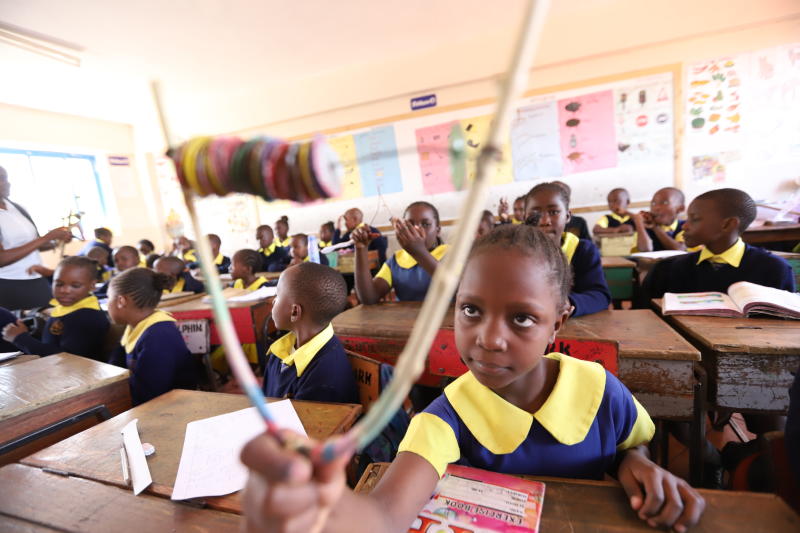 The careers master tottered into our classroom clasping a few booklets under his arm. The paperback booklets were the colour of the Kenyan flag. His walk was a totter because he needed a walking stick to move.
He had been struck by polio while young and so his left leg had withered. We called him genius since he taught only A levels. He was a Form 5 and 6 literature guru — his class always topped the province whenever the examination results of the Kenya Advanced Certificate Education were announced.
You'd wonder why a teacher of the A level class, would walk into Form Three. Well, he came to show us available careers and the relevant colleges since we were the class that was next in line for the new Form 4 examination under the 8-4-4 system.
The first class had already started writing the two-month-long exam. We were excited by his presence as boys are meant to be when grown-ups engage them on matters regarding their future, and especially their careers.
It was in 1989 and the effects of the new education system on the pioneering generation had begun.
Looking through the careers booklet and what the few universities in the country offered, some of us who dreamed of turning our Composition and Insha writing prowess into a career did not see hope.
Those who were good in languages (English and Kiswahili) and had expressed their interest in a career that was unknown in the rural areas - a career in the newspapers, radio, or television- were at a loss.
The A-level system that was then called 7-6-3 had a form of specialisation that began in Form Three. By the time you joined Form Five, you knew your area. Our new 8-4-4 system placed us all over, good at practical stuff though.
The list of public universities in the careers booklet of 1989 did not have a university that provided a degree course in journalism or broadcasting! So how does one end up in newspapers, radio, or television?
The booklet had four universities and one university college; The University of Nairobi, Kenyatta University, Moi University, Egerton University, and Jomo Kenyatta University College of Agriculture Science and Technology.
At the time, it was a respected institution specialising in Agriculture and its attendant technology as had been Egerton long before independence.
As one of the linguistically clever boys in that class, I was among those whose interest was to carve out a career in writing. Once in a while, I wondered how a person would get themselves into the jobs done by men like Ben Mureithi of the BBC or Eva Claude of Deustchwele.
I always wondered whether Claude was a man or woman because you wouldn't tell from his/her voice.
And so the careers master introduced us to an institution that the booklet referred to as Kenya Institute of Mass Communication.
He said KIMC was the college where famous people at the time like Eric Munene of VoK trained. The likes of Ben Mureithi of BBC and the Director of PPS Lee Njiru trained there.
Long walk
Now, for me and others who burned with passion for careers in newspapers, radio, or television it had to be KIMC. Unbeknown to me, I had begun a long walk which I was to accomplish much later through sheer willpower. That shall remain a story for another day- perhaps in my memoirs!
So how did it begin?
It began one afternoon in 1983. Mr Obiero, a stooped man who was one of the harshest teachers at Ortum Boys Boarding School, walked into Standard Five. Obiero was the most generous teacher with the cane, he'd cane you anytime anywhere, and sometimes with no apparent reason.
That afternoon, however, he came without a cane but with a message; There would be no CPE! We would proceed to a new class called Standard Eight. In fact, the Standard Seven class of that year (1983) was the last one. And so everything would change. We would have more subjects.
Standard Five of 1983 taught English, Math, History and Civics, Science and Geography but by the end of that year, more subjects had been added.
While preparing for CPE, we knew that in Standard Seven we would sit for three subjects; English, Math, and what was called General paper which comprised History and Civics, Geography, and Science.
The top student was the one that scored three As which translated to 36 points. Mr Obiero said 1983 was the last year of the three As. From then on we looked for 6 As.
The new system introduced six examinable subjects. The list was now English, Kiswahili, Mathematics, Geography, History, Civics and Religious Education (GHCRE), Art and Craft, Home Science and Music, and finally Science and Agriculture.
The practical subjects were Art and Craft, Home Science & Music. The craft part of Art included lessons in building and construction. Home Science had cooking, cleaning, ironing, sewing up cloth, and embroidery.
In Music and Art, you made musical instruments using available materials in the villages. And so we'd go to the river and pluck reeds which we used to make flutes.
You then came to class and played your flute. Sometimes an entire class would be turned into a choir and sang a folk song. By the time we were in Standard Eight, some of us were so good with the solfa notation (do reh mi fa so la ti doh) they sang 'Twinkle Twinkle Little Star' so well.
Much later when I had increased my knowledge of the world and I was a practising journalist, I was surprised to learn that 'Twinkle Twinkle Little Star' was composed by one of the greatest composers of all time, The Austrian Wolfgang Amadeus Mozart otherwise known simply as Mozart!
The practicals in the Craft part of Art were lessons in building and construction. As Standard Eight pupils in the Class of 1986, we built a one-room semi-permanent structure right outside our Standard Eight block.
We dug a foundation guided by a tape measure and a square. We laid the stones in the earth. Mixed cement, sand, and water at a ratio of three wheelbarrows to one bag of cement.
We raised the foundation that respected the instructions of a spirit level, a tape measure, and a square. We laid a damp-proof course and started laying the blocks that we had made.
Raised walls
We raised straight walls with the help of a plumb line, a spirit level, and a square. We did not roof it because we had other practicals in other subjects.
The most involving was Home Science where the year's assignment was for each one of us to embroider a table cloth.
Using a pencil, you'd draw a pattern of a rose flower on a white cloth. Take a needle, fix a red thread through its tiny hole and sew that into the pattern you had drawn on the cloth.
By the time you were done, you had a red rose pattern on a white table cloth. That was our Home Science practical in KCPE- the exam that had replaced CPE.
When we joined secondary school-Form One to Four was called secondary school. High school was associated with Form Five and Six. When we joined the students of the 7-6-3 system, they were fascinated by our myriad skills.
Some of the examinable subjects at primary school that weren't in the 7-6-3 system were Kiswahili, Art & Craft, Home Science, and Music. I remember handling a Form Four Kiswahili mock paper of 1987 and actually beat Form Fours.
The A-level boys were also fascinated by our practical skills in Art and Craft, Home Science, and Music. Under the previous system, primary schools did not teach Home Science or Music.
Self-sufficient
In fact, we'd be surprised for instance when Form Six boys said they could not sew a torn trouser- that they couldn't iron or even cook. Our Standard Eight had taught us all that. We were such a self–sufficient generation.
Then there were those handling a combination called MGEcons - Mathematics Geography, and Economics. They would end up in business and economics. And then there were the science students.
The most famous subject combination at all high schools was MPC, a pure science that combined Mathematics, Physics, and Chemistry.
And so as we made our career choices during those pioneering years, the challenge we faced most was that of finding your knack.
Despite possessing skills in different fields we had been forced into five compulsory subjects that were; English, Kiswahili, Mathematics, History and Government, Geography.
You first had to pass these before you scratched through the remaining five or six other subjects to get you to university.
That made us good at many things some of which had no university to help you turn them into careers. I had found myself in that quagmire while selecting universities and colleges to proceed at our 1989 selection.
The 8-4-4 system despite loading its pioneering class and successive classes up to around 1998 with practical skills in most things, terribly failed at helping us to cultivate and grow those skills at specialised institutions of higher learning.
That was the missing link that would have given Kenya an American or Indian experience where a huge population is so skilled that in fact it simply employs itself.
The Competency-Based Curriculum reminds us of the 8-4-4 of between 1983 and 1998. It may succeed where 8-4-4 failed if it identifies talent in learners, and even aptitudes in sports and allow students a forum to move towards their line of specialisation earlier in life.