'Pupils taught in vernacular do poorly in Kiswahili and English'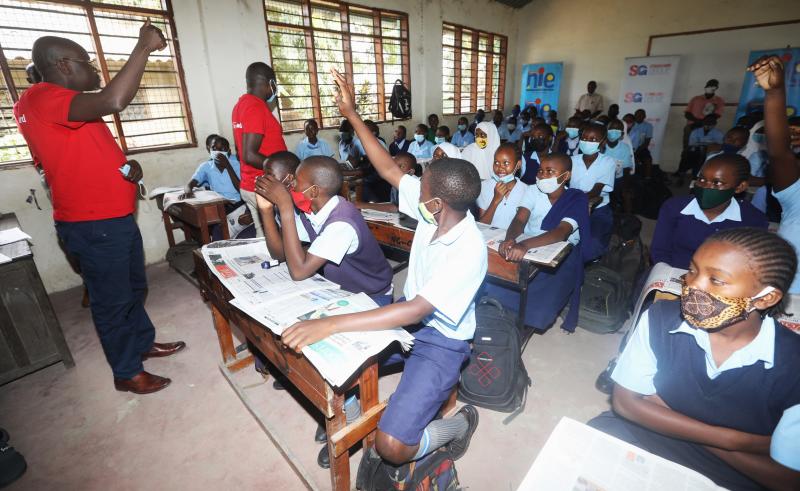 Teachers who use local languages in class during Kiswahili and English lessons are contributing to the failure of learners in these subjects.
A baseline report by Tusome, a programme funded by USAID and the Kenyan government, says the use of local languages negatively affects grasp of the two language subjects.
"Local language use during English instruction is negatively associated with both English and Kiswahili reading fluency, with pupils from such classrooms scoring seven to 12 correct words per minute lower on average," reads the report.
The report, which has also pointed out shortcomings of the new Competency Based Curriculum (CBC), says children who read stories at home perform better than those who do not.
And those who read aloud in school also do well compared to those who do not.
In both cases, learners reading score is three to six correct words per minute higher than those who do not read at home or do not read loud at school.
The details emerged when Basic Education Principal Secretary Julius Jwan presided over the launch of the report on Early Grade Literacy Programme at the Kenya Institute of Curriculum Development (KICD).
The programme is implemented jointly with USAID and was introduced to improve the teaching and learning of literacy in all public primary schools.
The Sh8.88 billion programme targeted 5.4 million Grade One and Two pupils in public primary schools.
Overall, the report says Grade One and Two learners' performance in the two languages reduced under CBC, citing fewer lessons per week.
"At end line, teachers were on average around 30 lessons behind midline levels due to the reduction in English and Kiswahili instructional time," reads the report.
It finds that Grade One pupils had the sharpest performance losses, as Grade Two pupils were still under the pre- CBC timetable when they were in Grade One.
"… and thus (grade 2) had a higher dosage of English and Kiswahili using the Tusome approach compared to their grade 1 counterparts."
Report finds that the reduced exposure to Tusome appears to have negatively impacted children's English and Kiswahili skills.
"The reduction in lessons from five to three per week during the 2019 school year led to gaps in coverage of Tusome instructional content. As a result, pupil reading performance actively worsened, moving away from government reading benchmarks," reads the report.
The report recommends that the number of language lessons per week be restored.
"The Government should consider increasing the instructional time for both English and Kiswahili back to five lessons per week to better align with Kenya's reading goals under the CBC," reads report.
Jwan said the government has given every learner in primary school a textbook in all learning areas, saying the learners can now study more than they had in the past.
The Mission Director, USAID Kenya and East Africa, Mark Meassick, said the programme has distributed 26 million books aligned to the CBC as part of the Tusome programme.
"We have put CBC aligned English and Kiswahili books into the hands of every Kenyan school child and their teachers," Meassick said.
He said the programme had led to positive gains in learning outcomes.
Jwan said of the introduction of 1:1 textbook to pupils has greatly improved the performance of pupils in public primary schools.