Magoha: Only president can direct me on how to work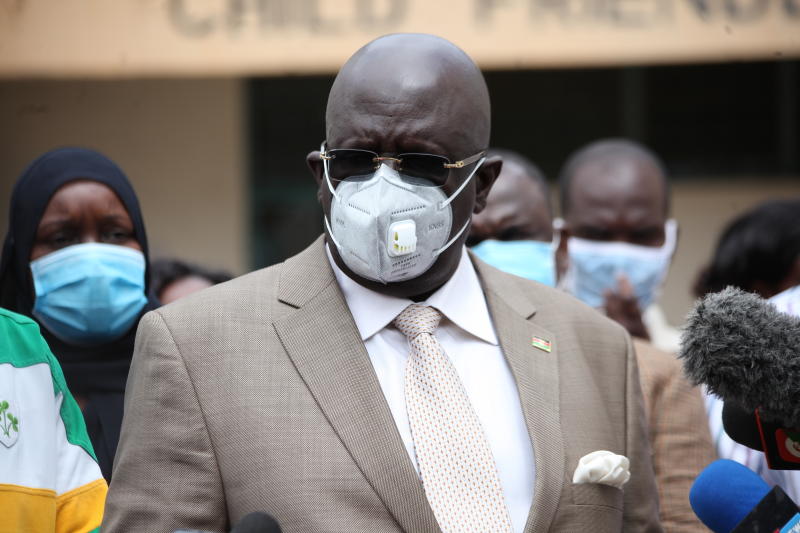 Education Cabinet Secretary George Magoha (pictured) came out guns blazing yesterday, fighting the historic move clipping his powers and announcing that only his boss, President Uhuru Kenyatta, can stop him.
In what now escalates the matter further, Magoha, in his 18-page response, came close to dismissing Friday's Public Service Commission (PSC) directive taking away his supervisory powers and bestowing them to his junior, Principal Secretary Belio Kipsang.
Defiant and bereft of remorse, he vowed to carry on with his duties and exercise of all powers, regardless of what others feel or think of him. For clarity purposes, he emphasised on the "all" part of his statement.
He spoke at Ayany Primary School in Kibra, where he went for his routine inspection of desks issuance.
"Unless otherwise directed by my appointing authority, I shall continue to perform all my duties and responsibilities with zeal and commitment and ensure that all officers in the Ministry of Education perform their duties for the benefit of the Kenyan child, parents and all education stakeholders," he said.
Tangible results
In the circular issued on Friday, PSC took away Magoha's human resource functions. This followed an incident where he was captured on camera berating a senior Ministry of Education officer during a routine school inspection tour in Uasin Gishu county.
Magoha blamed Gitonga Mbaka, a county director of education, for the untidy state of Langas Primary School and branded him a fool.
In his statement yesterday, the CS defended his leadership style, saying it has paid dividends for the Kenyan child. Hailing his "considerable experience in public service," he also suggested that very little can be achieved in the sector without him putting his foot down.
"While I do concede that I am not perfect, in the process of reforms of the magnitude required to improve service delivery in the education sector, I also recognise that this process is bound to generate resistance if tangible results are to be achieved. My management style which has proved successful over the years is walking about at the point of service delivery," Magoha said.
In a long justification of his style, he unfurled a six-point self-appraisal, scoring himself highly on all of them.
On chronic absenteeism at Jogoo House, he said he made it his first business to install CCTV and biometric registration devices to tame culture of officers reporting to work at 11am.
"Though it was initially resisted, within a span of six months, cases of absenteeism had reduced to almost zero with nearly all top managers reporting for duty voluntarily by 6:30am, a situation which has remained the same to date," he claimed.
On the same problem in the field, the CS said his numerous visits netted many officers and also saw others promoted on account of their diligence. Through the latter, Magoha seemed to suggest his field tours have not all gloom and doom for the field officers.
"During my numerous field visits, I have been able to identify competent officers such as Weru Machocho who I promoted and deployed as a regional director and he has demonstrated excellent results in a short span of a month," he said.
He vowed that as long as he remained in the ministry, he will continue to ensure that all employees deliver services to the public as per their job descriptions.
On the same field visits but on a different score, the CS claimed that he had found that many diligent teachers were being pulled back by a few lazy field officers who do not offer them the necessary support.
On misappropriation of public funds in the ministry, Magoha said his hands-on management had proved instrumental in identifying lapses where funds were disappearing without value, and requisite intervention made.
"A due diligence identified an inflation of numbers of learners from 8.47 million to nine million. The shortfall of 529,997 learners has led to the saving of Sh752,594,740 annually," he said.
On the desk issuance, the CS said his own due diligence of establishing the market prices of the desks had established an inflation of Sh1,700. The Government will, therefore, get more desks for the same amount set aside for the exercise following his clampdown on the inflation.
Magoha said he was shocked when he went inspecting places where desks had been delivered.
"In Kakamega North where the schools identified were five, I only found delivery in two schools and the desks delivered were of poor quality, not varnished and did not meet the specifications of the prototype. The same was exemplified by Mumias East and numerous other sub-counties across the country," he said.
Clean record
And finally on the 100 per cent transition policy, Magoha scored himself 100 per cent. He claimed he "personally demanded" that every education field officer must account for every child who had completed Class Eight. He said he visited the areas himself to ensure this happened.
And with such a clean record, Magoha did not seem to understand why anybody would want to interfere with his work.
"I wish to confirm that for as long as I remain at the helm of the ministry, I shall continue to ensure that all ministry employees deliver services to the public as per their job descriptions," he said.