PSC takes hiring, firing powers from Magoha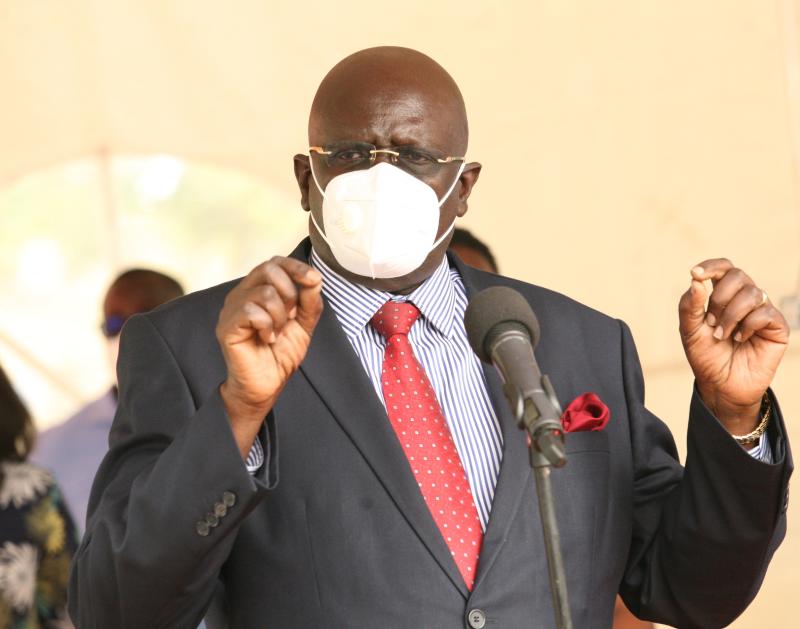 Education Cabinet Secretary George Magoha (pictured) has been stripped off powers to carry out human resource functions at his ministry.
The powers have been transferred to his junior, Basic Education Principal Secretary Belio Kipsang, in what appears to be a phased approach to boot him out of the sensitive docket.
The changes were made in a tough circular released yesterday by the Public Service Commission (PSC). It is the first time that a Cabinet secretary has faced demotion through PSC without direct reference to his boss — the president.
It is however understood that by the time PSC sat on Wednesday to consider the matter, relevant consultations with Head of Public Service Joseph Kenya had been made.
Prof Magoha's penchant for invoking the name of President Uhuru Kenyatta in all his pronouncements may have swelled his troubles.
"The commission has withdrawn its powers and functions from Cabinet Secretary Prof George Magoha and delegated the said powers to PS Belio Kipsang with immediate effect," reads the circular by PSC Chairman Stephen Kirogo.
Cabinet Secretaries, as Chief Executive Officers of Ministries and State Departments, are designated as "Authorised Officers" exercising delegated powers and functions of PSC in the management of the human resource under their purview.
The development comes days after Magoha was captured on camera hurling insults at a senior Ministry of Education staff in Uasin Gishu County. In the video clip, Magoha heaped abuses and chased away Gitonga Mbaka, a County Director of Education, blaming him for the untidy state of Langas Primary School.
"Nikisema wewe ni mjinga ni uwongo (If I said you are foolish would I be lying?)," Magoha said, before asking the senior staff to walk away from the meeting.
The statement was made in full glare of learners, school staff and other ministry officials.
At the same time, Magoha ordered teachers to clean the school. The action drew ire from teachers unions and Kenyans.
Kenya Union of Post Primary Education Teachers (Kuppet) national chair Omboko Milemba earlier in the week led union officials in demanding an apology from Magoha.
The incident came days after Magoha reconstituted councils of public universities and overturned a board decision to appoint an acting CEO at the Kenya Universities and Colleges Central Placement Service.
Earlier this year, Magoha was caught up in an appointment row relating to the Vice Chancellor of the University of Nairobi.
But it was his management of the Covid-19 crisis that overly exposed the man who told MPs that he always turned everything he touched into a success story.
He flip-flopped on re-opening of schools, several times invoking the orders of the president on what squarely falls under his docket.
Repeat classes
In July, he told the country that there would be no more schooling this year and that schools will only open in 2021. Against all advice, he also told the country that all pupils would repeat classes next year.
"We've looked at all aspects and we have come at a consensus that it is time to re-look our decision," he later said on September 16 at a press briefing.
Schools were later partly re-opened. On Thursday, President Kenyatta in a manner that betrayed his impatience, ordered him, for the umpteenth time, to issue a calendar on re-opening of schools next year.
Yesterday, Milemba regretted why Magoha did not apologise to Kenyans. "He just needed to apologise and humble himself. Education is a social sector where social values are valuable," Milemba said. "Let this be a lesson to all of us in the public sector to be careful the way we deal with human resource issues."
Wilson Sossion, the Kenya National Union of Teachers (Knut) Secretary General however supported Magoha saying he is merely disciplining his staff. "He has not abused teachers. He is simply disciplining his staff," Sossion said.
"Since when did PSC demote a CS... total confusion!" another top education official who sought anonymity told The Saturday Standard.
The directive by PSC now means Magoha will no longer have direct powers over his staff. Under the Constitution, the Cabinet secretary is the authorising officer of the ministry.
This places him at a powerful position where he has final decisions on the fate of all staff under his ministry.
All these have now been taken away through the circular addressed to chairpersons of Public Universities Councils and copied to the Head of Public Service Dr Joseph Kinyua.
Kirogo, in a statement released last evening, said all human resource matters requiring the attention of the PSC shall now be handled by Kipsang.
"It is expected that such authorised persons act in a manner that is consistent with provisions of the Constitution," said Kirogo.
The statement from his office said the move is in exercise of the commission's powers and commitment to protect public servants against undignified and unwarranted attacks.
Kirogo also reiterated that the execution of delegated authority is designed to foster public confidence and maintain the integrity and dignity of the public service.
At his vetting, Magoha told MPs that he was trained never to trust anybody, including himself.'"It is God through the President who nominated me.... because I dont lobby. I am completely apolotical. I am a thoroughbred professional. And I will die for it," he told MPs.