I am not perfect, CS Magoha says as tide seems to turn against him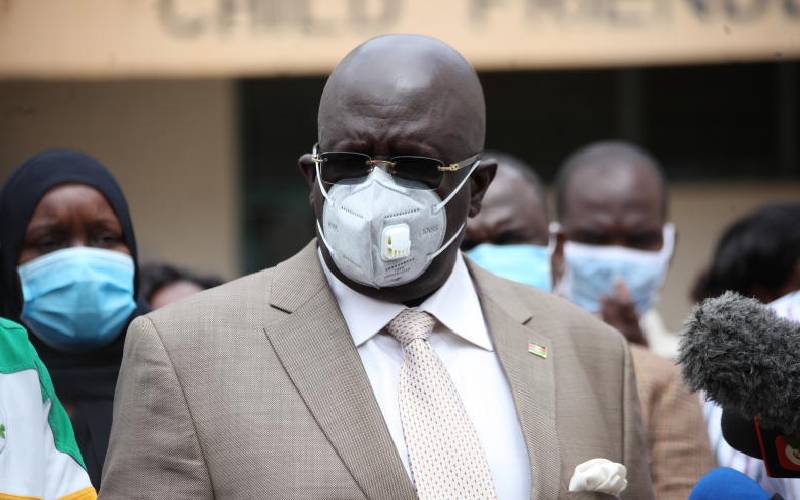 Education CS George Magoha (pictured) has said education reforms call for a change in the mode of operations.
In a statement to newsrooms on Saturday, the CS said, "While I do concede that I am not perfect, in the process of reforms of the magnitude required to improve service in the education sector, I recognise this process is bound to generate resistance".
Magoha said "for any meaningful, positive and measurable change to happen, things must be done differently".
Magoha's woes started when he was captured on camera hurling insults at a senior Ministry of Education staff in Uasin Gishu County.
In the video clip, Magoha heaped abuses and chased away Gitonga Mbaka, a County Director of Education, blaming him for the untidy state of Langas Primary School.
"Nikisema wewe ni mjinga ni uwongo (If I said you are foolish would I be lying?)," Magoha said, before asking the senior staff to walk away from the meeting.
The statement was made in full glare of learners, school staff and other ministry officials.
At the same time, Magoha ordered teachers to clean the school. The action drew ire from teachers unions and Kenyans.
Changing Roles
This comes as Magoha was stripped of powers to carry out human resource functions at his ministry, to which Magoha, in his Saturday statement, said "unless otherwise directed by my appointing authority, I shall continue to perform all my duties and responsibilities."
The powers have been transferred to his junior, Basic Education Principal Secretary Belio Kipsang, in what appears to be a phased approach to boot him out of the docket.
The changes were made in a circular released by the Public Service Commission (PSC). It is the first time that a Cabinet Secretary has faced demotion through PSC without direct reference to his boss — the President.
But Magoha on Saturday went on, "My management style which has proved successful over the years is walking about at the point of service delivery."
In what seemed as an outline on what he is getting right as the head of the Education docket, Magoha stated how chronic absenteeism from the workplace was evident when he was sworn in as CS.
"My first engagement at the Ministry of Education was to physically confirm whether employees report to work at the expected time."
He said at the time, more that 60 per cent of the offices were empty and unattended by 11am.
To monitor attendance of staff to their duties, the CS spearheaded the installation of CCTV and biometric devices in all entry and exit points for checking in and out all Ministry personnel.
Though it was initially resisted, within a span of six months, cases of absenteeism had reduced to almost zero with nearly all top managers reporting for duty voluntarily by 6:30am, the CS added.
Economic Stimulus Programme
Also listed as part of his success is that during his numerous field visits, he identified competent officers such as Weru Machocho, who Magoha says he promoted and deployed as a Regional Director.
"He has demonstrated excellent results in a short span of a month especially through visiting more than 200 schools to physically inspect and ensure that Economic Stimulus Programme for desks are fabricated as per prototype specification and delivered to schools promptly."
Magoha continued that during his numerous field visits, he has observed and made public pronouncements many times that he has found teachers in class teaching and demonstrating that they are hardworking.
"However, there are a number of instances when our field officers do not provide the necessary support and superintendence required for effective service delivery."
The government allocated Sh1.9 billion under the Economic Stimulus Programme for the supply of desks to
schools to enhance social distancing as a strategy of reducing Covid-19 transmission.
According to the Education CS, when he did due diligence of establishing the market prices of the desks, he realised the Unit at the Ministry had inflated the cost by Sh1,700, which means only 250,000 desks would have
been supplied.
The Ministry set the prices at Sh2,500 and Sh3,800 for primary and secondary school desks respectively.
The government will now be able to supply 622,157 locally assembled desks to 5,136 public primary (359,450 desks) and 5,243 public secondary schools (262,707 desks, lockers and chairs). This programme seeks to ensure that local jua kali artisans and workshops at the sub-county level are supported.
"When I demanded for a report from subcounties which had delivered desks to schools I was taken aback when I sought to verify the reports by sampling and going to the field in person."
In Kakamega North where the schools identified were five, the CS only found delivery in two schools and the desks delivered in those schools were of poor quality.
The same was exemplified by Mumias East and numerous other sub-counties across the country.
Magoha said his management approach has been instrumental in identifying lapses within the Ministry where public funds have been misappropriated.