CS Magoha stripped off HR functions after he dressed down official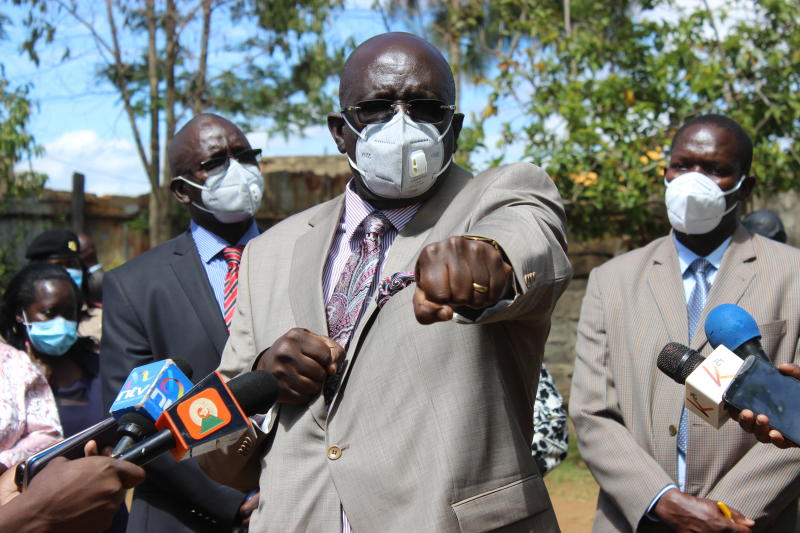 The Public Service Commission (PSC) has withdrawn all human resource powers delegated to Education CS George Magoha (pictured).
In a statement on Friday, the Commission's Communications Director Browne Kutswa said the functions had been now handed over to Basic Education PS Richard Belio Kipsang.
"PSC Chairman Stephen Kirogo in a circular addressed to chairpersons of Public Universities Councils and copied to the Head of Public Service Dr Joseph Kinyua, said all human resource matters requiring the attention of the PSC shall henceforth be handled by Dr Kipsang as Authorized Officer of the Ministry until further notice," Kutswa said.
According to PSC Chairman, the move was in exercise of the Commission's powers and commitment to protect public servants against undignified and unwarranted attacks and to foster public confidence and maintain the integrity and dignity of the public service.
The withdrawal of functions follows the remarks CS Magoha made over the weekend that elicited backlash from a section of Kenyans, many faulting him over how he addressed the senior official in Nandi County.
Some called for the sacking of the CS terming his actions disrespectful. The Kenya Union of Post Primary Education Teachers (Kuppet) demanded an apology.
In a video, that has since gone viral, the CS dressed down the local County Director of Education (CDE) Mbaga Gitonga in front of teachers at Langas Primary School.
Magoha had toured the region to inspect the progress of delivery of desks and preparedness of schools in accommodating learners while observing the Ministry of Health protocols. He had made a stop at Langas Primary where he was displeased by the evident lack of hygiene.
At that point, Magoha unleashed his wrath on Gitonga who wanted to hand him a report.
"The situation on the ground is not good," Magoha is heard saying in the video. The elderly education director tried to explain why the school was in that state but a visibly angry Magoha was far from impressed.
"I am not talking about a report, I am talking about what is here on the ground," Magoha said to the officer.
The Commission has now called upon authorized officers to act in a manner that is consistent with provisions of the Constitution, applicable statutory requirements, regulations, policies, guidelines and manuals for effective management of the public service including public universities.