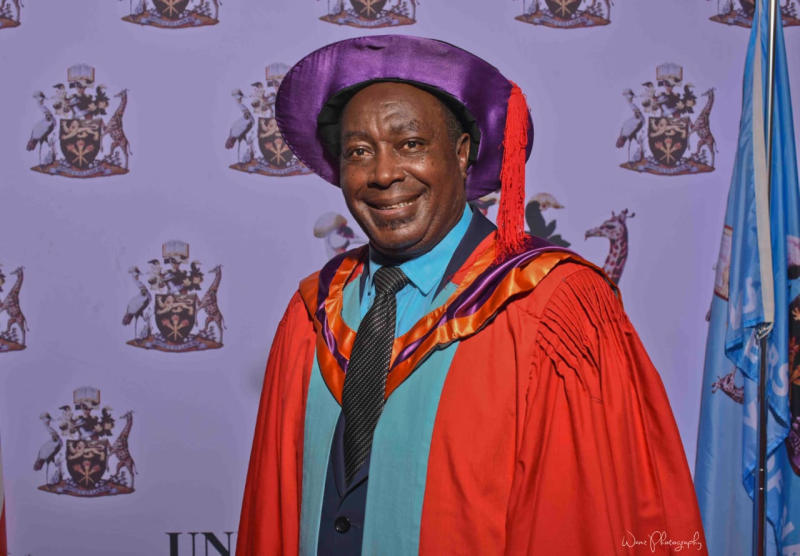 The University of Nairobi yesterday celebrated its 63rd graduation ceremony virtually, making history.
Some 2,851 graduands received their various honours virtually alongside their families and friends in a nearly four-hour graduation ceremony.
The event was graced by Education Cabinet Secretary George Magoha, Vice Chancellor Stephen Kiama, members of faculty, management and media who sat in a tent on the lawn at the University's graduation grounds.
Due to risks presented by Covid-19, the institution had announced that along with holding a virtual graduation, it was not going to issue graduation gowns to the graduates this year.
Read More
Many of the students followed the virtual ceremony live as it was broadcast on TV and via platforms such as the university's website, Facebook Live, Zoom and Microsoft Teams.
During the event, the university conferred various honours on 2,047 Bachelor students, 370 Master students, 367 Diploma students, 54 PhD graduates and 15 students who graduated with postgraduate diplomas.
Opportune moment
Prof Kiama said 63 per cent of the 2,851 graduates were male and 47 per cent female.
The graduation also provided the university community an opportune moment to honour the five staff members who succumbed to Covid-19.
In light of the high unemployment rate, CS Magoha, who was formerly the university's Vice Chancellor, challenged the graduates to create, rather than search for jobs.
"Don't go out there to look for jobs, go out there to create jobs. Our brains can work beyond what we give you. If your target is to look for a job, you have already shut down your brain," the Cabinet Secretary stated, giving the example of Dean Achesa, a Master's graduate based in Umoja, Nairobi.
Last week, President Uhuru Kenyatta visited Achesa at his workshop in Umoja. He landed a deal to supply schools with desks, as they prepare to reopen.
Magoha commended Achesa for thinking outside the box by venturing into furniture production, rather than relying on his Master's Degree to find a job.
However, the graduation ceremony also highlighted challenges facing the university.