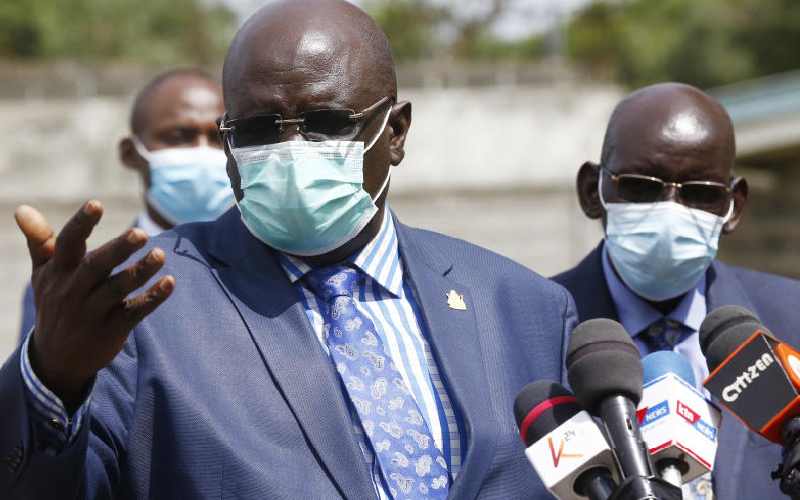 Ministry of Education officials will from today inspect schools to identify gaps that should be addressed ahead of the planned September reopening.
The Standard established that Regional Directors of Education, County Directors of Education and other senior ministry staff have been dispatched to tour schools.
"Expect to see us across the country taking physical stops in schools," Education Cabinet Secretary George Magoha (pictured) said.
President Uhuru Kenyatta asked the ministry to work on modalities that would see learning institutions reopened by September.
Read More
Uhuru also asked the ministry to prepare and communicate new term dates by mid-August.
It emerged yesterday that the officials will check infrastructure requirements, water availability and storage needs before schools open.
Prof Magoha said his staff will go to every school to physically assess the institutions' needs and requirements.
"We are avoiding people giving us a shopping list which is a usual thing. We are checking at what is precisely necessary so that we can open schools and ensure children are safe," said the Education Cabinet Secretary.
He said the tours are aimed at ensuring safety and health of learners are adequately taken care of ahead of time.
"We are also finding out how water challenges will be addressed because some schools have piped water while others have shallow wells," said Magoha.
The CS, however, seemed to lay bare the ministry's biggest headache, which will affect the manner in which schools will reopen.
"The elephant in the room is implementation of social distancing because most schools are already filled to capacity," said Magoha.
The CS said decisions regarding reopening may change as it depends on the country's progress on the war against Covid-19.
Social distancing
Last week, Magoha said the ministry would ensure only a few learners are in school to attend classes at a time to ensure social distancing guidelines are fully met.
This means a normal classroom would only have a maximum of 25 learners.
Kenya National Union of Teachers (Knut) says more than 400,000 additional teachers will be required to effectively implement social distancing.
An analysis by Knut on the required teaching staff under Covid-19 protocols suggests that some of the existing class sizes be divided into many streams, with the number of teachers tripled.
Knut Secretary General Wilson Sossion says a proper class size should have a maximum of 15 learners at the moment.
Presently, the existing staffing norm provides for one teacher per class of 50 children.