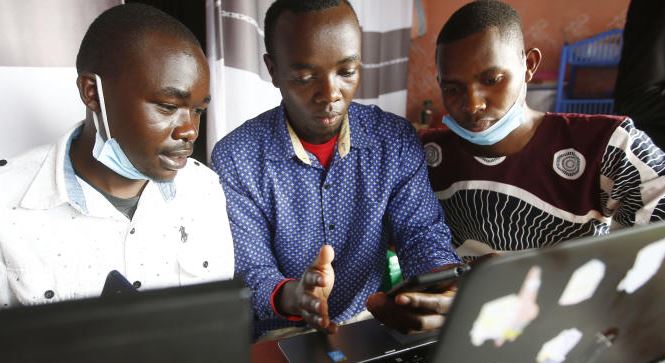 Three Laikipia University students have developed an application that could help in tracing people who come in contact with Covid-19 patients. John Mumo, Brian Mutiso and Francis Kinyuru, fourth year students pursuing Computer Science, developed an application known as Tsconnet Covid-19 Tracker, which is applicable on Android devices. Once installed on devices like a mobile phone, the application notifies the users through pop-up messages whenever they move a kilometre from their locations. "The application also warns the user in case the area they are approaching has been marked a Covid-19 hot spot through a pop-up message," Mumo said.
SEE ALSO: 2,510 health workers to monitor home care
The application, which will be available on Google Play Store, is perfect in tracing contacts and cracking on mischief of giving wrong contacts of suspected cases who came in contact with Covid-19 patients. "This application is excellent because once a user installs it, information on their whereabouts and the contacts they were with for certain time range can be retrieved. This will instead solve the challenges of wrong contacts being given," he added. In April, the students developed a website that details on statistics of Covid-19 from every country across the world. The website, known as tsconnect, also breaks down cases to county levels and details on recorded cases, recoveries, deaths and tests one can undertake to know if they are at risk or not. The website has infographics from every country and can also be accessed on phone. The latest development, they say, will solve the challenge the Ministry of Health is facing in tracing contacts of suspected cases to stem further spread of the disease. "It is not an easy venture and we have used Sh87,000 in data collection, analysis, demographics, hosting and subscribing premium Google services to come up with an automated application," Kinyoru said.
SEE ALSO: New drug 'lowers virus death risk'
For the application to successfully work, it requires users to install and register. Registration requires mobile phone contacts and correct names, which is verified by a code. Once details are successfully updated in the system, the application can be able to track locations and keep informing the user whenever they change location. When a user approaches an area that has recorded Covid-19 cases, an automated message pops up and notifies the user that the zone they are entering has recorded cases and one should be careful. "The application can be used when online and offline. It automatically updates the user hence cautioning them to avoid much interactions within hot spot zones," Mutiso said. He added that whenever someone travelling in a matatu with people who have installed the application on their phones, it makes it easier to trace others in case a positive case is confirmed in the vehicle. "The beauty with the app is that it can easily provide contacts that were with the person because the mobile phone will show the contact was within the same range at same time for a longer period, giving a possibility that they are possible contacts," Mutiso said.
SEE ALSO: Patients turned away as hospitals overwhelmed
Whenever a user is offline, Mumo added, location of the user still gets updated. The information on travel histories, he adds, cannot be shared with a third party. According to the students, if the government adopts it, the information is only accessible to the State. "If people travelled together their data is taken and stored as one data set. At the time of retrieval, the information from all roadblocks and checkouts that a traveller has been to is queried and it brings all people that the traveller shared public or private means of transport," he added. Kinyoru said they developed the application in order to sensitise the communities on information about Covid-19 and ways of keeping safe. The students also wanted to put to practice what they had learned in school to develop applications that will help combat the pandemic. "We don't take information without the person's consent. One is asked if they are comfortable sharing the contacts. However, the information given is encrypted and not disclosed to any third party," he added. According to lawyer Kipkoech Ngetich, the right to privacy is not absolute and might be limited in cases of public health, security or controlling of a pandemic.