Knut: Hire teachers ahead of schools reopening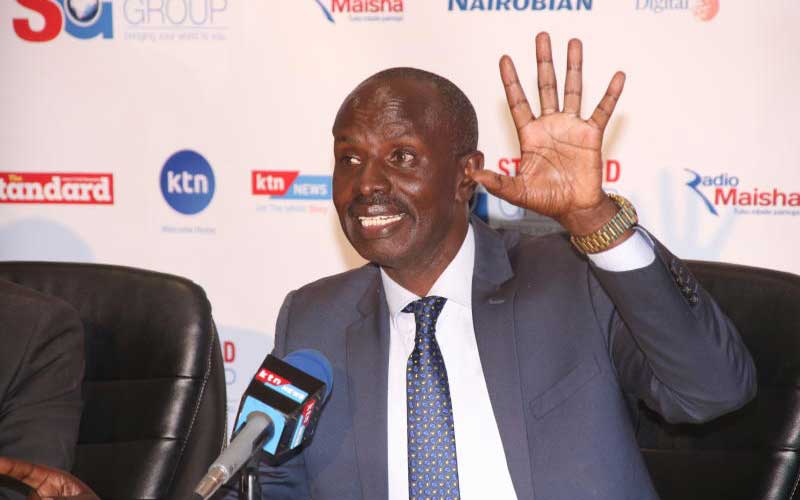 The Kenya National Union of Teachers now wants the Teachers Service Commission (TSC) to embark on massive recruitment of teachers ahead of the opening of schools.
Knut says that classroom sizes in public schools will never be the same again with the Covid-19 social distancing rule.
Wilson Sossion, the Knut secretary general said most classes will be split into two or three streams, translating to more workload for teachers which, will push the need for more teachers.
"We rather even delay infrastructure expansions but recruit adequate teachers who will take care of children when schools open. Teaching can even be done under trees once we have the right numbers," Sossion said.
He added: "Globally, the class sizes have been reduced by social distancing. This means that class sizes shall be small. Congestion in schools must stop."
He said that a school with 100 pupils per class will probably have 20 learners per class and this translated to be five streams. "This is more work that will require more teachers," he said.
The union official also wants TSC to conduct a nation-wide health audit of teachers who fall in the high risk ages of 55 years and above to enable it plan how the staff will be managed when schools open.
Take a quick survey and help us improve our website!
Take a survey
"Some of these teachers already have underlying conditions; sending these teachers to congested schools without proper strategy will put their lives in danger," Sossion said.
President Uhuru Kenyatta recently said that opening of educational institutions may start on September 1.
It is however not clear whether there will be immediate opening of basic learning institutions as infections and deaths continue to rise.
A joint Knut and lecturers report on resumption of learning recommended that an elaborate and solid plan on Occupational Safety and Health Assessment for all schools by Safety Consultants from the Directorate of Occupational Safety and Health.
The joint report also proposed periodic risk assessment of the teachers be done based on the WHO guidelines for risk assessment for healthcare workers. It emerged that emerged that there are 50,000-odd teachers under the high risk age bracket of 55 years and above.
President Kenyatta already said that some 10,000 teachers will be hired under a new multi-billion-stimulus package plan in new measures to mitigate the corona virus effects on education.
The president also announced that 250,000 new desks manufactured by local artisans will be delivered to schools as part of measures to boost institutions infrastructure in readiness for reopening.
The additional teachers to be hired stimulus package will bring the total of new teachers employed to 15,000.
TSC has already received Sh3.2 billion to recruit 5, 000 new teachers on permanent and pensionable terms and 10,000 teacher interns.
TSC had projected to employ some 40,000 teacher interns at a total cost of Sh4.8 billion and another 25,000 new permanent and pensionable teachers at a total cost of Sh15.4 billion.
The projections by TSC however seem to hint that the teacher numbers are still low with the huge teachers' workload occasioned by the massive enrolments in primary and secondary schools.
And with the expected expansion of classrooms after corona virus pandemic, more teachers will be required.
Speaking yesterday, Sossion asked TSC to plan for opening of schools now.
"TSC has more than three months to plan and they must now rationalise teachers in all public schools by adopting proper staffing norm because learning and teaching in public schools will never be the same again," said Sossion.
He said that there are about 300,000 teachers trained in public or private colleges who have acquired TSC numbers but are yet to be employed.
"Most of these trained but unemployed teachers fall between 45 years and bellow and they can be considered by TSC to boost the much needed working force when schools resume," said Sossion.
Sossion however said that TSC should absorb all teacher interns and the 72,000 teachers employed by the Boards of Management into permanent and pensionable terms.
Sossion further stated that teachers must be retrained to adjust to the changing environment amid the pandemic.
"We are urging the Cabinet Secretary of Education professor George Magoha to reorganize the school curriculum so that it may integrate skills on dealing with COVID 19 and other infectious diseases. We need to retrain our teachers and reorient them so that they may deliver their duties well in the completely new environment of COVID-19," said Sossion.