Teacher converts home into a studio to digitise lessons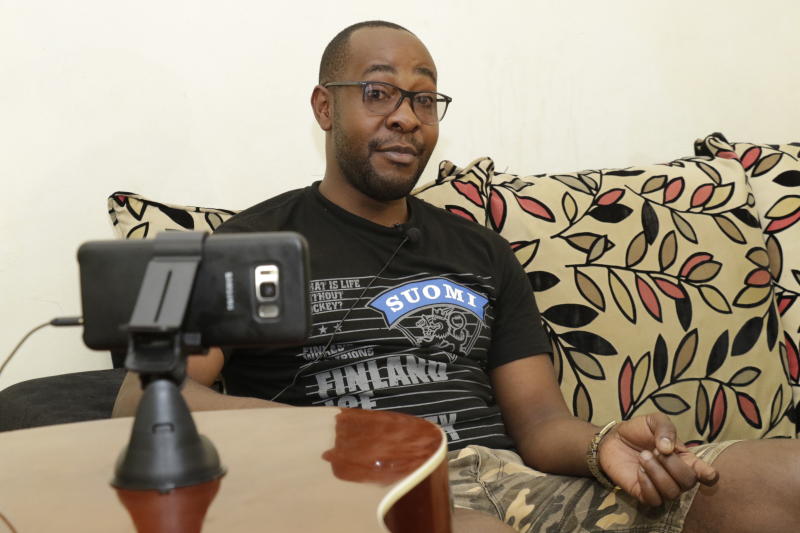 What is usually a simple living room for a 30-year-old Moi High School Kabarak teacher has turned into a makeshift studio to digitise lessons for students in the wake of Covid-19 pandemic.
The need to come up with an innovative approach to coach his students saw Valentine Oseso transform his living room into a studio where he records Kiswahili lessons. He then shares the lessons with students through their email addresses and YouTube.
Tough time
"I realised the students are having a tough time during this period trying to understand what they are reading. I decided to prepare general lessons for them by recording myself in a class set up and incorporating summary notes at the back ground," Mr Oseso said.
At his house in Kiamunyi Estate in Nakuru, the teacher spends his days indoors like they are the normal school days - waking up to prepare the lessons, writing summary notes on a whiteboard then recording them.
He has purchased extra lights, a white board and a lapel microphone to improve the quality of recordings.
"I spent the first week collecting materials to aid my recording. I had to purchase extra lights and get a carpenter to fix a stand for them. I also sourced a white board and a stand that can keep the phone still while I record the lessons," Oseso said.
After recording the lessons, he transfers them to his laptop where he edits the video to incorporate a photo of the summary notes in the background as he explains. He also incorporates graphics and explainers to make learning and understanding easier. He then sends out the final product to students through their email addresses.
"Before the students went home, I took their email addresses, especially for those in Form Four and preparing for national exams at the end of the year. I told them to expect lessons to aid them in their revision," he said.
The lessons he records, Oseso said, are general topics where all students from Form One through to Form Four can learn. Sharing the videos on YouTube also helps other students across the country access the materials.
"The lessons sometimes take the entire day to prepare and record. I wanted to explore the work-from-home advice by digitising the lessons just as if I were in school preparing daily lessons," he said.
In the past week, Oseso has recorded and edited six lessons that cover several topics and has received feedback from students.
"The students sent back assignments through email, meaning it has been effective and has reached a number of them. My first lesson was 50 minutes long and some students wrote back saying I should break them into bits. Currently, I break the lessons into 20 minutes each and it has been good," he said.
Working from home
Working from home as a teacher, he said, has opened innovative ways to digitise lessons and incorporate technologies to ease learning, although challenges of accessibility might hamper those who do not have smartphones.
"Digitisation of lessons is a great way to learn for us as teachers as well. It is also cheaper and doable as long as one has a smartphone. With Sh3,500, one can comfortably get what can aid them record lessons," he said.