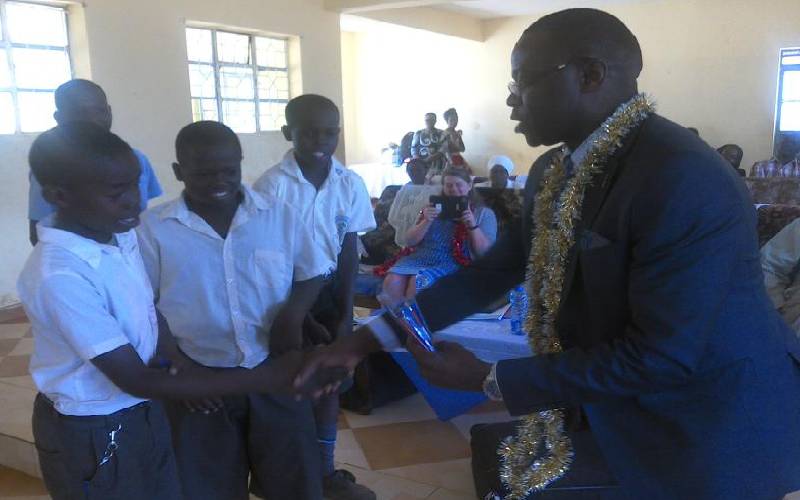 Sixteen primary schools in two constituencies in Homa Bay are the latest beneficiaries of an education exchange programme sponsored by the United Kingdom.
The schools in Kasipul and Kabondo-Kasipul constituencies will host teachers from nine British schools next month, in a programme dubbed Connecting Classrooms through Global Learning Project.
Eighteen teachers from the East London schools will work in the rural institutions for close to two weeks, during which they will not only teach the local pupils but will also be involved in environmental conservation programmes.
Kenya's education attache in the UK, Dorothy Kamwilu, met the teachers in London last week where she was briefed about the trip.
Read More
"They stand to gain increased awareness, empathy and knowledge of how teachers across the globe are raising the awareness of complex global topics with students," said Ms Kamwilu.
The UK teachers last week gathered at one of the lead schools in the partnership -- Nelson Primary School -- where they were briefed about the trip by the headteacher, Fiona Cullen, and Dan Okiya, the Global Learning coordinator at the school.
The Connecting Classrooms project is a collaboration between the British Council and UKAid.
Mr Okiya told Saturday Standard that the British teachers will depart for Kenya on February 6.
"Originally, the project was sending just one or two teachers from Nelson Primary School to Kenya. This project has now grown to include nine schools from Newham, to 16 schools in Kenya," he said.
A key outcome of the project is its emphasis on the United Nations Sustainable Development Goal of Climate Change. Each school has planned projects with their partner school in Kenya to help the children in both schools to understand and set their own goals to support the SDG of Climate Change.
"This project is a brilliant tool, which will aid the support of the children's Global Learning curriculum. The teachers have planned carefully so that children in East London and Kenya can share their experiences on global issues and what they can do to support changes they want to see in the world," said Okiya.
John Rolfe, a senior consultant at the British Council said, "We are excited to be beginning this global learning partnership with so many new schools. Teaching these issues to children is more important now than it has ever been."