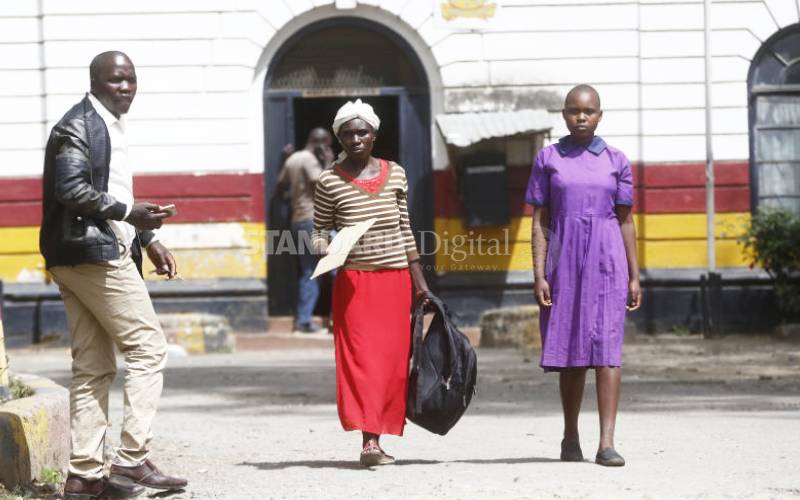 A poor schoolgirl who had contemplated suicide for failing to be admitted to a secondary school has finally received a one-year scholarship.
Just when Naomi Kwamboka thought her frustrations had pushed her to the edge, help came her way.
Earlier, the frustrated girl was forced to spend a night at Nakuru Central Police Station after she was turned away from AIC Morop Girls High School.
Kwamboka left their home in Bobasi, Kisii County, on Thursday morning for Rongai, Nakuru, where she was to be admitted to the school.
She had sat her Kenya Certificate of Primary Education examinations at Endonyo Narok Primary School in Trans Mara West under the sponsorship of a guardian. She scored 335 marks.
Kwamboka was expected to report to the school between January 7 and 17. Her family was required to raise Sh35,000 for her fees and personal effects for the first term.
Futile efforts
Her sister Damaris Moraa, who had escorted her to school, explained that attempts to get financial assistance from local leaders in Kisii County were futile.
"We had no fees and nothing among the items required before admission. We were told she could not be admitted without paying part of the fees," said Ms Moraa.
Having hit a dead end, they boarded a matatu back to Nakuru town, where they spent the night.
"We arrived at the bus stage but failed to get a matatu to Kisii. Using the little money I had been left with for my transport back home, I paid for a room outside town, where we slept," said Moraa.
On an empty stomach, the two sisters walked back to Nakuru town on Friday morning, hoping to get a well-wisher who would pay their transport back home.
As the sun set, and with no help coming their way, the two were on the verge of spending the night in the cold, with the increasing frustrations leaving Kwamboka to contemplate suicide.
"I was so frustrated. I had planned to jump into the middle of the road and have a vehicle run me over. This was before my sister resolved to approach the police for assistance, just a safe place to rest for the night," said Kwamboka.
Police officers at the station offered them dinner and breakfast.
"In the morning, some of the officers made contributions that were enough to get us back home. I lost hope of ever joining high school," said Kwamboka.
As the two left Nakuru Central Police Station, The Standard team caught up with them. Attempts to reach their leaders back in Kisii County bore no fruit.
AIC Morop Girls High School Principal Susan Wachira confirmed that the girl had arrived at the school but could not be admitted.
"She had nothing, not even clothes to change, and thus couldn't stay at the school. We told her to at least get one set of uniform and report back by Tuesday. The family would later organise for payment of the fees. Her space is still there," said Ms Wachira.
Help found her
Yesterday Florence Arama, wife to Nakuru Town West MP Samuel Arama, turned up at the station and offered to pay Kwamboka's school fees for the entire year.
The news brought a broad smile to the faces of the two sisters. "My dream is to be a doctor. My hope has been revived. I won't let her down for the assistance," Kwamboka promised.