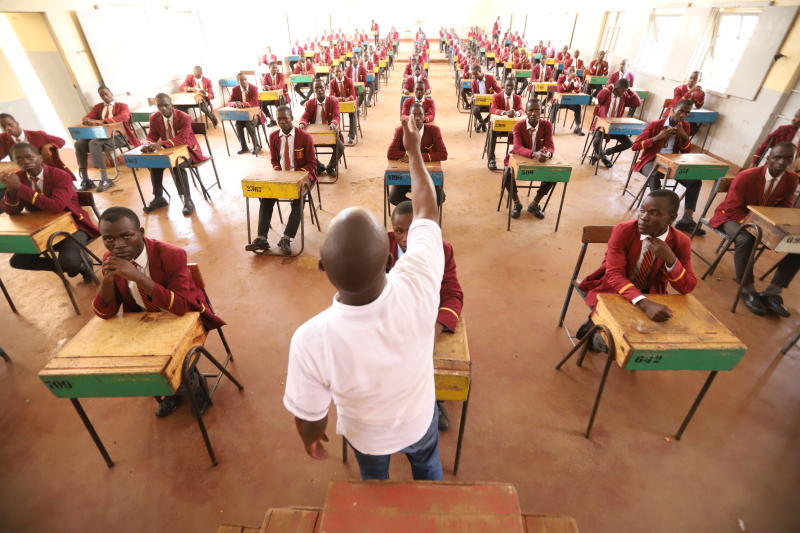 Teremi Boys High School in Bungoma County is in urgent need of funds for expansion of facilities to accommodate high number of students. The school's good academic standards have seen it attract students following the government's 100 per cent transition policy. The institution's principal Benard Wamanga is now considering the proposal by Education Cabinet Secretary George Magoha to have parents contribute funds for infrastructure development. Mr Wamanga, who took over from the late Japheth Mang'eni in 2015, told an alumni meeting recently that he had 2,111 students in 2019 compared to 2,041 in 2018 and expects to register 500 candidates this year.
SEE ALSO: Private schools to get Sh7 billion from state
Fire gutted dormitories
"The school has been receiving 480 slots for Form One admission but we are forced to add more to bring the total to about 550. We have to consider students with good marks ranging from 300 and above, especially for those who come begging for places," said deputy principal Alfred Khisa. Last year, for instance, the school had 478 KCSE candidates compared to its county rivals like Friends School Kamusinga (278), Lugulu (327), Cardinal Otunga (191), St Mary's Kibabii (420), Chesamisi (315) and Bungoma High (336). The school posted a mean score of 6.64 in last year's KSCE exams compared to 6.14 in 2018, with 11 students getting A- and 223 students scoring C+ and above.
SEE ALSO: Ensure safety of students in community learning centres
"The students (478) were supposed to sit in 10 classes since we are supposed to be a ten-stream school. Each stream should take about 47 students but we have only six rooms," Mr Khisa said. The principal noted that they need three more classrooms to accommodate Form One students. "The overcrowding is affecting performance and if you look at the Ds in 2018, it's not pleasing and in 2019, we had 95 of them," Wamanga said, adding that they have 40 teachers employed by the Teachers Service Commission (TSC) and about 50 hired by the school's board. He said the high student's population against the limited facilities is a big challenge and they are banking on the alumni support to address the matter. Khisa announced that they are constructing a three-storey building with five streams to make some 15 classrooms.
SEE ALSO: Save Kenya from ridicule, solve schooling crisis now
In May last year, fire gutted two dormitories further worsening the infrastructure problem. The congestion, Wamanga regrets, has forced students to borrow books from the library and read elsewhere due to space constraints. "Most of the challenges are squeezed facilities and I believe if these are improved, we can achieve a high mean score of even 8, 10 or more," he said.