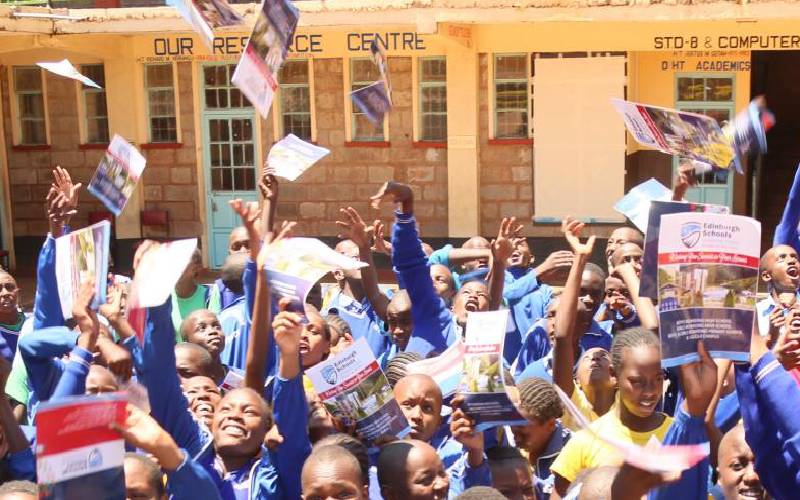 Thirteen-year-old Christine Nyansera's delight at passing the 2019 KCPE examination is fast turning into hopelessness.
On Wednesday, when Education Cabinet Secretary George Magoha launches the Elimu Scholarship Programme 2020 – sponsored by the government, Equity Bank and World Bank – Nyansera's name will not be among the 9,000 beneficiaries.
The four-year programme targets poor and vulnerable learners from informal settlements in urban centres and a select number of counties. Another 9,000 pupils will benefit from the Sh3 billion programme in 2021.
Sole breadwinner
Nyansera is afraid her dream of becoming a lawyer may not be realised if she fails to join high school for lack of fees.
The former pupil of Nyanchonori DOK Primary School in Nyamira scored 397 marks out of a possible 500 in the Kenya Certificate of Primary Education (KCPE) exams.
She was the best girl in the school and earned a spot at Nyabururu Girls High School.
But her mother Billiah works as a farmhand in Nyankoba, Nyamira County, and is the sole breadwinner. She is already struggling to pay fees for Nyansera's two siblings who are in secondary school.
On average, Billiah earns Sh200 a day and supports a family of seven.
Nyankoba now says she is prepared to repeat Class Eight for a second chance at securing a scholarship.
"We have tried nearly all the available scholarships. For now we have just given up. All that remains is to go back to class again and score higher marks to land a scholarship to my school of choice," she said.
In Kisumu, a top student also faces a similar predicament. Nelly Awuor, 14, from Lela village in Nyando scored 387 marks at a primary school in Nakuru.
She has been selected to join Moi Girls School, and needs Sh70,775. She has no idea where the money will come from.
For the past four weeks, Awuor and her family have been camping at Nyangoto Evacuation Centre after their home was destroyed by floods. Awuor wants to be a doctor, but that dream now seems impossible.
Nyansera and Awuor are among the more than one million candidates who sat KCPE exams last year and are set to join Form One from next week.
A number of these students, however, may fail to transition to their dream secondary schools due to a lack of fees.
It is one of the reasons stakeholders in the education sector want an urgent overhaul of the management of bursaries.
Among the proposals fronted are creating a central point to manage bursaries, and barring politicians from managing the funds.
Every year, despite the government's pledge to ensure a 100 per cent transition from primary to secondary school, reports show that many poor families struggle to access education funding.
Even before students join Form One, there have been reports of frustrated learners threatening to resort to extreme measures because they cannot see a way out of their poverty and into their dream schools.
In Kwanza, Trans Nzoia County, Isaiah Wanjala, 17, has offered to sell one of his kidneys to raise school fees.
He scored 394 marks and was selected to join a national school in West Pokot County. But his parents, who do odd jobs around their village, have no way of raising the required Sh70,000.
Lost happiness
Treza Achieng, 15, one of the top candidates in Kisumu, was admitted to Lugulu Girls' National School in Bungoma.
She is the firstborn in a family of three children, and scored 403 marks, making her the third-best candidate at Joel Omino Primary School.
But now, the teenager – who lives with her parents at Nyalenda slums – is disturbed. Her mother, Grace Akinyi, is a housewife while her father, Fred Otieno, is a motorcycle rider at Kisumu's main bus station.
Treza hoped to secure a bursary for secondary education.
"She has lost her happiness, and for the past two weeks, she is visibly disturbed. She has lost weight," said her mother.
"I have always known that my parents face financial constraints to provide basic household needs, but they kept assuring me that these days there are a lot of scholarships that can assist me further my education and realise my dreams," said Treza, who wants to be a pilot.
But she failed to secure a bursary after sitting six different interviews for scholarship opportunities from various banks, and national and county governments.
And in Nakuru County, Faith Muthoni, an orphan, scored 424 marks and got a spot at Moi Forces Academy.
Margaret Mwangi, her guardian and director of an orphanage that took in Muthoni when her parents were killed in the 2007-08 post-election violence, says they have so far raised Sh30,000 of Sh41,650 needed.
Marion Nduta's elation at scoring 383 marks is also dwindling. She has a fees bill of Sh43,800 from Kolanya Girls in Bungoma County.
Franseicah Auma, 14, was the top learner at Nyandema Primary School in Migori County with 356 marks, and is also desperate to go to high school.
"My father cannot walk, while my mother has cervical cancer. The only brother I have is a boda boda rider and is our sole breadwinner," she said.
Auma needs Sh53,435 to go to Nyakach Girls Secondary School, money her family cannot raise.
These students barely scratch the surface of the depth of need thousands of young learners face, and who now risk missing out on a high school education.
This leaves a majority of them vulnerable to numerous challenges, including early marriages, child labour and crime.
Political patronage
To solve the problems bedevilling the provision of funds to needy students, James ole Kiyiapi, a lecturer at Eldoret University and a former Education Permanent Secretary, proposes that the Constituency Development Fund (CDF) be disbanded.
"The CDF kitty is mismanaged and it can be called the MPs' kitty. The legislators use the money to subject Kenyans to political patronage, where only those who are in good books with them get the money," said Prof Kiyiapi.
He said legislators should stick to making laws.
"It is illegal to have MPs make laws, play an oversight role and manage funds. This system is ineffective and cannot manage a sustainable national bursary scheme. There is a policy disconnect here," he said.
Kiyiapi added that bursary schemes should be rationalised to make them more accessible.
"Many bursary schemes target bright, needy students and this is discriminatory. If the government is serious about free secondary education, let it abolish the capitation thing and order that all students in public secondary schools are eligible for bursaries. This will include even the weak learners."
Dan Opiyo, the chairman of the board of management at Sawagongo Boys High School in Siaya County, also wants bursary funds removed from MPs' management.
"Let the government consolidate the money it gives to students through subsidies and give it directly to students in schools," Dr Opiyo said.
He added that the government should run a central bursary board that vets students and visits them in their homes.
"Just like the Sh22,000 sent to each secondary school student comes from the Treasury, so should the bursary funds. Otherwise, the money will continue being given to chiefs, MPs' relatives and other cronies."
Corruption and bias
Lukoye Atwoli, the dean at the School of Medicine, Moi University, also wants the government to overhaul how it deals with bursaries.
"Basic education is from primary to secondary school. To ensure 100 per cent transition, no money should be left in the hands of MPs to decide the fate of millions of learners. This will obviously be infiltrated with corruption, interest and bias," said Prof Atwoli.
Kahi Indimuli, the chairman of the Kenya Secondary School Heads Association (Kessha), wants a central monitoring point for all bursaries.
"We need one national centre tasked with this job. The haphazard way bursaries are handled is untenable. Now we have a situation where one student benefits from multiple bursaries, while others miss out."
Mr Indimuli proposes a one-stop shop where sponsors can put information that includes students' details and which schools they are in.
He said the government should also give tax rebates to individuals willing to sponsor students to encourage them as the need for bursaries is huge.
CS Magoha has promised to shed light on the government's handling of bursary applications for the poor.
"I want all involved in the vetting process to make sure only the needy receive the money. If you are poor and you are denied the bursary, come to my office at Jogoo House. I will go with you to your home and revoke any undeserving name and punish the person responsible for the mess," he said last month.
[Protus Onyango, Kevine Omollo, Stanley Ongwae, Anne Atieno, Caleb King'wara, James Omoro, Phares Mutembei and Daniel Chege]