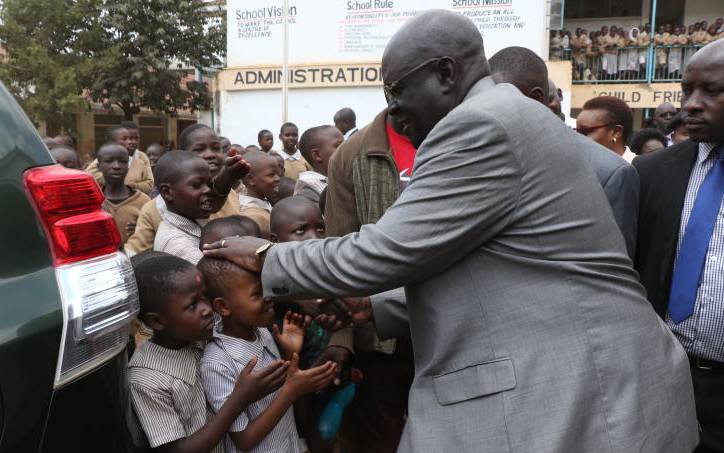 The Ministry of Education yesterday relocated 207 pupils from St Catherine's Children Education Centre Bombolulu to Ayany Primary School in Kibra, Nairobi.
This is after Education Cabinet Secretary George Magoha ordered the school closed due to safety concerns.
"We are acting in the best interest of our children. This building is not any different from the one that collapsed in Dagoretti. If anything happens I will be the one to blame," Prof Magoha said.
"This is just a start and we are going to crack down on all schools in the country with poor structures."
Read More
This comes just days after eight pupils died and 69 others were injured at Precious Talent School in Dagoretti after a two-storey building collapsed.
Magoha said Ayany Primary School had extra space to accommodate more learners and assured parents that the Government would provide all the necessary learning materials.
"It is unfortunate that St Catherine's Children Education Centre was not registered and the structure had also not been approved. There are similar schools, which are putting the lives of children in danger and I have directed my team to shut down such schools," said Magoha, adding that the children would first be relocated.
Taking into consideration the plight of parents, he said he would ensure personal responsibility of the matter by keeping all the children safe.
"Some parents may not be happy with my actions but we must put the safety of our children first. People have done things in disregard of the law and I won't let our children die," he said.
The CS further disclosed that the proprietor of the collapsed building was being investigated and a report would be out by Monday.
"We will also know the fate of the children on Monday, and decide whether Precious Talent School will be reopened or stay closed and have the pupils relocated," added Magoha. Kenya Union of Post Primary Education Teachers (Kuppet) National Chairman Omboko Milemba urged the Government to order institutions with big parcels to share with other schools.
"The neighbouring Lenana School lies on a very big parcel. The Government should cut out a piece to Precious Talents School so that the children can get space to learn," said Milemba, who was speaking during the memorial service at Precious Talent School yesterday.
Dagoretti South MP John Kiarie assured parents that the Government would cater for funeral expenses and provide compensation for the destroyed learning materials.
"A committee has already been formed to help with the preparations. The children must go back to school, and the schools must be safer for them," he said.
At the same time, Nairobi Governor Mike Sonko yesterday suspended 16 county officials mainly drawn from the urban planning, inspectorate and sub-county administration departments over the incident.
Nairobi County Finance Executive Charles Kerich and Health Executive Mohammed Dagane are among the suspended officials.
Drastic measures
"I am convinced beyond doubt that drastic measures have to be taken to reverse the effects of years of flouting physical planning regulations and restore order and sanity before illegal structures claim more lives as has repeatedly happened before," said Mr Sonko.
This came even as MPs called on the Government to take action against its officers over the collapsed school building.
The lawmakers said the deaths were out of negligence and lack of adherence to regulations. They want those responsible held accountable.
Nominated MP Wilson Sossion, who moved the National Assembly to discuss the matter, recommended that all schools be audited afresh to ensure they are safe for children.
"Where are the people in the city planning department? What is the driving force of owners of such structures? These are questions that we need to start finding solutions to," said Sossion.
[Josphat Thiong'o, Lucas Ngasike and Laura Chebet]