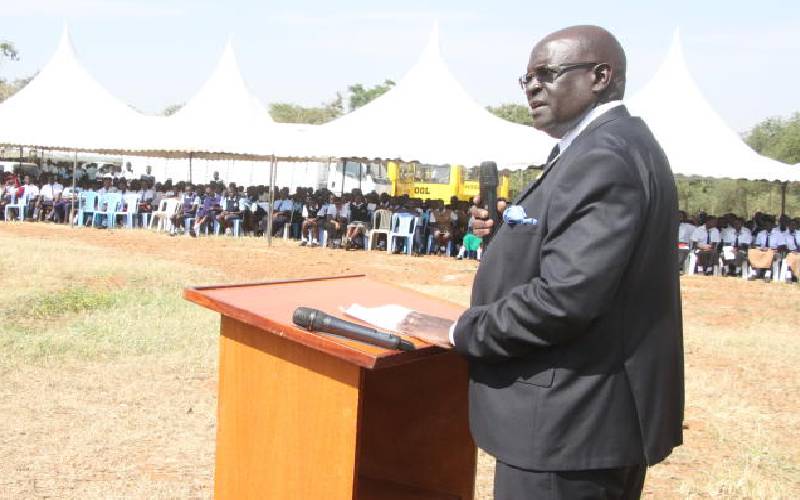 Education Cabinet Secretary George Magoha has directed all universities offering education courses to align teacher training to the needs of the new curriculum. He said the national roll-out of the Competency Based Curriculum (CBC) had kicked off in earnest, and advised all stakeholders to ensure the programme's success. "Every university in Kenya both public and private is involved in the CBC. Kenyatta University is first among equals because it was the original university for education and so all institutions are part of this," said Magoha. Some 54 out of the 74 universities in Kenya teach education courses. Magoha said all universities must now position themselves, prepare adequately and consolidate their roles in the ongoing education reforms.
SEE ALSO: VCs plan to open varsities for 600,000 students
He spoke at Kenyatta University during pre-conference as the build up to the Friday national conference gains pace. The meeting at Kenyatta University was yesterday held under the theme: University sector positioning, preparedness and role in the ongoing education reforms for enhanced access, exclusivity, equity, quality and relevance. The meeting is one of the many early summits the ministry organised ahead of the national convention on CBC. The Government has already stopped offering education training at certificates level with admissions to Teacher Training Colleges (TTCs) for this year suspended. Basic Education PS Belio Kipsang announced that there will be no admissions to P1 training classes this year, to allow diploma students join the colleges next year.
SEE ALSO: Seize Covid-19 induced learning hiatus to improve education system
He said the move would enable the ministry to prepare accordingly for the ongoing national roll-out of CBC.