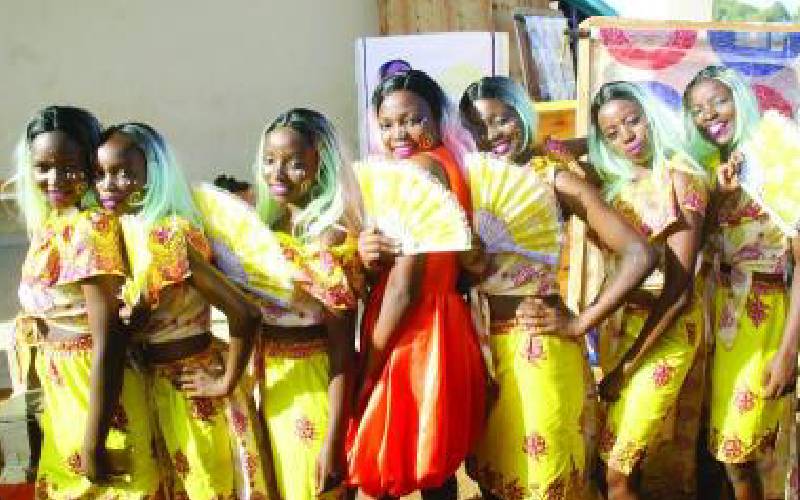 Deputy President William Ruto has acknowledged the superior quality of items presented in this year's Kenya Schools and Colleges Drama and Film Festival.
When he took to the podium at the Winners State Gala of the event, he wondered why Kenyans were fed on sorcery and black magic on television while what the young actors had shown was of such high value.
"We thank the Kenya Film Classification Board (KFCB) for funding the event, but that's not enough, they should go ahead and tap this talent ," said Dr Ruto.
Make movie
He directed Ezekiel Mutua, the KFCB chief executive officer, to turn the two winning plays, Riara Spring's Camel of Tarjab and Moi Primary School Kabarak's Money Maker into movies.
KFCB pumped Sh20 million into the festival. This year's festival ran under the theme 'Clean is Cool'.
Watching Adhiambo Kienyeji performed by Ngi'ya Girls High School leaves one in awe.
The school has come back to reclaim its lost glory. The dance is choreographed by Thomas Bwire.
It abhors the use of cosmetics by girls in an attempt to look lighter or to have more 'likes' on their social media posts such as Instagram.
"I am very particular on how you treat the girl child and from what I have watched, I can say I am very satisfied," noted Education Cabinet Secretary George Magoha.
This is also one festival where guns and weaponry on stage was a rarity unlike before
Drama enthusiasts including adjudicators had said children participating in the festival that opened its doors to Africans in 1978, had the right to be protected from violent scenes.
"There is less weaponry this year especially in choral verses that now put emphasis on vocals, body language and sheer human expression. The quality has really improved," noted Charles Ong'ondo from Moi University.
Moi Girls choral verse My Preacher My Prayer, produced by Margaret Njaga attested to this.
The verse depicts a child whose parents have been brainwashed by some unscrupulous clergy. The parents no longer believe in modern medicine, and only seek divine intervention.
The child's health deteriorates to a point where he is facing death. Well-wishers intervene and take the child to hospital.
Kenya Institute of Mass Communication stole the show with Clara Wambui's solo verse Till Death. Directed by Wycliffe Buhere, the verse depicts a society shocked by a spate of spousal deaths and killings.
It is delivered in a language heavy with persuasion.
These performances and others including some from Kianyaga High School, Golden Elites School, Thika School for the Visually Impaired, Kenyatta University, University of Nairobi, Kayole One Primary, Tartar School Marsabit were commendable.
Spur creativity
"We had to first get the organisers to change the rules to deliberately encourage children to get creative.
Changing the rules was followed by training of drama teachers across the country at the national, regional as well as county levels.
Mr Mutua noted that plays and films can be good without unnecessary bloodshed, explicit sexual connotations, foul language and profanity.
The KFCB boss promised to take up the challenge and help schools make films from good stage performances.
"That will certainly boost the film component of the festival and is such a welcome development," said Simon Peter Otieno the head of films at the fete.
Over 190 films were entered at the secondary school level alone this year.